An online show about the future of healthcare and how science and technology is enabling it to happen - watch on demand now
About this event
New Scientist Live presents …
One-Day Virtual Event: Future of Healthcare - Watch on-demand now
The coronavirus pandemic has thrown the spotlight on the questions of human health and the role of science like never before. Hear what the future of healthcare will look like, and how science and technology is enabling it to happen. New Scientist's Future of Healthcare is an online show for everyone who cares about maintaining a healthy body and mind. Join us for a day of inspiring talks and discussion with scientists at the forefront of research and experts on healthy living.
Three stages of incredible talks, discussion and debate
Hear about the future of healthcare from the world's leading researchers on the main stage and discover the scientific route to wellbeing. Find out how artificial intelligence, advanced imaging and surgical robots are transforming medicine on the Technology stage. From genomics and regenerative medicine to harnessing the power of the immune system and microbiome, discover new ways to diagnose, treat and prevent disease on the Future Therapies stage.
Many sessions will feature audience questions, giving you the opportunity to take part and shape the conversation.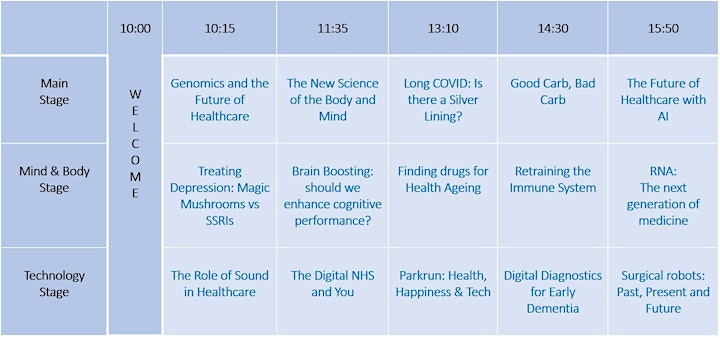 There is more to the event than talks. Researchers at King's College London's school of biomedical engineering and imaging sciences will be running activities, live demos and workshops. Among them, you'll be able to see the role of 3D printing in healthcare, use origami to explore folds in the brain and chat with researchers about different careers paths in healthcare. Researchers at the Wellcome Sanger Institute will be showcasing their work and careers, while Medical Mavericks will show how to take photos of the inside of the eye.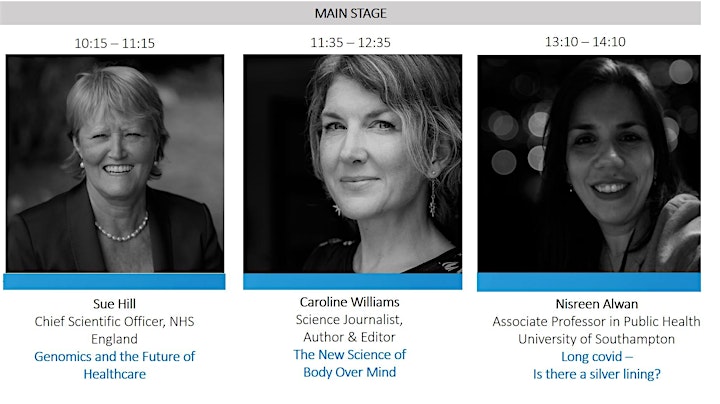 Geonomics and the future of healthcare - Genomics has huge potential in healthcare. The UK has been at the forefront of scientific advances in genomics for some time. Professor Dame Sue Hill, Chief Scientific Officer for England and Senior Responsible Officer for Genomics in the NHS, will be joining us to discuss how genomics is transforming care for patients now and what the future holds. She will explain how the NHS Genomic Medicine Service is utilising genomic science and technology to improve care for patients as the NHS continues to operate at the limit of science and the United Kingdom strives to become the most advanced genomic healthcare system in the world.
The new science of body over mind - As a species we have ground to a halt. On average, we now spend 70% of our time sitting or lying around. This isn't only bad for our bodies: it has also been linked to falling IQs and an epidemic of mental ill health. We just weren't born to be still. In this talk, Caroline Williams will explore the emerging science of how movement opens up a hotline to our minds and reveals the very real body-mind links that explain why different ways of moving can dramatically change how we think and feel.
Long COVID - Is there a silver lining? - In this talk, Nisreen will cover current knowledge about the epidemiology, prevalence, definitions, and characteristics of Long Covid. What can countries do to address this pandemic of chronic illness generated by the acute waves of COVID-19? What lessons can be learnt and implemented to address the massive burden of Long Covid? How can we not only avoid previous mistakes made with other chronic and post viral conditions but also benefit them in the global Long Covid journey?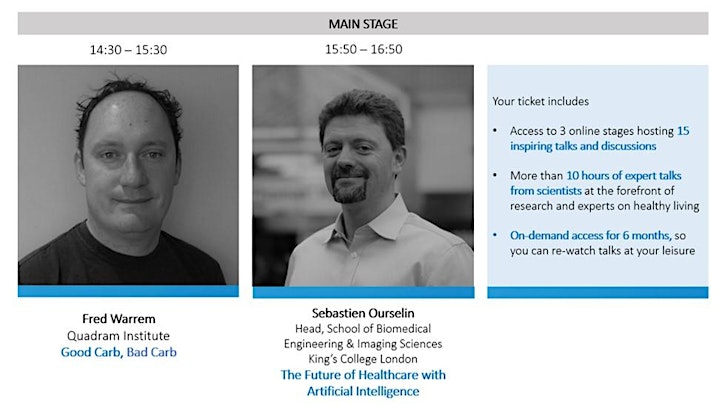 Good carb , Bad carb - Carbohydrates are often painted as a dietary bogey man in the press and on social media, linked to a host of diseases including diabetes and obesity- especially so called 'ultra-processed' foods. However, carbohydrates have formed a key part of the human diet for millennia. Plant based diets, high in carbohydrates, are key to sustainably and healthily feeding a growing global population. How to explain this contradiction? This talk explores how carbohydrates are structured as energy stores by plants, how as humans we process and manipulate these energy stores, and the impact this has on your gut, and on your health.
The future of healthcare with A.I. - There are many questions around AI and healthcare. What is AI? How will it be used? How will my healthcare change for the better? What does it do? This talk will guide audiences through how AI tools are built, what they will do and how we can expect to see them in hospitals around the UK. The talk will also touch on some of the key challenges of deploying these tools into our healthcare systems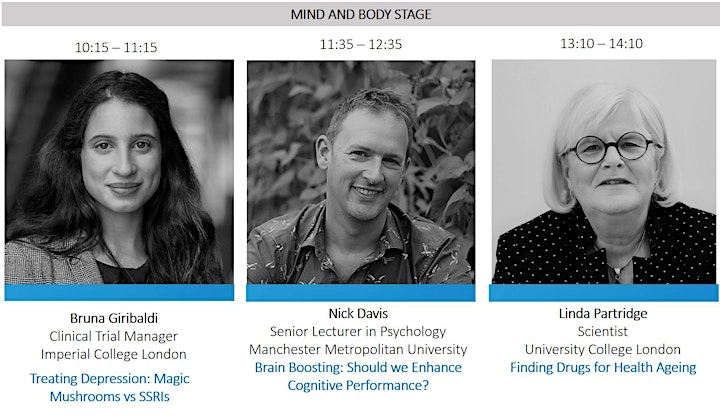 Treating depression: Magic mushrooms vs SSRIs - This talk will discuss results from the recent clinical trial that Bruna managed at Imperial College London, featured in the BBC documentary "The Psychedelic Drug Trial". Fifty-nine patients with moderate-severe depression were given either two high doses of psilocybin (the main active ingredient in "magic mushrooms") or 6 weeks of escitalophram, the current gold-standard treatment for depression. She will explore the differences between both treatments.
Brain boosting - During the past hundred years we have learned a huge amount about how the brain works. Using advanced techniques like MRI and EEG, we can see how the activity of the brain changes when we see, feel, and think. More recently, researchers have found ways to use this information to develop treatments for neurological disorders - but could stimulation be used to improve brain function in healthy people? Nick Davis will show how non-invasive brain stimulation works, and explain why scientists are excited about its possibilities, but will add a note of caution - are we sure we know what we are getting ourselves into?
Drugs against aging - What if getting old did not mean getting frail and ill? Recent research has yielded a much better understanding of how ageing happens, and how it leads to the ills of old age. And in laboratory animals it turns out to be possible to target ageing with diet and with existing drugs to promote better health in late life. There is now a lot of interest in seeing if we can tackle human ageing to prevent or delay the unhealthy period at the end of life.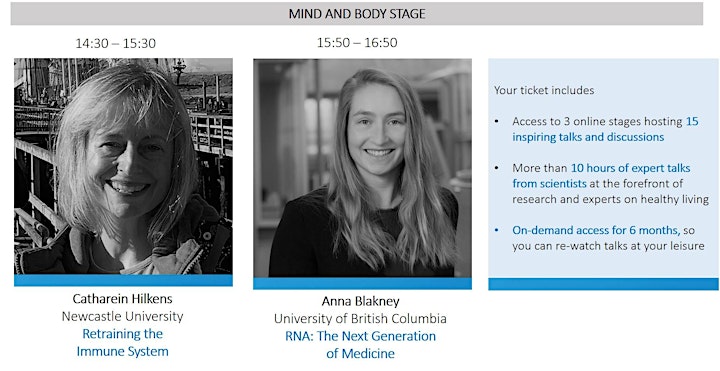 Retraining the immune system - Our immune system has been trained to protect us. It has an impressive arsenal of weapons to its disposal to neutralise and destroy harmful invading pathogens. But it can also turn its weapons against ourselves, causing devastating chronic inflammatory diseases such as rheumatoid arthritis, multiple sclerosis and type I diabetes. A number of new therapeutic strategies are under development that aim to stop this friendly fire by retraining the immune system. Catharien Hilkens will describe some of these new therapeutics and will highlight some of the challenges that need to be overcome before they can be implemented in clinical care.
RNA: The Next Generation of Medicine - Messenger RNA enabled a fast and highly effective response to the COVID-19 pandemic, including the Pfizer/BioNTech and Moderna vaccines. So where do we go from here? How can we make RNA vaccines even better and use them for different diseases? Prof. Blakney will talk about her involvement in the development of an RNA COVID-19 vaccine and her work with Team Halo, an organisation that connects scientists and clinicians working on COVID-19 to the public using TikTok.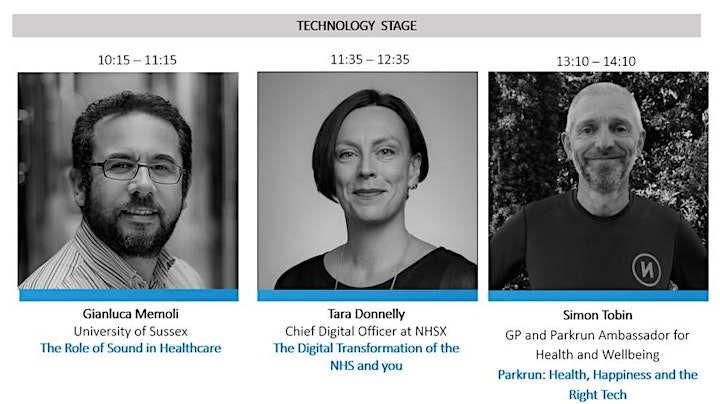 The role of sound in healthcare - Sound is ubiquitous in healthcare. At non-audible frequencies, sound underpins highly desirable diagnostic or therapeutic tools. At audible frequencies, unwanted noise affects the wellbeing of patients and staff in our hospitals. In this talk, explore how current research in acoustics is transforming science fiction into fact, leading to localised drug delivery, microsurgery in the brain and more silent hospital wards. With sound, the future is just one step away.
The digital transformation of the NHS and you - NHSX is leading the largest digital health and social care transformation programme in the world. The NHS response to the pandemic has been driven by digital transformation through initiatives supported by NHSX. Join Tara Donnelly as she discusses how Digital Home Care is using digital tools to enable more care to be delivered at home, or closer to home.
Parkrun: Health, happiness and the right tech - In 2004, Paul Sinton Hewitt took an enforced break from running and decided to put a 5km time trial for his running friends. Over the next 17 years, this evolved into Parkrun - free, weekly, timed 5km runs in 2,200 parks across the world. In this talk, we will discuss how the simplest technology makes this work, what is the impact of running, walking or volunteering and why GPs prescribe park run?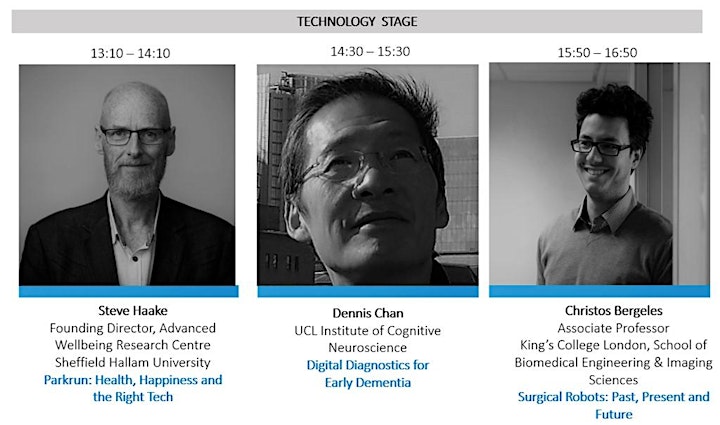 Digital diagnostics for early dementia - The technological revolution provides previously unavailable opportunities for detecting disorders such as Alzheimer's disease in their preclinical phase, prior to the onset of dementia. This early detection is crucial for future use of disease-modifying drugs and other interventions. This talk will cover a range of innovative tech-based approaches for diagnosis, and outline their advantages. Dr Chan will discuss wearables-based methods, their collection of cognitive, behavioural and physiological data and the use of AI to extract personalised signatures of disease.
Surgical robots: past, present and future - Surgical robotics has seen an explosion of activity over the past 10 years, with new companies entering the domain, academic research flourishing, and established players securing even larger market shares. This talk will cover how surgical robotics started, the state-of-the art today, and showcase future research directions that are being explored by pioneering teams worldwide.
Booking information:
This on-demand online event is available for the 6 month from 28th June 2021 until the 31st Jan 2022. All talks from the virtual event which took place on the 26th June 2021 will be available to watch on-demand as many times as you want.
Eventbrite will email you a confirmation immediately after purchase. You will receive a separate email from "Konf" with a link to access the event platform; please note that each link is unique and should not be shared.
Tickets are non-transferable to any other New Scientist event. All tickets are non-refundable.
New Scientist reserves the right to alter the event and its line-up, or cancel the event. In the unlikely event of cancellation, all tickets will be fully refunded. New Scientist Ltd will not be liable for any additional expenses incurred by ticket holders in relation to the event.
Tickets are subject to availability and are only available in through Eventbrite.