Description
NatWest invites you to this complimentary event hosted by Luv4 Marketing.
Is Your Business Ready To Market Online In The Future?
Is Your Marketing Working For You Now And Will It Work For You In The Future?
We know leads drive growth in any business, but what happens when the platforms that have worked become outdated? Simple, your leads funnel dries up!
With all the established platforms to choose from, such as Facebook, LinkedIn, Twitter & Instagram and considering how if you are 25 or below you now ignore Facebook being shaped with platforms like Snapchat & Tik-Tok to name a few is why this event is so important. As the Business Owner, we need to stay in the now, with an eye on the future.
We will teach impactful lead generation strategies that work now and how to plan for the future. We don't say this lightly and will be delving into the importance of your website and how 'voice search' is becoming increasingly important and without doubt, your target customers are moving towards asking 'Siri' & 'Alexa' for recommendations more and more rather than typing in Google… We teach how you can dominate Google now and in the future...
During this free masterclass, you will also learn how to benefit from a £11,000 government funded digital marketing qualification, receive 3 free gifts just for attending and have a 90-day marketing plan you believe in!
THIS EVENT WILL TAKE YOUR BUSINESS TO THE NEXT LEVEL
Limited places available. Register Today
We will be speaking on the following topics;-
Full Overview Of The Platforms That You Need To Be Using Right Now!
- Learn the about the platforms that will work for your industry, allowing you to find your target audience right here, right now!
- Use the learnings to build an awesome strategy to see you through 2020
- See real life examples of successful campaigns via online marketing including through search
The Importance Of Your Website And Key Strategies To Connect With Social
- Look to the future by taking what we know in 2020 and what we can expect to be in years to come
- Create a list of platforms worth investing time in now so you're ready for your future audience
- Learn what platforms are futureproofed, through the habits of how search and social media users are reacting today
Lead Generation Methods THAT WORK!
- Learn the importance of what you do today will impact what you do tomorrow
- Follow the Google/ Facebook/ LinkedIn…. Business Plans and understanding what the goals of these massive businesses are
- How to build an incredible sales funnel and understanding each of the key numbers to drive your businesses growth

By attending this complimentary event, you will receive 3 gifts worth £897!
FREE Marketing Audit (RRP £199)
FREE Marketing Strategy Review (RRP £399)
FREE Access to 1 eLearning Course (RRP £299)
Please note that this event is open to all - you don't have to be a NatWest customer to attend.
Reviews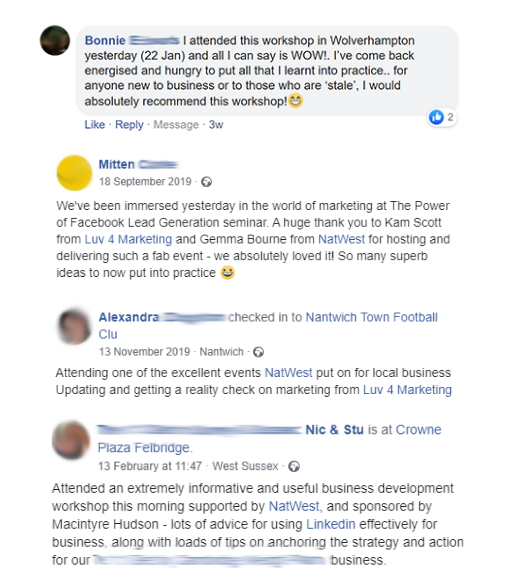 All information used in this presentation you are registering for is produced for information purposes only and is for the sole use of the attendees at the presentation.
Whilst we feel this topic is beneficial to business owners, the views expressed are not intended to be and should not be viewed as individual advice or as a recommendation by RBS, NatWest or any third party. You should seek independent advice in respect of issues that are of concern to you.
To the maximum extent permitted by law we expressly disclaim all representations, warranties, or assurance of any kind, expressed or implied, that are made to the accuracy or completeness of the information contained in this presentation and do not accept any obligation to update or correct any information contained herein.
During the event photographs may be taken on behalf of the host with a view to posting on social media to promote services offered to customers. If you do not wish to be included in the photographs please notify us.
For the avoidance of doubt RBS/NatWest does not produce the materials for all presentations. This disclaimer applies equally to any materials or presentations produced by a third party.
By registering for this event you agree that you have read and expressly agree to the use of your personal data submitted as part of your event registration by Eventbrite in accordance with their: