W Hotels & Mixcloud Presents: Future Rising Goa
About this Event
BLOT! x Sam Madhu
Friday 18th October
For the past three years, W Hotels Worldwide and Mixcloud have brought Future Rising to 14 cities across the globe, creating unique experiences and creations that empower and celebrate the very best new talent in music and design from around the world.
Following the European edition in Spring 2019, Future Rising returns for five one-off audio-visual collaborations, touching down in Guangzhou, Bangkok, Goa, Kuala Lumpur and Brisbane to explore what's happening in each city RIGHT HERE! RIGHT NOW!
In Goa, Future Rising invites Delhi-based producer and DJ Gaurav Malaker aka BLOT to collaborate with Sam Madhu, a designer, artist and and art director out of Bombay. BLOT!'s obsession with warm analogue sounds, classic synths and the 'basic love of things' will come head-to-head with Sam Madhu's psychedelic, powerful visual commentaries combining traditional Indian imagery with urban futuristic concepts, for a unique A/V performance, premiered for the first time at W GOA.
Find out more: futurerisingnow.com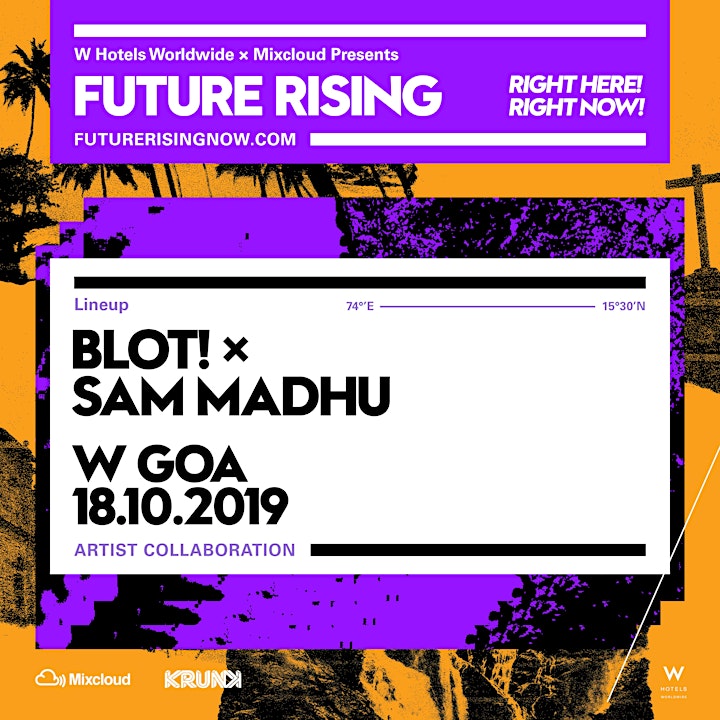 IMPORTANT: RSVP via Eventbrite to secure your tickets. Get down early to avoid disappointment - this event has limited capacity and registration does not guarantee entry.
DRESSCODE: Dress to impress (no sandals, shorts... Venue has the right to refuse entry)
DISCLAIMER: This event is being filmed, photographed and/or videotaped, by attending the event I consent to being filmed, photographed and/or videotaped and release content to producers and users of such film or content. I release all photographs and/or videotape from any liability for loss or damage to person or property or for infringement or any rights and expressly authorise and permit use of my name, voice, and likeness and all reproductions thereof in all media for all purposed throughout the world in perpetuity without limitation and without any compensation whatsoever.