About this Event
CHILDREN OF ZEUS X FRANÇOIS BOULO
For this year's inaugural Paris edition of Future Rising Europe, Children of Zeus, the R&B and soul project from two of the UK's fastest rising artists Konny Kon and Tyler Daley, will bring the grit and energy of their Manchester home together with Brittany-bred, music-obsessed graphic designer Francois Boulo. Together, they will craft a series of visual artworks inspired by the Mancunian duo's music, evolving as a direct and collaborative expression of the mood and colour of Paris.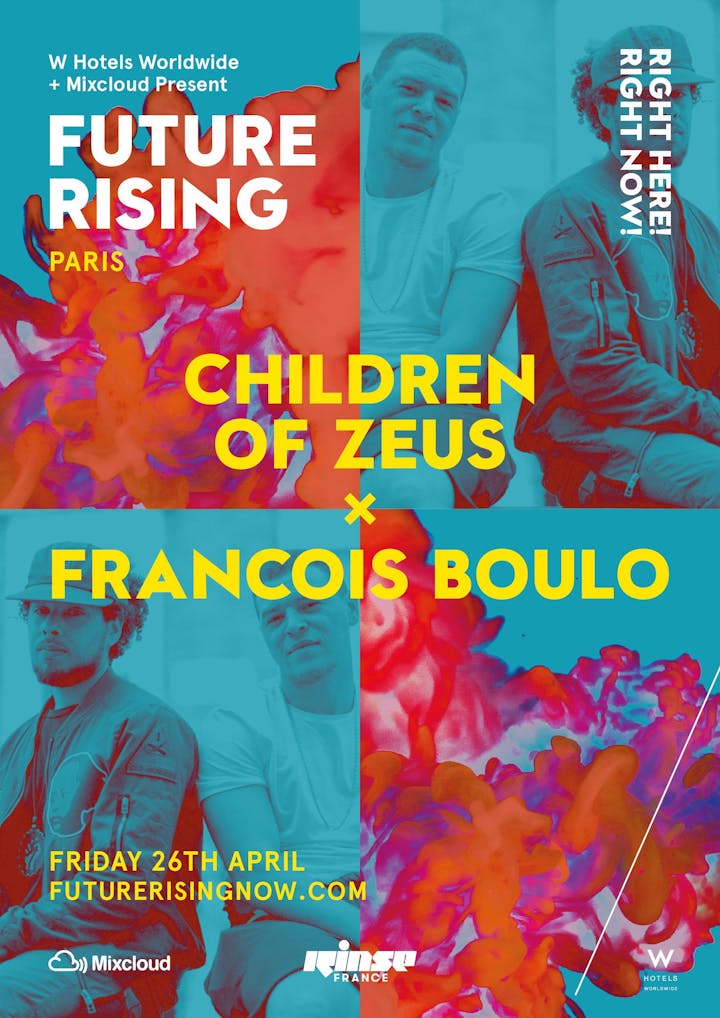 ABOUT FUTURE RISING
Future Rising is a global creative platform designed to amplify emerging cultural talent, enabled by W Hotels and Mixcloud.
Now in its third edition, the series lands in Paris, Barcelona, London and Amsterdam, using W Hotel sites as canvases to explore how music and visual art can intersect to celebrate a city's zeitgeist. A fast-rising musical act and cutting-edge local visual artists are invited to co-create a unique audiovisual performance to be premiered at each Future Rising happening. This year, under the theme RIGHT HERE! RIGHT NOW!, the artists will come together to explore and craft a unique experience that captures each city's spirit, energy, tensions and imaginations in the current climate.
Find out more at futurerisingnow.com.