Description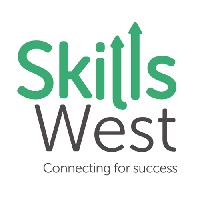 We'd like to invite you to join the Skills West team at the 2018 Future Skills Exchange.
As well as a chance to hear from a panel of exciting, interesting and informative keynote speakers, this event will bring together companies and training providers from across the West of England to participate in lively discussions regarding the future of skills in the workplace. You will also have the chance to find out about funding available for skills in the region from Head of Skills - Nicky Williams.
We will be drawing on your sector expertise to talk about best practice, and sharing successes and notable achievements that have happened throughout the year.
Everyone is welcome to attend and we're always interested to hear new viewpoints – you do not need to have been to one of our events before.
Agenda
8:30am Registration
9:15am Key note speakers including:

Jamala Osman, Social Entrepreneur and Former Bank Manager at Barclays


Steve Anderson, CEO at The Age Diversity Forumn


Fiona Parsons, South West Apprenticeship Ambassador Network


Rhys Herbert, Senior Economist, Lloyds Bank Commercial Banking
Followed by a skills panel discussion
10:15am Sector workshops – Facilitated roundtable discussions
11:45am Plenary, including talk from Matt Griffith, Director of Policy at Business West
12:30pm Lunch
1:30pm Close
As the Skills West funded programme finishes in March 2019, this event will present an opportunity to reflect on the current skills landscape in the West of England, understand what has been achieved and where the future of skills is headed.
Book now to confirm your space.
#skillswest #wegrowthhub #developingpeople
---
Business Skills and Training Survey 2018
We want to delve deeper into the skills, recruitment and training needs of businesses within the West of England to ensure training and education provision in the region is relevant to business needs. Your answers will also feed into the overall West of England skills strategy. Take the survey here: http://www.smartsurvey.co.uk/s/JLG1P/
---
Data and Privacy Statement
We take your data very seriously and are committed to the privacy and security of it. The ESFA fund this service and your data will be passed to them. Their privacy policy is available at www.gov.uk/government/publications/esfa-privacy-notice.
Our Privacy Statement explains the types of personal data we may collect about you and how we will store, handle that data, and keep it safe. At this event, your personal data may be shared with the facilitators for the purposes of administering and following up this event.