Welcome to FutureGaze, a series of conversations providing time out to reflect and gaze into the future of the creative industries.
About this event
FutureGaze is a new lunchtime series brought to you by Creative Edinburgh, providing time out to reflect and gaze into the future of the creative industries.
In conversation with Caroline Parkinson, we'll welcome creative leaders who have innovated and led significant changes in their creative business and artistic practice over the past year to share what the future looks like for them - and for the creative and cultural sector.
As our industry reacts to this pivotal moment, be part of the conversation as we collectively gaze into the future of the creative and cultural sector, stimulate ideas for your creative future, and get inspired to strive towards it.
What does FutureGaze explore?
From new modes of working and responding to the changes in clients and audiences, to new artistic practice and embracing innovative technologies, FutureGaze will cover a range of themes that impact creative freelancers, sole traders and businesses.
Joined by a line up from across the creative industries, Caroline will delve into the radical shifts in thinking and practice they've made over the last year and explore what's been learned through these changes. We will reflect on how clients and audiences may have changed and how they think the sector may need to adapt, and we will share the innovations they have developed or harnessed to facilitate change and what's on the horizon, ready to drive forward their work into a sustainable future.
June's theme: The Future of Artistic Practice
At our second FutureGaze, we explore the future of artistic practice in conversation with Cristina Spiteri of Bright Side Studios. We will be delving into how the pandemic has affected the practical making of work. Has it changed the delivery medium and influenced new tech choices? Has it affected the focus of the work itself? And what will all of that mean for what you show, how you show it, and how people engage with it?
Our Guest: Cristina Spiteri - Immersive Media Artist, Bright Side Studios
Bright Side Studios design illusionary experiences that bring stories of all sorts to vibrant life. Playing with the senses, they dynamically engage with audiences across both the cultural and commercial world. The studio was founded in 2015 by immersive media artists Cristina Spiteri and Susanna Murphy.
Explore their recent project Ghosts with National Theatre of Scotland here.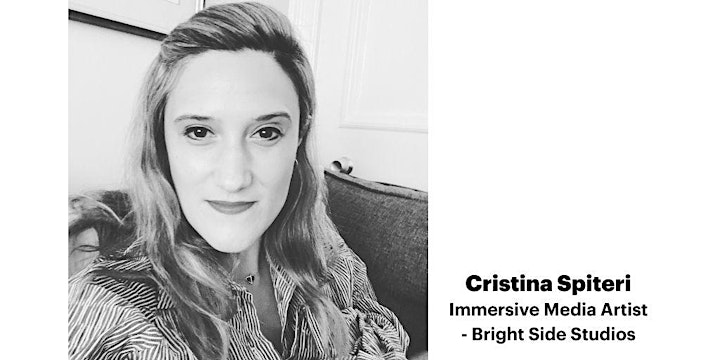 Caroline Parkinson is a creative business mentor and has operated as a consultant in the creative industries since 2014. From 2018 to 2020 she worked on contract with the Data Driven Innovation Programme at the University of Edinburgh to develop the sector plan for the creative industries. In August 2020 she joined the Edinburgh Futures Institute (EFI) as Sector Engagement Manager - Creative Industries and in January 2021 was also assigned the role of Director of Creative for EFI.
Creative Edinburgh unites creative thinkers across the city. Through events, career support and advocacy, we bring together and help grow the city's creative community, providing a space for creation, collaboration and connection at every stage of your career.
Creative Informatics is a partnership across the University of Edinburgh, Edinburgh Napier University, Codebase and Creative Edinburgh, enabling individuals and organisations to explore how data-driven technologies can enhance their work.
FutureGaze is a companion series to Creative Edinburgh's Raise Your Game, a digital skills programme for creative futures. Thanks to Creative Informatics for their support.
Header Photo Credit: Eoin Carey
Organiser of FutureGaze: The Future of Artistic Practice
We help creative individuals and businesses create, collaborate and stay connected at every stage of their careers: www.creative-edinburgh.com