Sales Have Ended
Registrations are closed
Tickets have now sold out for this event, please contact futuresforum@renewableuk.com for more information.
Free & virtual! Join us as we dive into the UK's journey to net zero & explore the industries & careers at the heart of the transition
About this event
The UK has committed to reach net zero carbon emissions by 2050. This means that, in less than three decades, we will have massively reduced the amount of polluting fossil fuels that we burn to power our homes, businesses and transport. The carbon we do still emit will be re-absorbed by forests and peatlands restored across the country.
Net zero is going to change a lot of things about the way our society operates, but it is also an opportunity to boost UK industry and create long-term, highly-skilled jobs, and to re-shape our country for the better.
Students of today are going to be a major part of this journey. Your vision for a net zero society couldn't be more important.
That's why we've created the Net Zero Sessions. Join us, across two afternoons on 24 June and the 15 July, as we deep dive into the UK's journey to net zero and explore the industries and careers at the heart of the transition.
This is your opportunity to hear from net zero experts and start to think about how your future career can make a real difference to the world and people around you.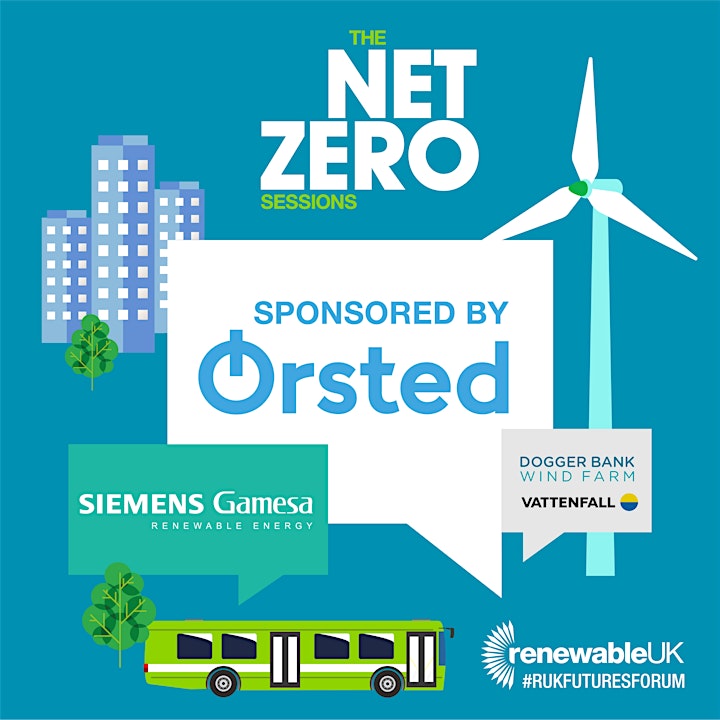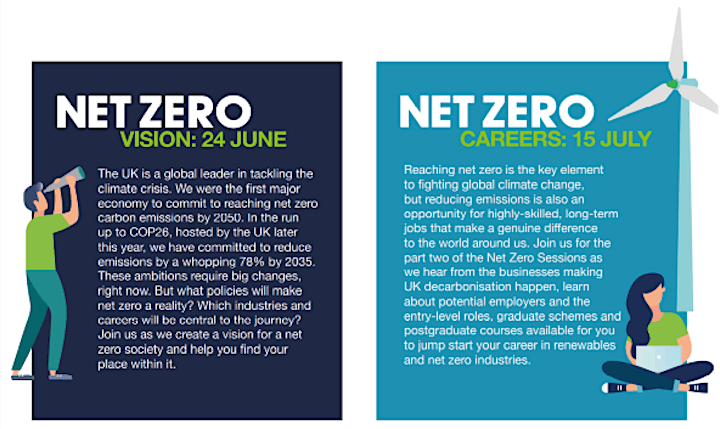 Net Zero Careers
Date: Thursday 15 July 2021 Time: 12:30 - 17:00 (BST)
Format: Virtual sessions and virtual exhibition
12:30 - 13:15 | Introduction & Keynote
Melanie Onn, Deputy CEO of RenewableUK will be joined by Hugh Knowles, Co-CEO at Friends of the Earth UK for today's keynote speech.
13:30 - 14:15 | Graduate Q&A
Many students attending the Net Zero Sessions will be applying to graduate schemes. In this session, we bring 5 graduates from across the wind energy industry to talk about application processes, interviews, learning on the job and lots, lots more. Lauren McIntosh, Global Public Affairs Graduate at Vestas, will be chairing, joined by Eishar Bassan, Siemens Gamesa, Grant Beaton, Dogger Bank Wind Farm, Graeme Duffy, Ørsted and Angus Binnian from Vattenfall.
14:30 - 15:30 | The 10 Point Plan
This session will feature 3 speakers talking about 3 key elements of the 10 Point Plan, the UK's road map to net zero.
Caterina Brandmayr, Head of Climate Policy at Green Alliance will talk about the transition to zero-carbon vehicles.
Rishi Madlani, Head of Climate and Sustainability at Natwest will do a presentation on green finance.
Alicia Green, Delivery Coordinator at the Offshore Wind Industry Council will talk about offshore wind and the jobs and communities being transformed.
15:30 - 16:15 | Exhibition
We have set aside 45 minutes for student attendees to look through our exhibitors, businesses from across the renewable industry. You will be able to follow links, watch videos and talk to representatives from the companies to hear about the work they do and the jobs and careers available.
16:15 - 17:00 | Closing
To close out the Net Zero Sessions, Melanie Onn, Deputy CEO at RenewableUK will be joined by Daniel Wills, Project Manager at Vattenfall, as he runs through the opportunities for jobs and investment that net zero brings, championing our excellent onshore wind industry.
Further Information:
- Registration is essential - register for one, or both the events you would like to attend.
- You do not need to attend all sessions, register for the event and you can choose which sessions you attend.
- All sessions will be available on demand post event. If you aren't able to join us on the day, register and we will make the recordings available to you.
- Any questions? Get in touch with Emma on futuresforum@renewableuk.com
Net Zero Vision
Date: Thursday 24 June 2021
This Net Zero Sessions event has been recorded and is available to watch on demand in the Media Hub at Net Zero Careers on 15 July
12:30 - 13:05 | Introduction & Keynote
Melanie Onn, Deputy CEO of RenewableUK will be joined by Adam Vaughan, Chief Reporter at New Scientist for our keynote speech. Adam writes the Fix the Planet newsletter and covers everything from climate change to covid-19. He is the former energy correspondent and environment editor at The Guardian.
13:15 - 14:00 | Net Zero Question Time
It's not often that the major political parties agree on something, but across Westminster, political parties agree that we need to reach net zero. But, do the political parties' plans go far enough? Or are they just unrealistic? In this session, Chris Saltmarsh, co-founder of campaign group Labour for a Green New Deal, will be joined by Jack Richardson, Climate Programmes Manager at the Conservative Environment Network and Sophie Cowen, Communications & Campaign Strategist at Extinction Rebellion UK to discuss exactly that.
14:15 - 15:15 | Getting to Net Zero
This session will feature 3 speakers:
Matt Larsen-Daw, Education Manager at WWF-UK will do a presentation the importance of putting nature at the heart of your career decisions
Alla Dolgopolova, Senior Researcher at the Natural History Museum will do a presentation on the minerals and metals we need to meet net zero.
Julian Leslie, Chief Engineer at the National Grid ESO will do a session on the electricity system and electrification as a major element of net zero.
15:30 - 16:15 | People & Places
Net Zero is an opportunity for people to find highly-quality jobs and for communities to benefit from long-term investment and revitalisation. In this session, we will exploring the visions of net zero for cities, towns and rural areas with Henri Murison, Director of the Northern Powerhouse Partnerships, Lauren Little, Stakeholder Advisor at Ørsted and Eleanor Harris, Natural Capital and Carbon Leader at Galbraith.
16:25 - 17:00 | UK Climate Leadership & Closing
Having launched the industrial revolution and responsible for a sizable portion of the pollution that has followed in the last century, the UK now has an opportunity to be a world-leader on climate action and lead the way in decarbonisation. In this session, Rebecca Williams, Director of COP26 at the Global Wind Energy Council, will be talking about UK Climate Leadership in the year of COP26.