Are you a student aged 16-19 in the UK looking to boost your career prospects?
About this event
Working out what to do when you finish school is really important. In fact, it could be one of the biggest choices you'll ever make. That's why this October, we'll be hosting our 18th FuturesUP virtual careers fair, and you're invited!
The employers you'll get to meet represent all industries from finance, trading, media and advertising, insurance and risk, professional services, business, law, engineering, and technology.
Agenda
You'll get to take part in a wide range of interactive sessions on the day and get the chance to speak to professionals, recruiters, and current apprentices and grads from a variety of leading companies. Your afternoon will look like this:
13:00 - Uptree Welcome to FuturesUP and meet the employers' videos
13:15 - Introductory Employability Lightning Talk by PwC with an Informal Q&A
14:05 - Virtual networking booths (you'll get to choose which employers you go and speak to!)
16:00 - Employability Lightning Talks with top employers
16:40 - Uptree Competition (Quiz)
16:55 - Wrap up and Close
Who should attend?
UK students aged 16-20 interested in finding out more about exciting careers and the world of work.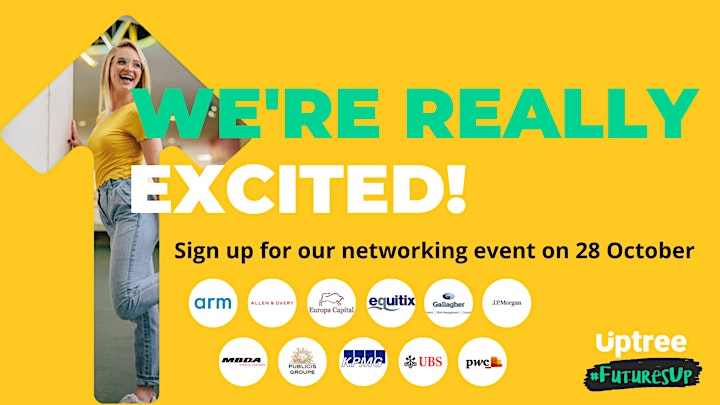 Organiser of FuturesUP Careers Networking Event
It's never too early to start thinking about your career. But with so many options to choose from, and so many paths to success, it's hard to know where to begin.
That's where Uptree comes in. We're a free professional networking platform designed to help you get started in the world of work. Get work experience, find apprenticeships and other opportunities, and begin your dream career.