Description
Our first Global Awakening/Global Legacy Regional Hub of 2019 will be a special event with Paul Martini, who is an Associate Evangelist with Global Awakening. He travels the world extensively, training, teaching and imparting the gifts of the Holy Spirit. He has ministered in 30 nations and has preached on 5 different continents. Throughout his travels, he has seen blind eyes restored, deaf ears opened, and the crippled walk through the healing power of the Holy Spirit.
This event is free but we would ask you to register. A buffet lunch will be available, at a cost of £6.50.
We will be taking a love offering to bless Paul.
Hub Programme
10:00 am - Doors Open - Tea & Coffee
10:30 am - Worship and Session 1
12:15 pm - Lunch Break
1:30 pm - Session 2
3:30 pm - Event Ends
Upcoming Event
Paul will also be the Speaker at our day conference - "Spirit-Filled Life" - on Saturday 26th January, also at The Victory Centre. For all details and to register, go to : Spirit-Filled Life with Paul Martini on Eventbrite.
More about Paul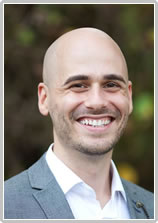 Paul is a 2011 graduate of Global School of Supernatural Ministry and holds a bachelor's from Phoenix University of Theology. Currently, he is a M.Div. candidate at Regent University. He has served Randy Clark with honor and humility traveling with him for over 3 years. In addition to healing and evangelism, Paul's heart is to train and equip the body of Christ to impact their environment and culture.
Paul is the Director of Events for Global Awakening and is the founder of The Stirring, There Is More, Hope Fest, and Rise conferences. He is truly blessed with his beautiful wife Ruth and his four children, Giovanni, Giuliana, Shiloh, and Freya. He is based at Global Awakening's headquarters in Mechanicsburg, PA.
Car Parking
We are sorry to advise that there is no public parking at the Victory Centre.
Car Parks
The nearest car park the the Victory Centre is Westridge Road Car Park, SO17 2HL.
This Car Park has 83 spaces and offers up to 2 hours free and a full days parking between 08.00 - 18.00 for a reasonable cost.
If you don't mind a leisurely stroll of 15 minutes there is also parking in Cemetery Road for £6 all day, off Northlands Road near The Avenue. Charges apply between 08.00 - 15.00.
Both Waitrose and Sainsbury's have a 2 hour limit and you need to be a shopper.
We advise you NOT to park in Portswood Shopping Centre Car park as this has a strict 2 hour limit and you will get a ticket if you go over this time!
Street Parking
Please be aware many of the streets around the Victory Centre only have a 2 hour limit.
Unlimited off street parking is available in the residential area behind the church on the following roads:
Portswood Avenue
Tennyson Road
Woodside Road
Thackeray Road
Shakespeare Avenue
The lower part of Westridge Road
Belmont Road
Both Westwood Road and Winn Road (off Brookvale Road) have unlimited day parking.