Gala Miss Polski i Miss Polski Nastolatek UK & Ireland 2019

Saturday, 25 May 2019 at 19:00

-

Sunday, 26 May 2019 at 01:00 (BST)
Event Details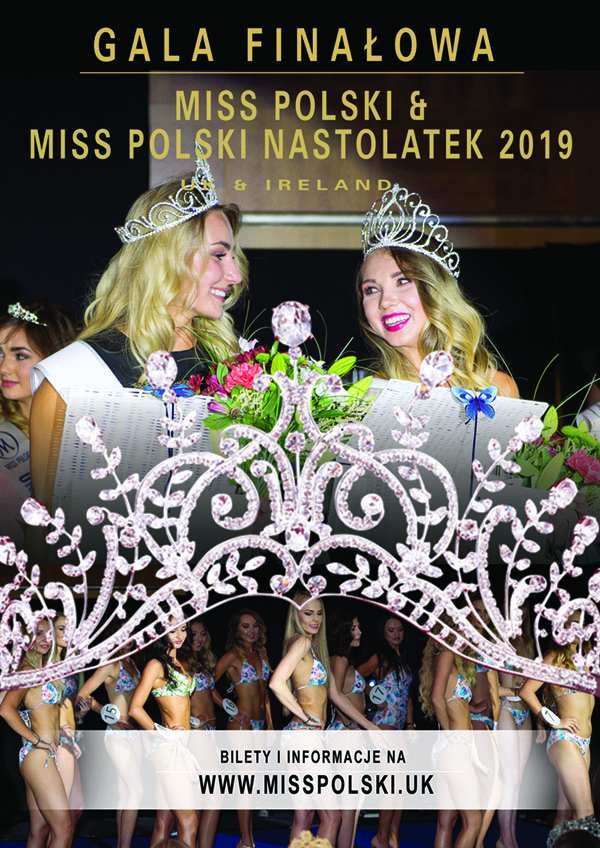 Już po raz kolejny Polki mieszkające na wyspach będą walczyły o koronę najpiękniejszej.

Tym razem w dwóch kategoriach: Miss Polski oraz Miss Polski Nastolatek, dodatkowo będziemy wybierać:
-Miss Foto
-Miss Internetu
-Miss Popularności (głosy będą oddawać obecni na sali goście)

… a to już wszystko 25 Maja bieżącego roku.

W kategorii Miss Nastolatek wystąpi 8 dziewcząt, a w kategorii Miss Polski 10.

Dziewczęta pokażą się w kilku wspaniałych kreacjach przy prawie 300 osobowej widowni. Wszystko to będzie filmowane i transmitowane na żywo w internecie.

Program artystyczny także nie zawiedzie. 
Gwiazdami wieczoru będą (już potwierdzone,a to nie koniec):
- Marcin Klimczak (zespól Magma) mający na koncie między innymi hit "Aisha"
- Maksymilian Łapiński – finalista The Voice of Poland
- Maja Adamczyk – utalentowana nastolatka, która została wybrana do zaśpiewania podczas gali spośród kandydatek w konkursie dla dzieci
Nie może cię tam zabraknąć!

Strój: Black tie (osoby bez wymaganego stroju nie zostaną wpuszczone na wydarzenie pomimo zakupionego biletu)

Organizatorzy zastrzegają sobie możliwość zmiany lub dodawania tytułów komplementarnych.

UWAGA!
Drzwi otwarte od 18:00, START SHOW : 19:00
W cenie blietu wliczone jest tylko uczestnictwo w wydarzeniu. Napoje chłodzace, alkoholowe i jedzenie sa do kupienia na koszt własny w lokalu.
Wydarzenie bedzie fotografowane, filmowane i  transmitowane na żywo w internecie oraz innych mediach. Kupujac bilet i wchodzac na nie, wyrażasz zgode na bezpłatne publiczne pokazywanie i dowolne bezpłatne bez ograniczeń czasowych i terytorialnych rozpowszechnianie wizerunku.

Zapraszamy!

SEKTOR A - miejsca prz 6-cio osobowych stołach (ilość miejsc przy stole może ulec zmianie) blisko sceny i  catwalku
SEKTOR B - miejsca na krzesełkach, widok na wporst sceny, dodatkowo ustawione ekrany dla lepszego widoku.
Save This Event
When & Where

The White Eagle Club
211 Balham High Road
SW17 7BQ London
United Kingdom


Saturday, 25 May 2019 at 19:00

-

Sunday, 26 May 2019 at 01:00 (BST)
Add to my calendar