Find out how to apply to the Galileo Masters UK Challenge and how ESA Space Solutions could help your business ....
About this event
ESA Business Applications is part of ESA Space Solutions and enables companies to take advantage of data from satellites to transform business on earth. We've already invested €250m in launching innovative services in over 1200 business.
The Galileo Masters is the global innovation competition scouting for cutting-edge solutions using satellite navigation data and is supported by a global space network of more than 89 partners and it provides a host of benefits including access to a prize pool of €856,700 ......
At this event you will learn more about the Galileo Masters competition and the application process and how funding from ESA Business Applications could take your business to the next level.
We are looking to provide support to budding entrepreneurs and established businesses who have innovative applications that incorporate positioning, navigation and timing solutions using navigation and timing data from Galileo and other GNSS satellites (i.e. GPS, GLONASS, BEIDOU).
We are very grateful for the support from all of the sponsors of the Galileo Masters UK Challenge this year including: The University of Nottingham, SPIRENT COMMUNICATIONS, GMVNSL, Royal Institution of Navigation, SPRINT and HCFN.
Please note that all entries to the Galileo Masters 2021 MUST be submitted by 19th July 2021
---------------------------------------------------------------------------------------------
Agenda
11.30 Introduction to Webinar , Paul Bhatia
11.35 Galileo Masters 2021 UK Challenge & University Challenge, Daniela Dobreva-Nielsen & Paul Bhatia
12.00 Messages from sponsors & previous winners
12.15 ESA Space Solutions
12.30 Networking and Q and A Panel session
Speakes & Panel Members:
Daniela Dobreva-Nielsen Daniela Dobreva-Nielsen is the Head of Business Development at AZO-Space of Innovation. She brings over 25 years' experience in international business development and account management in global media, technology and space companies, with emphasis on innovation, entrepreneurship, strategic marketing planning and execution, event management, advertising and consultancy. Daniela has an important strategic contribution to the creation and the successful execution of a number of prominent innovation activities in the Space domain activities in Europe such as the Space Masters series (Galileo Masters, Copernicus Masters, INNOspace Masters, Space Exploration Masters), Copernicus Hackathons (2018-2020), Copernicus Accelerator (2016-2019), Space App Camps (2015-2020), etc.
Paul Bhatia ESA Business Applications Ambassador for the Midlands and North East - hosted by the University of Nottingham. Paul has over 15 years of experience working with the space sector, 12 of which have been spent leading the work of the Geospatial/GNSS Research and Applications Centre of Excellence (GRACE) at the University of Nottingham. He is an experienced member of the geospatial community and has assisted many organisations and businesses to take advantage of geospatial and GNSS technologies through the provision of consultancy, training, testing and business incubation & acceleration. Paul was co-founder of a successful EO start-up company
Ian James Entrepreneur in Residence - University of Surrey. Ian James is Innovation Advisor for the SPRINT programme at the University of Surrey, connecting SMEs to academic resources for collaborative projects in the space sector. He is also Entrepreneur in Residence at the university's SETsquared business incubator, providing business support to entrepreneurs in high-growth, tech-based start-up companies. Ian has a degree in Electrical and Electronic Engineering from the University of Leeds and a Masters in Engineering Business Management from the University of Warwick. His career spans over 30 years in the telecommunications industry, working in the UK, Sweden and South Africa.
Guy Buesnel CPhys, MInstP, FRIN, PNT Security Technologist, Spirent . Guy has more than 20 years' experience working protecting GNSS Receivers from emerging threats, having started his career as a Systems Engineer involved in the development of GPS Adaptive Antenna Systems for Military Users. Guy is Spirent's specialist PNT Security Technologist covering the areas of PNT threats and mitigation. Guy holds a BSc Honours degree in Physics with Atmospheric Physics from the University of Wales Aberystwyth and a master's degree in Communications Engineering from the University of Birmingham. Guy is a member of the Institute of Physics, a Chartered Physicist and a Fellow of the Royal Institute of Navigation and in 2019 was appointed as a member of the International Advisory Council for the Resilient Navigation and Timing Foundation (RNTF).
-----------------------------------------------------------------------------------------------
The application form is online and can be found here:
https://galileo-masters.eu/apply/
More info on the UK partners and UK Challenge is here:
https://galileo-masters.eu/galileo-prizes/galileo-prize-uk/
More info on the University Challenge is here:
https://galileo-masters.eu/challenges/university-challenge/
More info on the overall competition is here:
https://galileo-masters.eu/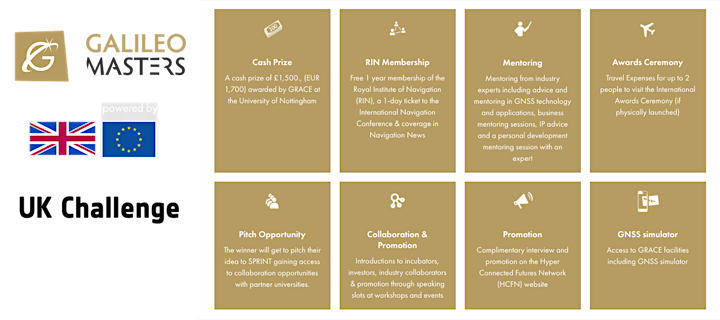 Organiser of Galileo Masters UK Challenge 2021 Information Webinar