Location
Ordovas
25 Savile Row
London
W1S 2ER
United Kingdom
Sales Have Ended
Registrations are closed
Please register for the Waitlist. The event is now full. Subscribe to MusicArt's newsletter on www.musicart.london or Instagram @musicartlondon for new announcements.
Gallery Concert: Philip Glass Piano Etudes | Richard Serra Drawings
About this event
A MusicArt concert in collaboration with Ordovas celebrating the friendship between Richard Serra and Philip Glass featuring
Annie Yim, piano
Friday 10 Dec 2021, 11 AM
25 Savile Row, London W1S 2ER
*Please see bottom of the page for Covid-19 guidelines.
Pianist Annie Yim performs Philip Glass's Piano Etudes at Ordovas in conjunction with the gallery's 10th anniversary exhibition – Richard Serra's Drawings. Inspired by the decades-long close artistic friendship between Richard Serra and composer Philip Glass, the concert includes Glass's Piano Etudes: 2, 3, 5, 6 and 9.
Background
"To be working with Richard was an irreplaceable experience…The development of my own musical language, at least conceptually (not at all a small point!), had a relationship to Richard's development." – Philip Glass on Richard Serra, from his memoir Words Without Music, 2015
Richard Serra and Philip Glass first met in the mid-1960s in Paris while both were students. As two Americans in Paris with only one year difference in age, they became friends right away – an important friendship that has lasted over half a century. Glass worked full-time as Serra's studio assistant for almost three years in New York in the late 1960s. During an exhibition tour in Europe with Serra in 1969, Glass's own performances and compositions were heard there for the first time, within Serra's gallery exhibitions.
Richard Serra and Philip Glass in the 1970s (photo: Richard Laundry)
The twenty Piano Etudes were written between 1991 and 2012, evenly divided into Book 1 and 2. As described by Glass, Book 1 explores a variety of tempi, textures and piano techniques. Traditionally etudes are technical studies, but in the hands of great composers they become independent works of art that are also studies of character, sonority and artistic imagination.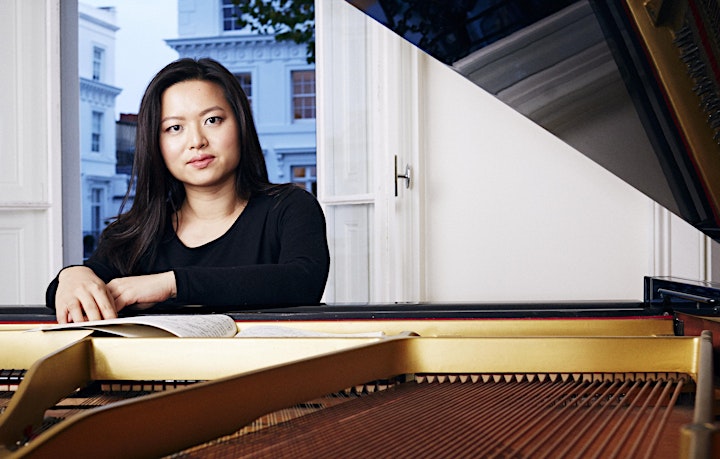 "I chose this set of Etudes for their mesmerising and undulating quality which comes from the textures, repetitions, distinctive technical ideas and unexpected patterns. These qualities echo my experience of looking at Richard Serra's drawings. For me, the black and white drawings speak to the black and white keys of the piano, as well as the notation in the score. A parallel process of transformation takes place when you look and listen." – Annie Yim, pianist & founder of MusicArt
Piano provided by Markson Pianos.
About Annie Yim
Annie Yim is a Hong Kong-born Canadian concert pianist, creative collaborator, and founder of MusicArt based in London. She has been described by The Times as a pianist who "made the most beautiful sounds, radiantly coloured, thoughtfully articulated". Equally at home with works by historical and contemporary composers, she has performed extensively throughout Europe, UK, US and Canada. As founding member of the Minerva Piano Trio, she was Making Music Selected Artist UK 2018, and St John's Smith Square Young Artist in Residence in 2016/17. She made her UK concerto debut at LSO St Luke's. Her new album on SOMM label with her trio will be released in 2022. She holds a Doctor of Musical Arts degree for her performance-based research at the Guildhall School of Music and Drama, and City, University of London.
About MusicArt
Founded in London in 2015 by pianist Annie Yim, MusicArt is a concept for creating and collaborating across art forms with music at the heart of each project. New works in visual arts, poetry, contemporary dance, and music have been commissioned and premiered at major art galleries and concert halls in London, Berlin, Salzburg, and Vancouver. Collaborations have also included national organisations such as The Poetry Society (UK) and Mathematical Sciences Research Institute (US). A book chapter by Annie Yim 'MusicArt: Creating Dialogues Across the Arts' was published in 2020 by Palgrave Macmillan within the academic volume 'Researching and writing on Contemporary Arts and Artists'. Through new dialogues and performance installations, each artist-led project aims to explore shared aesthetics in unique historical and contemporary contexts. In 2021, MusicArt has been awarded Arts Council England's Developing Your Creative Practice grant to explore connections between music and nature by incorporating field recordings and sound design.
About Ordovas
Ordovas is a private gallery dealing in the best of 20th century and contemporary art with a museum-quality exhibition programme. Founded on a commitment to and passion for art, and grounded in 20 years of specialist experience, it offers maximum discretion and unrivalled access to public and private collections globally, helping collectors, whether established or new, to navigate the art world. Pilar Ordovas founded her gallery after 13 years at Christie's, where she was International Director and Deputy Chairman, Post-War and Contemporary Art in Europe, and two years as a Director of Gagosian Gallery in London.
Scholarly in tone, the exhibition programme focuses on historical works as well as modern masters. The gallery often presents pieces that have not been seen for generations and collaborates with major museums, institutions, artists' estates and leading curators to mount thoughtful and revealing exhibitions. From its 2,000 sq ft Mayfair gallery, located at 25 Savile Row, Ordovas stages three museum-level exhibitions each year. In 2015, the gallery inaugurated its overseas presence with a large-scale sculpture exhibition in a double level, 10,000 sq ft space on the corner of Madison Avenue and 52nd St, New York. Ordovas's London home and its outpost locations provide inspiring environments for the exhibition and private sale of rare and important artworks.
Ordovas has organized exhibitions in conjunction with a number of leading institutions, including The Courtauld and The Dulwich Picture Gallery in London, the Rijksmuseum in Amsterdam and The Nelson-Atkins Museum of Art.
COVID-19 Guidelines
In order to enjoy the concert safely, we kindly ask all attendees to do a lateral flow test within 24 hours before the event - a negative result will be required for entry.
A face covering will be required for the duration of the concert.
There will be a hand sanitizing station at the entrance.
We thank you for your cooperation and look forward to sharing our safe event with you.