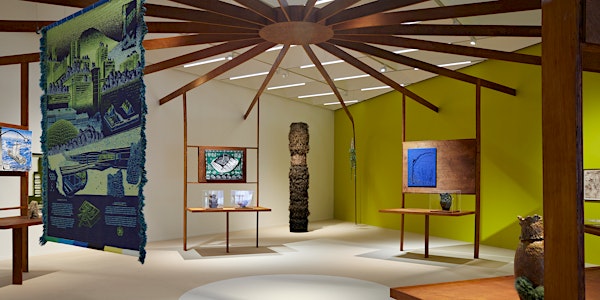 Gallery Walkthrough - Nottingham Contemporary
Location
Nottingham Contemporary
Weekday Cross
Nottingham
NG1 2GB
United Kingdom
About this event
Join us for a relaxed and informal walkthrough of the latest exhibition at Nottingham Contemporary - 'Our Silver City, 2094'.
Our Silver City is an exhibition-as-sci-fi-novel, or vice-versa. Set in Nottingham Contemporary's building in the year 2094, it is a glimpse into an imagined future in the city once known as Nottingham. The exhibition is immersive and multi-sensory, visitors are invited to join the artists in speculating on our future and the world we are creating.
The exhibition is split across four galleries, East – Time of Change, South – Time to understand, West – Time for Inner Knowledge and North – Time to Transmit Wisdom. We will begin our walkthrough with a warm welcome and introduction to the gallery and exhibition by Nottingham Contemporary's Programme Manager. We'll then take our time exploring this fascinating collection and end in the café to reflect on what we have seen, socialise together and enjoy some refreshments.
All activities in the ArtSpeak programme are for people aged 60+ and we encourage you to become a member. An ArtSpeak membership is free but you must be aged 60 and above, living in the Nottinghamshire area to be eligible to join. If you are not yet a member and would like to become one. Sign up here today!
If you require more information please contact - Artspeak@radfordcaregroup.org.uk