Location
Spitalfields Studios
7-15 Greatorex Street
London
E1 5NF
United Kingdom
Join Spitalfields Studios for an evening of live music, poetry, performances and screenings - and see our new exhibition Galvanise!
About this event
Join Spitalfields Studios artists and guests for our GALVANISE exhibition PRIVATE VIEW.
Join us for a timely reflection on collective struggle, action and hope, spanning themes of migration, oppression, climate change, technology and mental health - through galvanizing visual art, screenings, live performances and more.
Meet a lone sailor figure braving the bluster and bluff of Brexit. Join artists creating collaborative unions of tape, movement and signage. Witness a performer taking steps backwards, even as democracy retreats in Hong Kong. Consider a charred tree drooping in the face of climate change. Watch as a woman, wrapped in earth-sprinkled sackcloth, rolls to retrace the footsteps of her ancestors. Indulge in your own 10-minute portraiture, refreshments, postcards, prints and zines.
Galvanize. A gathering of words, poetry, music, film, performance, installation, photography, painting, collage, fine arts and more. Participating artists include:Art work by:
SM Asadullah, Kavan Balasuriya, Chris Bird, Mary Bloomly, Claire Cansick, Graham Carrick, Catherine Chambers, Charlie Chronbik, Aliyah Coreana, DMINTN, Ferha Farroqui, Annette Fernando, Nelson Ferreira, Abu Foysol, Emily Hana, Elizabeth Hannaford, Hayley Harrison, Sam Hart, Kevin Herlihy, Katie Horwhich, Michael Johnson, Marion Jones, Katherine Jones RA, Shen Ka Yee, Kirsty Kerr ,Petra Kneile, Daniele Lamarche, Christopher Lane, Temsuyanger Longkumer, LUAP, Meija Liepins, Peter Mammes, Sonia Martin, Sabi North, Paloma Orts, Jane Palm-Gold, Ash Patterson, John Pedder, Biddy Peppin, Sumi Perera, Ness Perriam, Gabrielle Poitras, Nicola Pritchard, Ian Rawlson, Matteo Razzeo, Ray Richardson, Reece Robinson, Felipe Rojas, Nina Schulze, Marianne Simonin, Morgan Sinton-Hewitt, Chloe Smith, Yu Ting, Helen Wilson, Karen Wood.
Music by:
J Cocoa, Natalio Faingold, Foshka Gero, Dutch Grip (Jim Willis - Guitar, Oliver Talkes - Synth) ,Daniel Hewson, Will Mount of Baltimore Music & Twenty One Crows
Films by:
Amber-Cooper Davies, Paloma Orts, Shen Ka Yee and Yu Ting
Performances and spoken word by:
Shen Ka Yee , Jayda David, Pip McDonald, Chika Jones, Benedetto Sacco and Eeshita Azad
Curated by: Annette Fernando
Bring £££ for our bar and pop-up shop selling prints and artist cards.
Part of Whitechapel Gallery First Thursdays.
🗓 7.7.22
⏰ 5.30pm-Late
📍 Spitalfields Studios, 7-15 Greatorex St, E1 5NF
***
LINE UP :
5.30 - 6pm Art Tour
Preview our work before the show starts with studio artists Nelson Ferreira + Christopher Lane.
Meet at Reception desk
5.30pm
Live improvised Jazz session Grab yourself a drink and listen to the smooth sounds of studio artists Will Mount & Dan Hewson.
Location: The courtyard
6pm - 6.30pm
Performance with studio artist Karen Wood and invited artist Maija Leipin The performance will be infused with the words, materials and impressions they exchange. It will be an of-the-moment response to the show itself - a situated live happening.
Location: The courtyard
6.30pm -6.50pm
Film screenings featuring films by
Amber Cooper-Davies: 'Sea Change', Second Film: Shen Ka Yee: 'Steps' ,Yu-Ting Chung: 'Look After and Be With You Forever', Paloma Orts 'Habitant Camins'.
Location: The conference room
7.00 - 7.30 pm
Performance Lie / July by Shen Ka Yee: A 30 minute performance exchanging lies. Shan Ka Yee invites you to listen to a lie from her past in exchange from a lie you have told in your past. The performance is a reflection on the frequency of lies her and others had to tell in Hong Kong in the days they experienced political storms.
Location: The courtyard
7.30pm - 7.40pm
Spoken word by Jayda Davies
Location: The conference room
7.40pm - 8pm
Spoken word by poets from the British Bilingual Poetry Collective. They will explore links between multilingual poets and the world responding to the theme new beginnings. Curated by Eeshita Azad. Featuring Pip McDonald , Chika Jones & Benedetto Sacco.
Location: The conference room
8pm-8.30pm
Art Tour : Have a guided tour of our 'Galvanise' exhibition with studio artists Nelson Ferreira and Deborah Aitken.
Meet at Reception desk
8pm - 8.20pm
Live music by Foshka Gero Join our studio band musical Foshka Gero. Their sound is influenced mostly by heavy/grunge and rock elements, whilst incorporating melody and their own style into it.
Location: The conference room
8.30 - 8.50pm
Live music by Dutch grip
Brixton-based instrumental duo Dutch Grip (Jim Willis - Guitar, Oliver Talkes - Synth) blend hymnal melody, rich harmony and dense lo-fi textures to create drifting cinematic soundcapes, taking inspiration from Boards Of Canada, Bill Frisell, Morphine and John Barry. https://dutchgrip.bandcamp.com/album/dutch-grip
Location: The conference room
9.00 - 9.20pm
Live music by Twenty One Crows
Newhaven based band Twenty-One Crows are Jon Griffin, Dominic Plucknett, Andy Thomas and Rebecca Tann. https://twenty-onecrows.bandcamp.com/
Location: The conference room
9.30pm - 10.30pm Jam session
Come jam with J cocoa, Natalio Faingold, Dutch Grip. Everyone from the audience is welcome to join in the jam session with us!
Location: The conference room
***
WHERE TO FIND US
Spitalfields Studios, 7-15 Greatorex St, E1 5NF
Nearest stations: Aldgate East (6 min walk)/ Whitechapel (8 min walk)
We are minutes away from Whitechapel Gallery and the East London Mosque.
The studios are located within the SSBA (Spitalfields Small Business Association) building.
***
www.spitalfieldsstudios.com
@spitalfieldsstudios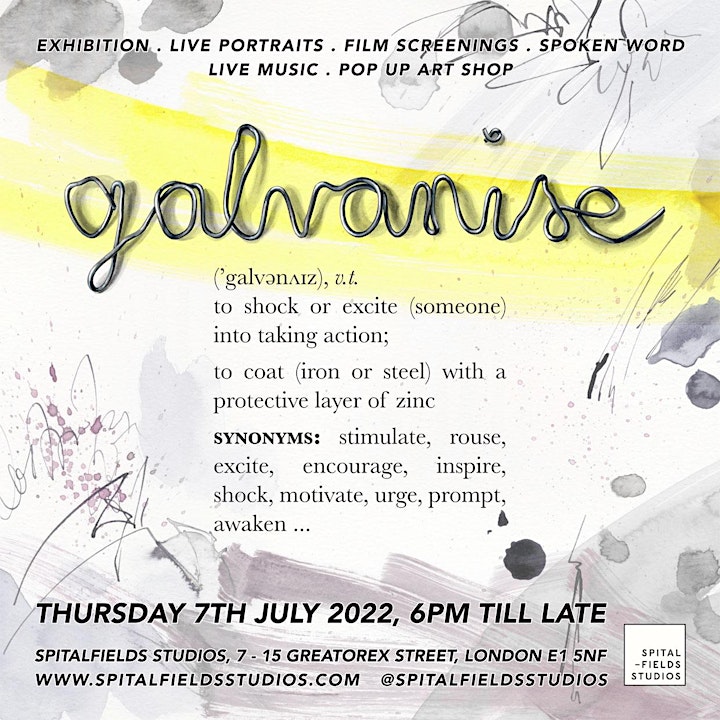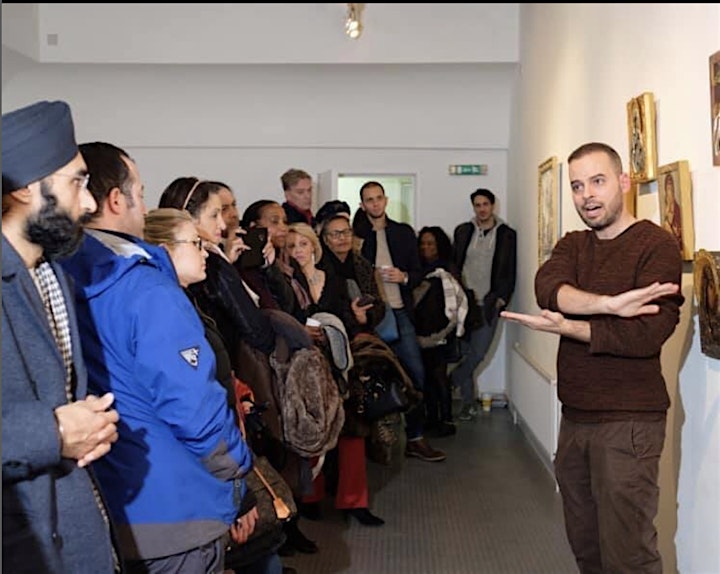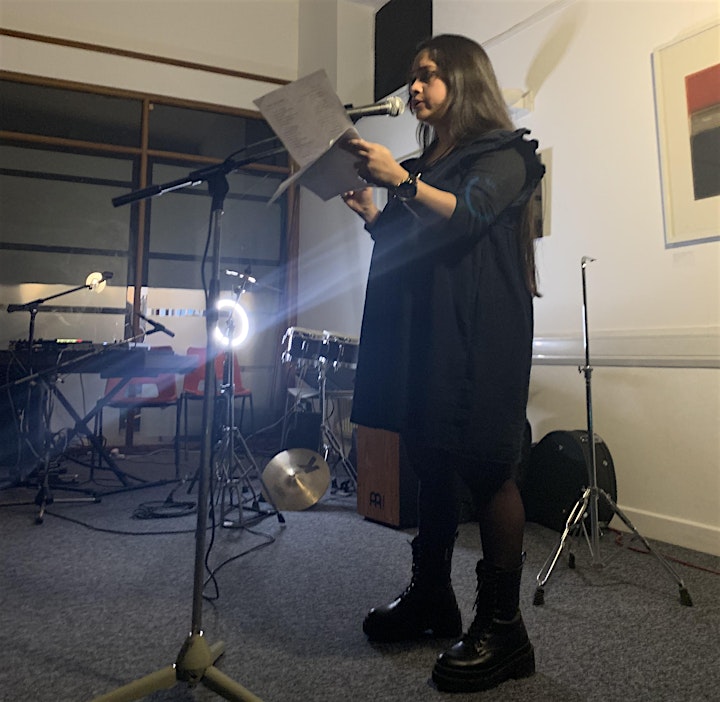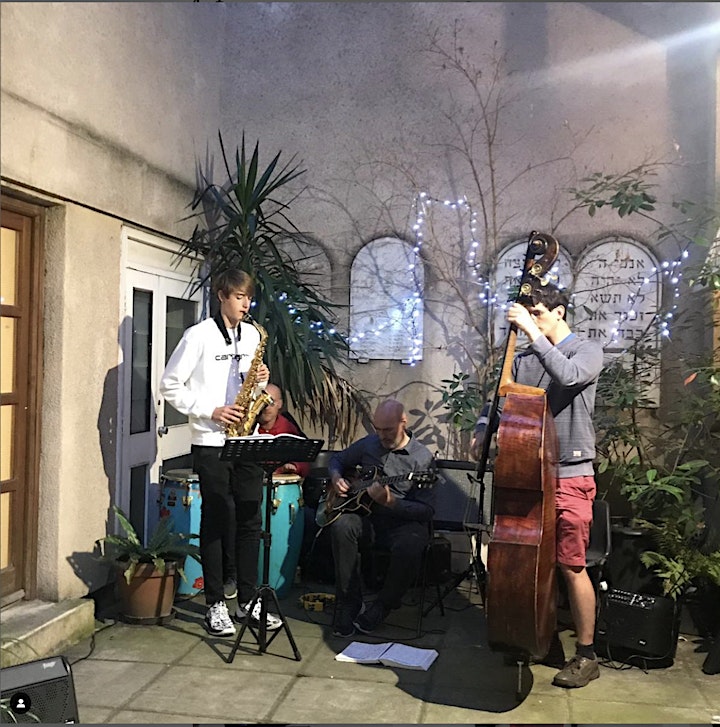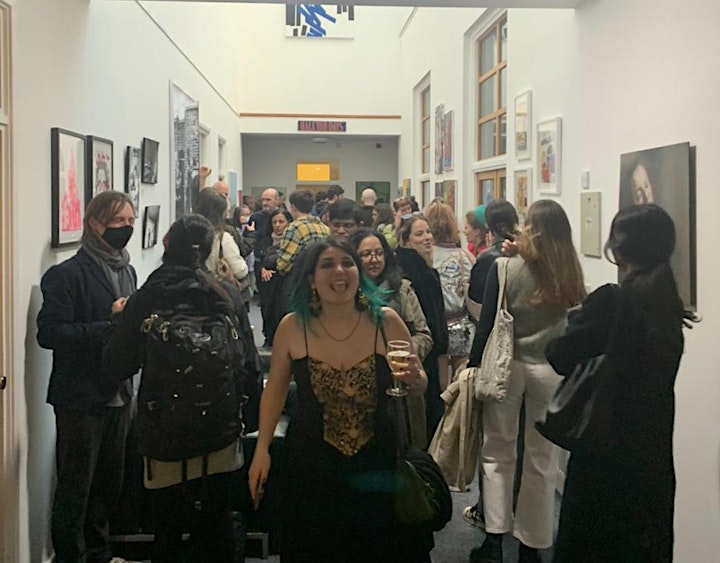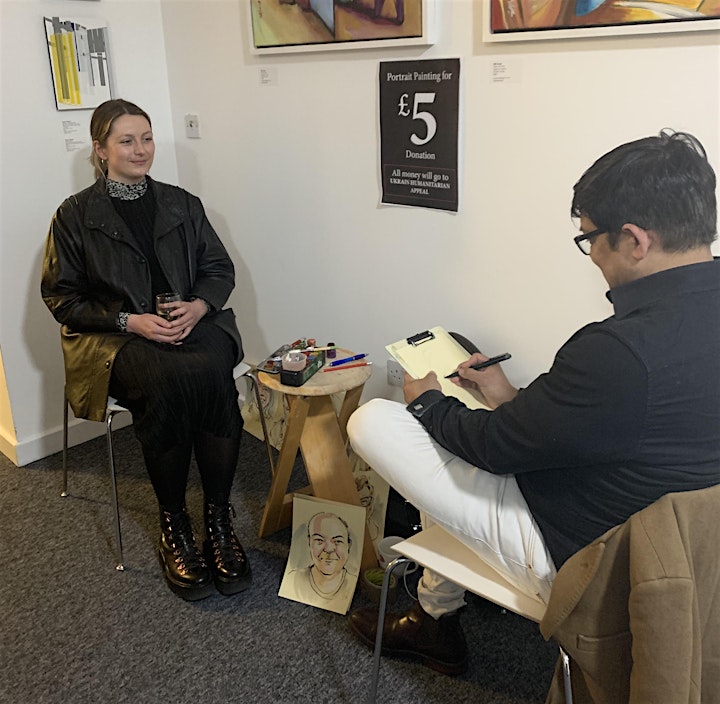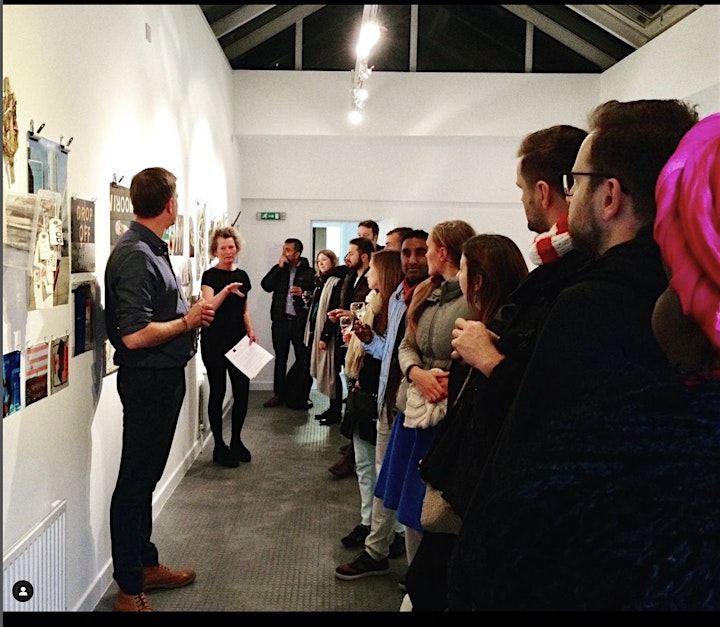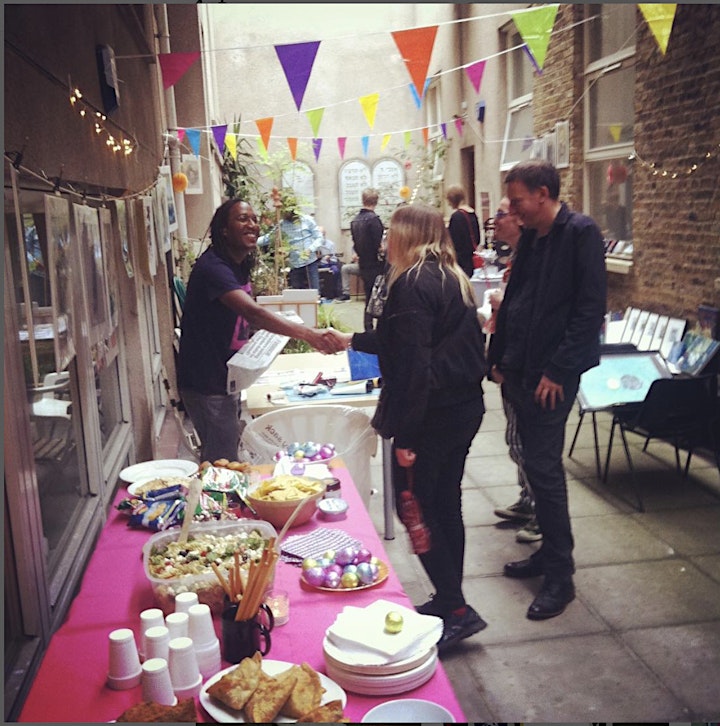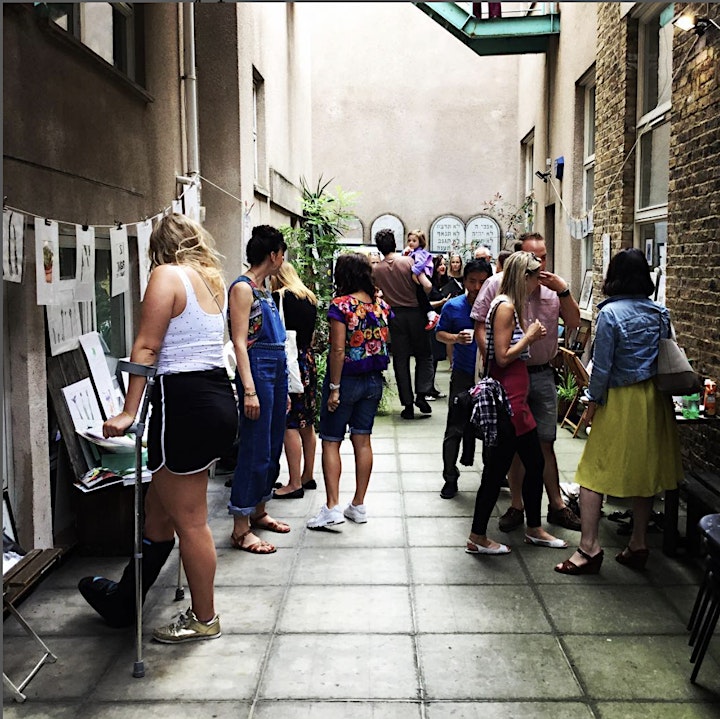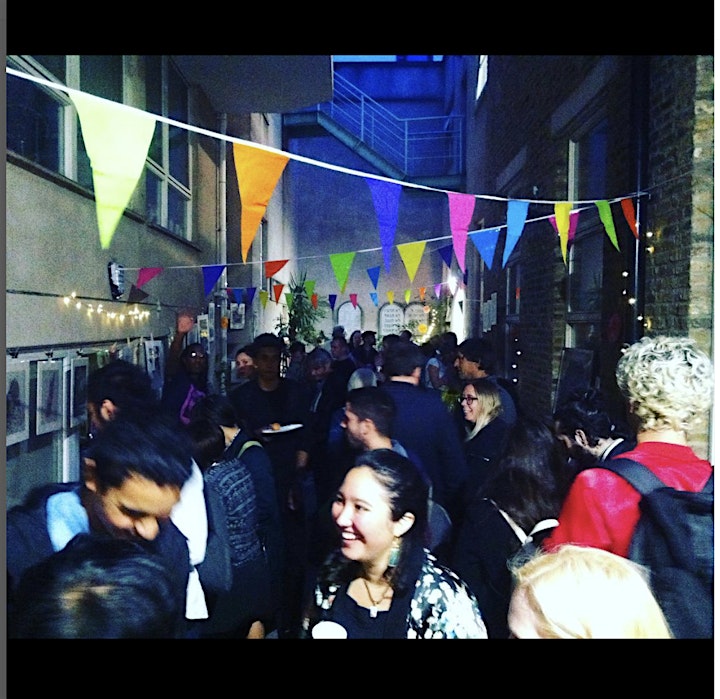 Some of the artwork in the show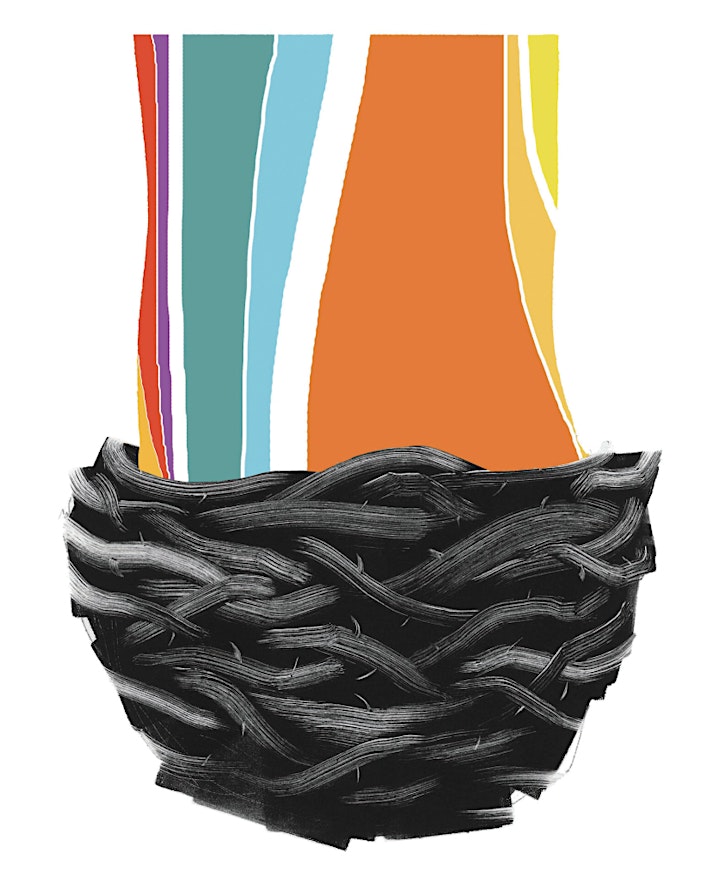 Temsuyanger Longkumer Refuge II. Tree tales IV | Gicleeprint | 28.5cm x 37cm.