About this Event
Do you play games?
Do you ever find it hard to make decisions?
Would you say that making better decisions would be valuable to your life?
If these questions ring true to you, you're in the right place!
With our new course your powers of decision-making will significantly improve.
Across the programme, you'll gain an understanding of the importance of decision-making to a successful career - why we struggle with decisions and how playing your favourite games can help you become an ultimate decision-maker.
How will we do it?
Twitch will be our 'stage'. Seek adventure, attend our streams and enjoy easy chat. A private Discord server is where the rest of the magic will happen: an opportunity to tackle challenges and meet other adventurers like yourself. Maybe make a couple of friends along the way!
It's all free of charge - but donations are welcome.

Here's our programme, your quest objectives:
Day 1 – Decision-making: it's a skill, now master it. (Twitch Stream)
Day 2 – Be aware! (A personal challenge on Discord)
Day 3 – Look at the box. Climb out of the box. Now think out of it. (Twitch)
Day 4 – Get creative! (Discord)
Day 5 – Improve your chances. Widen those options. (Twitch)
Day 6 – Be professional. (Discord)
Day 7 – Your final quest: Understand what you want. Find your goals. Declare your determination. (Twitch)
Why is decision-making important?
Humans make up to 35 000 decisions a day without even realising it. Learning the skill of how to find the best outcomes for any dilemma, and how to achieve that with ease is a life hack in its truest (and we'd say greatest) form.
Make good decisions, healthy decisions and avoid burning out.
Do it through video games, through a medium you enjoy, and make a real difference.
COMPETITION TIME
For those of you with resilience and determination to carry out the full programme, there are prizes! One lucky adventurer* will become the proud owner of a RAZER Epic Gaming Bundle (Keyboard, Mouse, Headset & Gaming Surface). We will announce the winner at the end of our last Twitch Stream.
The five most dedicated people, who participate in the programme will win bonuses for their efforts.
To take part in this competition, sign up with your email via Eventbrite and complete all of the Personal Challenges.
*Shipping for the RAZER Bundle Prize is limited to the UK Only. An alternative may be found for Mainland Europe.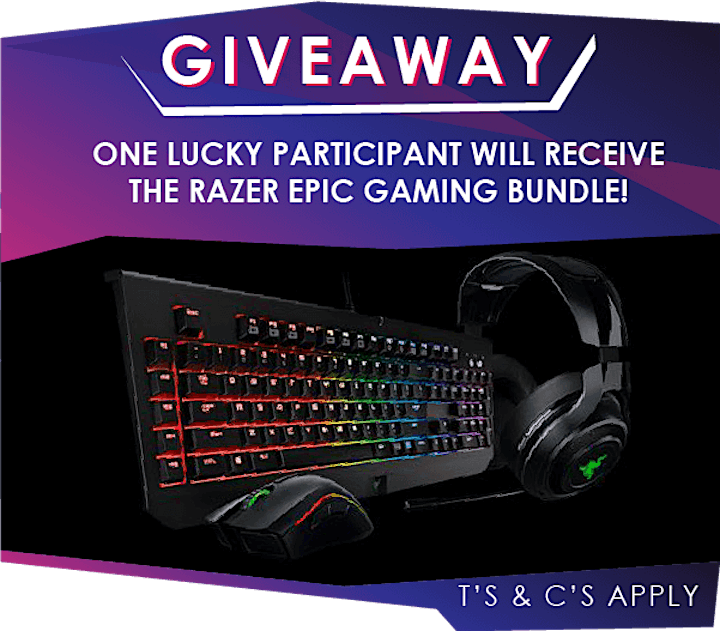 Register your interest for this event via the 'Register' button at the top right of this page.
Once you have completed the sign up, you will receive a welcome/confirmation email and follow-up email with details of channels.
Tickets are FREE but limited in number, so make sure to get yours as quickly as possible.
We can't wait to see you all on this very special Journey!
'Till we meet again, adventurer!