Games Britannia Industry Lecture Day

Friday, 24 January 2014 from 12:00 to 19:00 (GMT)
Who's Going

Loading your connections...
3 of your friends are going.
Share it to get more people on board.
Share

Sara Haughty
San Francisco, California

Luke Picard
London, United Kingdom

Rick Vespucio
Florence, Italy
Event Details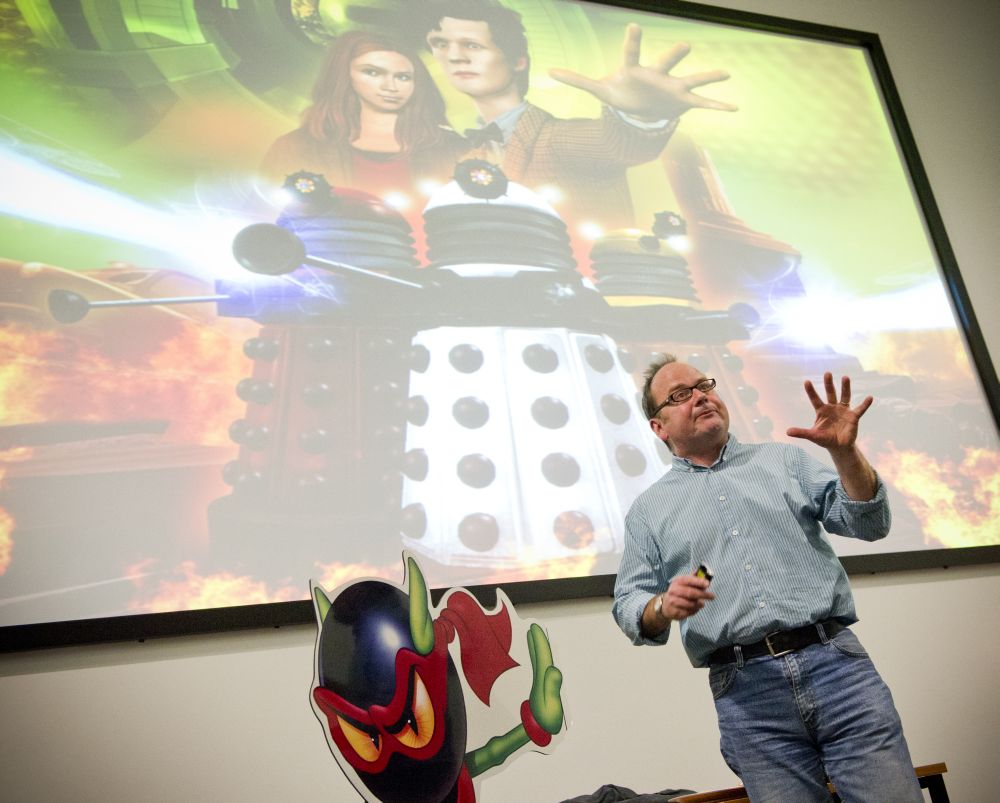 Games Britannia and Sheffield Hallam University present a day of lectures by games industry professionals in the Cantor lecture theatre. This year's line-up includes speakers from Sony Computer Entertainment, Sumo Digital and Creative Assembly as well as representation from our region's vibrant Indie development community. It concludes with a keynote by Jesse Venbrux, an inspirational young Indie game designer from the Netherlands. Jesse's achievements with GameMaker make a fitting introduction to the launch of the 2014 Games Britannia Schools Game design Competition which concludes the day.
Please note that the day is split into three blocks of lectures, with the first block (12:00-2:30pm) being the most technical, and the last block (5:30-7:00pm) being the most accessible. Space is limited, so booking a ticket should represent a commitment to remain until the end of the event at 7pm. Nonetheless we would be happy for non-technical students and schools to arrive during the 2:30pm break and for teachers to arrive during the 5:00pm break between the 2nd and 3rd sections.
NOTE: Booking is only exclusive to Sheffield Hallam students until 16th December 2013. At that point all remaining tickets will be made available to external visitors.
Time

Duration

Session

Who

12:00

00:15

Introduction

Jake Habgood

12:15

00:45

Speaker: Creative Assembly
How many arrows? The trials of memory management in Total War

Guy Davidson

13:00

00:45

Speaker: SN Systems
Just Stepping through: the inner workings of a debugger


Alex Postlethwaite 

13:45

00:45

Speaker: Scrapbook Development Limited
Putting study into practice: starting your own game company

Ashley Collins-Richardson and Chris Gray

14:30

00:30

Break

 

15:00

00:45

Speaker: Sony Computer Entertainment
Killzone: Designing single player levels for first person shooters

Peter Ellis

15:45

00:45

Speaker: Sumo Digital
On the inside looking out: a graduate perspective of the industy

Tom Sampson and Griffin Warner

16:30

00:45

Panel: SHINDIG
Indie game development Q&A panel

Lee Hickey et al

17:15

00:15

Break

 

17:30

00:15

GB Introduction

Jake Habgood

17:45

00:45

Speaker: Bit Ate Bit
Press to skip loading: The role of constraints in creativity 


Jesse Venbrux

18:30

00:30

GB Competition Briefing

Jake Habgood
Block 1: Technical Programming Talks (12:00 - 14:30)
How many arrows? The trials of memory management in Total War 

Memory management and file IO are two of the most demanding areas of resource scheduling in game development. Memory management strategies to minimise fragmentation and maximise speed of allocation will be covered, including C++ language support for the solutions. Different approaches to getting data from external storage to RAM will be considered, and choices for synchronous and asynchronous file IO will be offered.

 

About Guy Davidson: Guy is the Coding Manager at The Creative Assembly, makers of the Total War franchise, where he was worked for nearly fourteen years. His role includes optimising performance, in the codebase and across the programming team. Guy has been programming since he first caught sight of an Acorn Atom at school in 1980, and arrived in the games industry via multimedia in the 90s. His first product was Prince Naseem Boxing for Codemasters, and he has been working on the Total War franchise since 2000.
Just stepping through: the inner workings of a debugger 

Debuggers are a staple of every programmer's toolset, but have you ever considered how they actually work and how would you go about creating one? This talk will explain the inner workings of the basic functionality of a debugger, from interpreting register information into variables, to single-stepping through code.

 

About Alex Postlethwaite: Alex completed a work placement at SN Systems in 2008 and returned to work for them when he graduated from Sheffield Hallam University's BSc Games Software Development degree a year later. Alex has been working on the debugging tools team ever since and is part of the team responsible for writing the debugger for the PlayStation 4 and PlayStation Vita.
Putting study into practice: starting your own game company 

Scrapbook Development Limited is a new Sheffield-based indie game development company set up by recent graduates. Having already released "Jailbreak" for PlayStation mobile, Scrapbook have now launched their first iOS title "Gravoor" on the AppStore. The team will explain the process of starting their own company, the design, development and approval processes involved in releasing a product for mobile platforms, and the importance of promoting your product and business.

 
 

About Ash and Chris: Ash has been employed as a software engineer outside of the games industry since graduating from the BSc in Games Software Development at SHU in 2012. As Technical Director of Scrapbook Development, Ash been responsible for the development of a number of games and business applications for mobile devices. Chris graduated from Hallam in 2012 with a Masters degree in Animation. He currently works as Creative Director at Scrapbook Development.
 Block 2: Design and Employability Talks (15:00 - 17:15)
Shoot to thrill: Designing single-player levels for first-person shooters 

Level design is a skilled art in which the rules can vary significantly from one game to another, or even between different modes in the same game.  This talk will discuss the design rules that were used for making single-player levels in the acclaimed Killzone Mercenary and provide some insights into the mindset of a level designer. Please note that Killzone Mercenary is an 18-rated game, but the talk itself will not contain 18-rated content.

 

About Peter Ellis: Originally trained as a 3D Artist, Peter gained his first job in level design at Frontier Developments, before coming to work for Sony at Guerrilla Cambridge in 2011. Peter was a level designer on Killzone Mercenary for the PlayStation Vita which received rave reviews when it was released last year.
On the inside looking out: A graduate perspective of the games industry 

Video game courses usually provide formal programming skills or technical art skills, but there is much more to consider when pursuing a career in the games industry. In this talk, two recent graduates will speak openly about how their initial expectations and preconceptions of the industry align with the reality of working life as a programmer and artist at Sumo Digital. This talk will cover aspects such as the interview process and what to expect on your first day, and will continue to address broader topics such as games industry myths, culture, community and the state of the industry as a whole.

 
 

About Tom Sampson and Griffin Warner: Tom graduated from the MComp in Games Software Development at SHU in 2012 and walked straight into a programming role at Sumo-Digital working on the Sonic franchise. Griffin graduated from the BSc in Games Software Development at SHU in 2010 and achieved a rare feat for a programmer in obtaining an artistic role at Sumo-Digital.
Indie Game Development  Q and A Panel 

Indie Game Developers are – by nature – independently minded. They have chosen not to work in a mainstream studio and follow their own instincts on game development. They also work in a rapidly changing market in which the success of some games can be as surprising as the business models behind them. Who better then to discuss the future of indie game development and take questions from the audience for an extended Q and A session?

 

About SHINDIG: SHINDIG is an informal collective of independent game developers who are based in and around Sheffield, England including Games Faction, Tuna and Team Cooper.  They mainly work as individuals or microstudios of less than a dozen developers working on mobile and web platforms.
Block 3: Games Britannia Talks (17:30 - 19:30)
Press to skip loading: The role of constraints in creativity 

Coming up with a truly innovative new game idea has never been easy, but with an increasingly bewildering array of platforms and control mechanisms it can be difficult to know where to start. In fact excessive choice can sometimes be the enemy of creativity and constraints can actually focus and inspire innovation in ways you might not expect. This talk will explore this concept using examples from Jesse's own prize-winning portfolio.

 

About Jesse Venbrux: Jesse has been using GameMaker to design and build games since he was 16 years old, and has released over 30 titles in a decade. His creations have won the YoYoGames global game design competition twice, and secured him placements working in Japan at Q-Games, as well as at YoYoGames in Dundee. At 26 he now runs his own Freelance game development in The Netherlands.
The Games Britannia Schools Game Design Competition 

The day will conclude with a run through of the 2014 schools game design competition, which, this year, is based on the 80's classic game Jack the Nipper. Some local history and background to the game will be provided to conclude the day.

 

About Jacob Habgood: Jake is Senior Lecturer in Game Development at Sheffield Hallam University and the Director of the Games Britannia festival. Jake began his games industry career in the mid 90's as a PlayStation One programmer at Sheffield-based Gremlin Graphics and has a PhD in game-based learning.
When & Where

Sheffield Hallam University
Cantor Building
153 Arundel Street
S1 2NU Sheffield
United Kingdom


Friday, 24 January 2014 from 12:00 to 19:00 (GMT)
Add to my calendar
Organiser
The 2014 Games Britannia Festival
The Games Britannia Festival brings creativity and technology together, providing schools and colleges with workshops and activities led by games industry experts and academics. Started in 2011 by Brinsworth Comprehensive School, it is now run by the Computing Department at Sheffield Hallam University as part of a range of initiatives which attempt to engage schools and teachers in Computer Science. However, programming is just one facet of the Games Britannia festival, which incorporates areas of the curriculum as diverse as English, Maths, Computing, Music and Art – all through the exciting field of videogame development.
The core of the festival focuses on providing free hands-on workshops aimed at school children in KS3 and KS4, and is open to local and national schools including home-schooled pupils. The festival also includes speaker events open to the general public, as well as activities specifically targeted at higher education students wanting to break into the games industry.