Description
The 2018 Games Britannia Videogames Education Festival will take place in the week of 26th-27th June. All activities will take place within the modern facilities of the Cantor Building at Sheffield Hallam University and are aimed at KS3 – KS5 students.
NEW FOR 2018 GAMES BRITANNIA PLAY!

Try out the next generation of gaming technology in this years Play area. Experience the heightened levels of immersion provided to games, and discover some of the potential future applications of this exciting technology. While in the Play area workshop you can try out any of the games within the area. Why not spend half your day in the play area and the other half in a focused workshop. See timetable below.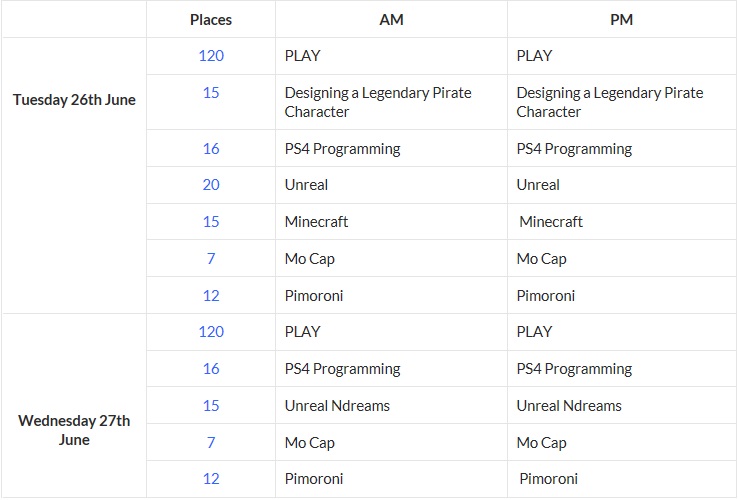 Please make sure when you are ordering tickets you are only ordering what you need. This event is extremley popular.
Background
The Games Britannia Festival brings creativity and technology together, providing schools and colleges with workshops and activities led by games industry experts and academics. Started in 2011 by Brinsworth Comprehensive School, it is now run by the Research Department (C3RI) at Sheffield Hallam University as part of a range of initiatives which attempt to engage schools and teachers in Computer Science. However, programming is just one facet of the Games Britannia festival, which incorporates areas of the curriculum as diverse as English, Maths, Computing, Music and Art – all through the exciting field of videogame development.
The core of the festival focuses on providing free hands-on workshops aimed at school children in KS3 – KS4, and is open to local and national schools including home-schooled pupils. The festival also includes speaker events open to the general public, as well as activities specifically targeted at higher education students wanting to break into the games industry.
For more information please visit the Games Britannia website below.