Location
Pub Du Vin
2 Ship St.
Brighton And Hove
BN11AD
United Kingdom
Description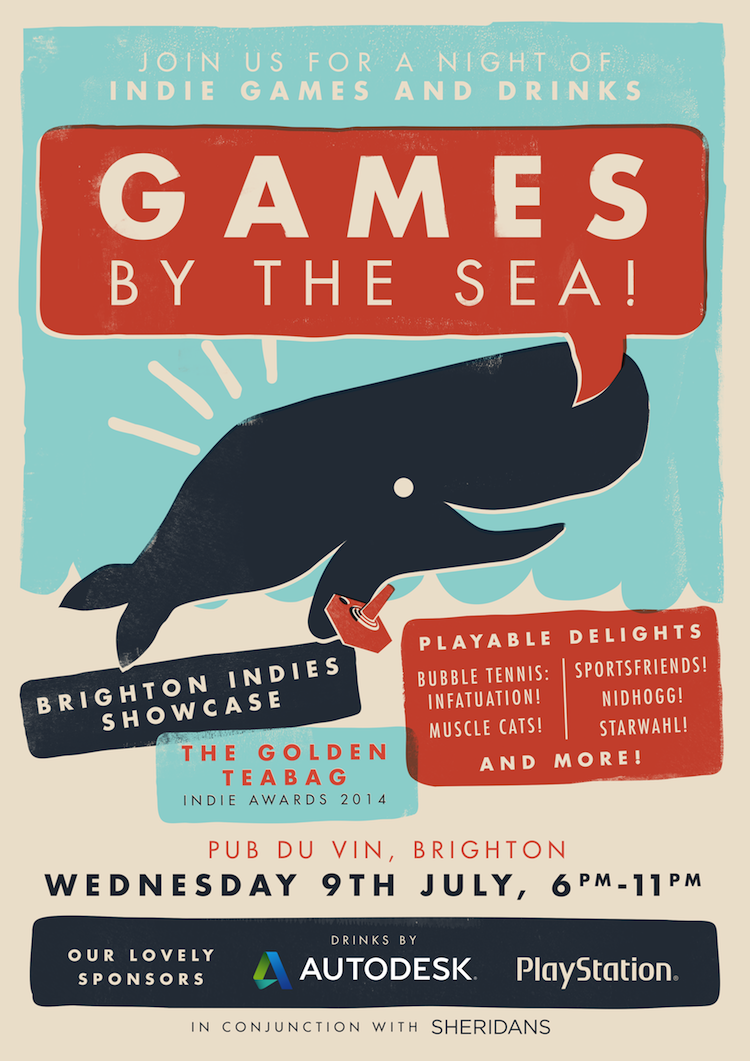 Join us for a fun night of indie games and drinks!
Returning for a glorious second year, Games by the Sea brings you yet another wondrous seaside night of indie gaming delights, conversation, and drinks underneath a slightly out-of-place chandelier made of wine glasses.
This is all possible thanks to invaluable support from Sheridans and fabulous sponsors Autodesk and PlayStation.
Here's just a sampling of our exciting lineup for the evening; some old favourites and some new favourites.
Games, games, games!


Bubble Tennis: Infatuation
Muscle Cats
Sportsfriends

Starwhal: Just the Tip

Towerfall

Nidhogg

Samurai Gunn

Tap Happy Sabotage

And more?
Marvel at the local talent in the Brighton Indies Showcase


Velocity 2X by Futurlab
Tomb of Rooms by Idle Creations
Mighty Tactical Shooter by Shock Thuggery
And possibly more if we can squeeze 'em in

The Golden Teabag Indie Awards 2014

The Golden Teabags return for their 3rd year of semi-occasional back slapping and self-congratulation. The awards are arguably the most important event in the indie calendar; you'd better come because you might be up for an award and not even know it.

Peruse the fine selection of indie beers and other tipples at Pub Du Vin. Gain free drink tokens by checking out games in the Brighton Indies Showcase!
Snag your ticket now - those who register early will receive a free drinks token, courtesy of Autodesk!
Pub Du Vin can only contain so many awesome people such as yourselves at any one time, so please be sure to get a ticket if you plan on attending. There will be tickets on the door, provided we're not bursting at the seams, but reserve one now to avoid being sad in the face (and of course, for your thirst-quencing drinks token).
--- HUGE THANKS TO OUR GLORIOUS SPONSORS! ---

In conjunction with
Games by the Sea opperates a "be a decent human being" policy, We hope that is pretty self explanatory. We want everyone to feel welcome, safe, respected and not harassed or threatened in any way. If you find anyone at our events not acting accoring to this policy, please let an organiser know and they will endevour to straigten things up. We do not tolerate any kind of non-decent behaviour.