Description
Like amazing video games? (Sure.)
Enjoy drinks out with lovely people? (Absolutely.)
Think it's about time those two things were brought together, in a glorious, one-night union of friendly bar and indie games arcade?
(Hmm, now you mention it…)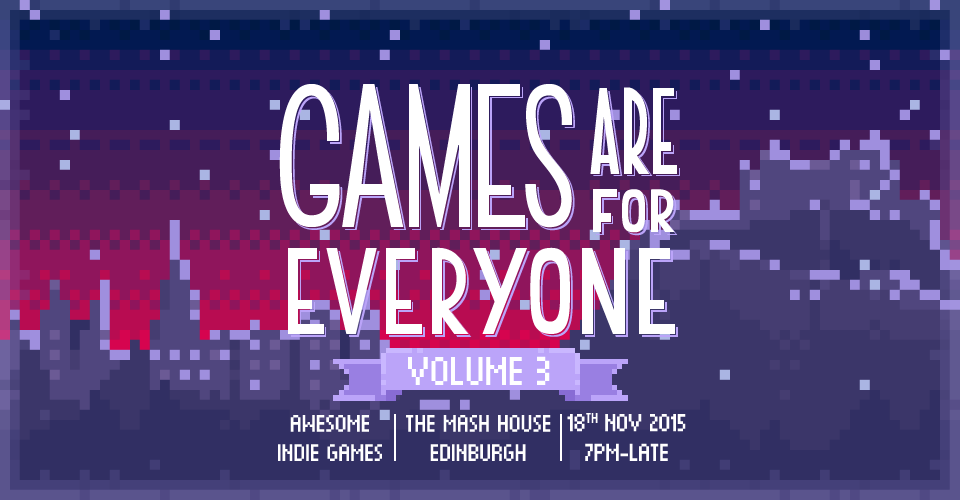 Come and join us on Wednesday 18th November, as we once again transform The Mash House in Edinburgh into a beautiful combination of amazing bar and incredible indie games space.
Returning for our third and final GamesAreForEveryone of the year, we'll be showing off playable games, demos and installations by developers and artists from across Scotland (and further afield!), amidst a friendly atmosphere of drinks, music and wonderful people.
From incredible titles involving bluffing and deadly versions of hide and seek, right the way through to beautiful single-player projects and sports-based robots, the night will be a celebration of all things video games, and absolutely everyone is welcome.
And, if all that wasn't enough, we'll have live music from orchestral group Mantra Collective; signed copies of Cara Ellison's new book 'Embed With Games' available to buy; as well as live music from Better Hallway Vision and Main Ingredient throughout the night (check out our announcement posts below!).
It should be a brilliant night, and if you're interested in games in any way, shape or form - or just fancy seeing something new from some fantastic local devs/artists/creators - then we'd love for you to come along!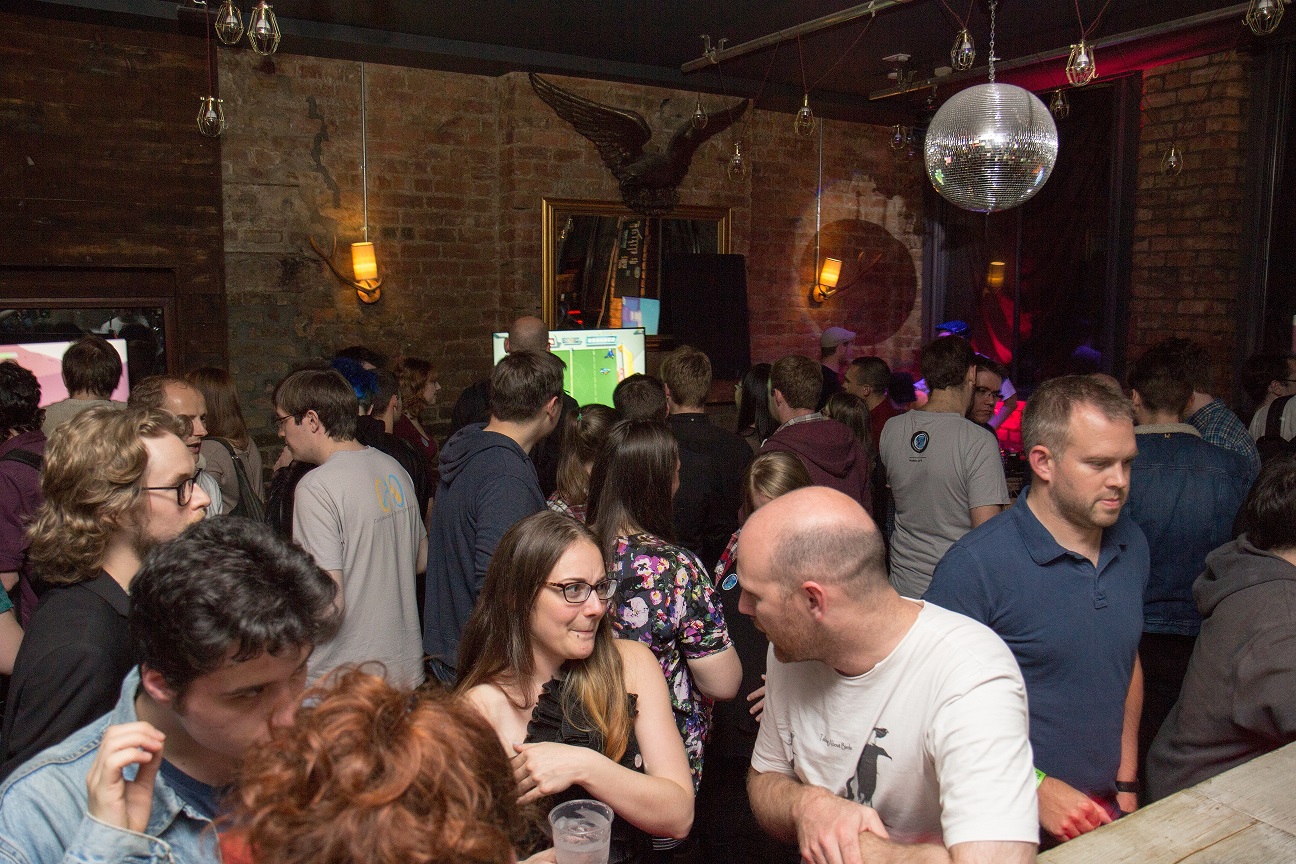 The night will feature work and projects from the likes of:
Kirsty Keatch
Catbell Games
Powerhoof
Winnie Song
The Man Who Flew Away
Rope Rumble
VoxelStorm
Cara Ellison
Ruffian Games
Steelcrate Games
Pixel Tailors
Vaida
...and we'll be announcing more lovely things in the coming weeks, too!
Lovely things announcement #1 - We're thrilled to announce that the brilliant Mantra Collective will once again be joining us at GamesAreForEveryone Vol.3 to play an incredible set of games-related music live on stage.
It's been an absolute blast to host Mantra at our last two events, and this time round is no exception - they're a fantastic sight/sound to behold, and we really can't wait to see them perform on the 18th!
(Oh, and if you'd like to get to know Mantra a bit better before the event, you can find them on Twitter (@Mantra_Sound) and on Soundcloud (soundcloud.com/mantra-19), too.)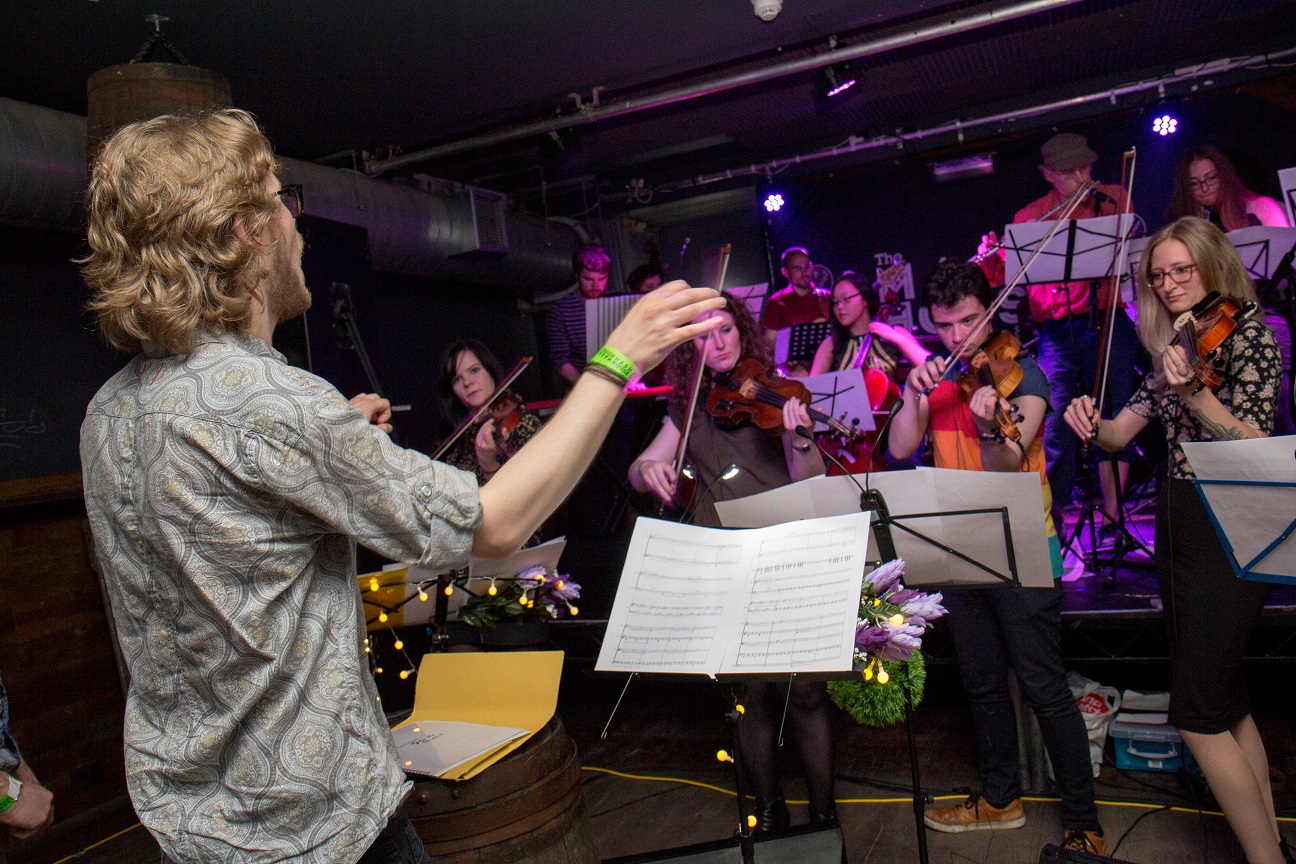 Lovely things announcement #2 - On top of all of the other amazing things that we'll be showing off at GamesAreForEveryone, we're incredibly excited to share that Volume 3 is also going to serve as a little launch party event for writer and narrative designer Cara Ellison's amazing new book, 'Embed With Games: A Year on the Couch with Games Developers'.
If you're not familiar with the 'Embed With Games' series, the book charts a year that Cara spend travelling around the world, 'from couch to couch, writing about the people that she met and about the way our game creators express the culture around them'.
Needless to say, we're absolutely thrilled to have Cara and 'Embed With Games' along for the night - and, not only will there be a chance to pick up a freshly-signed copy of the book at the event, but we'll also be donating 10% of all sales on the evening to GamesAid, a UK based video games charity which helps disadvantaged and disabled young people across the country.
So yeah - if you fancy coming along on the 18th, not only will you get to play and see some amazing things, but you'll also have a chance to pick up a brilliant book whilst doing a little good in the process, too! Pretty neat, right?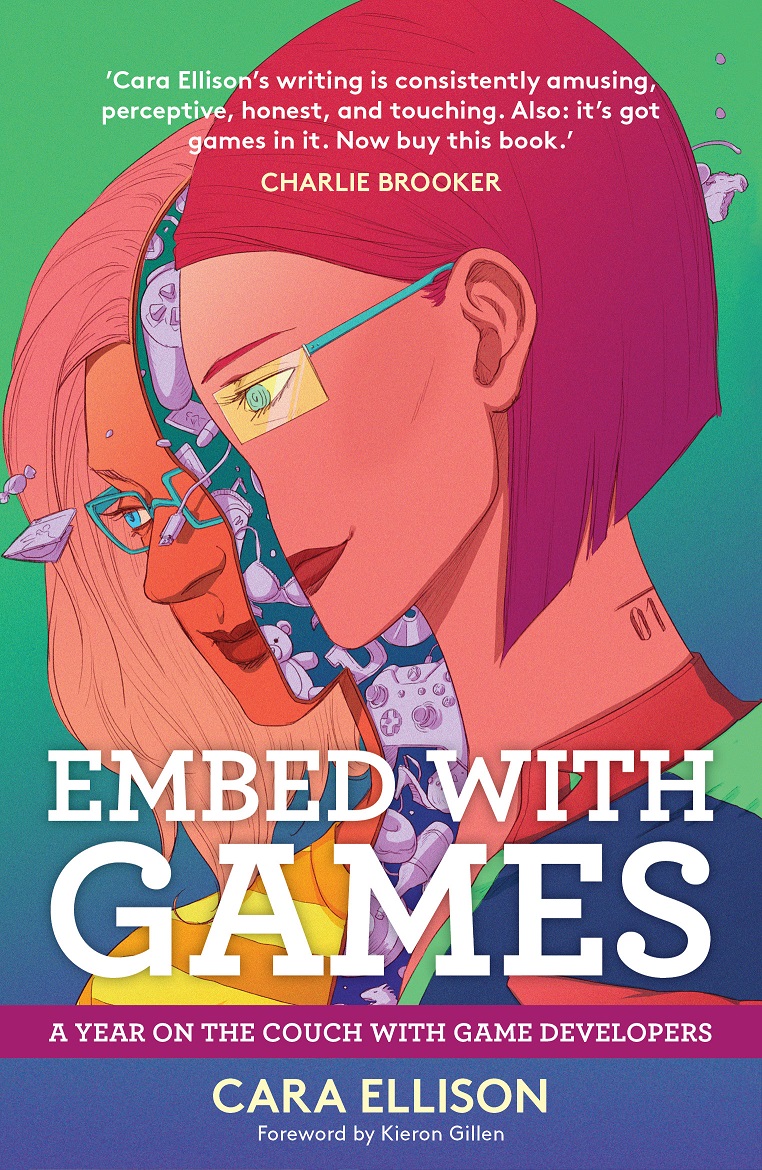 Lovely things announcement #3 - As well as the brilliant Mantra Collective, we're also excited to say that we're going to be joined by two sets of amazing DJs on the night! Not only will our friends from Main Ingredient (who played at Volume 2) be joining us for the first part of the evening, but the night will also include a live set by Better Hallway Vision (AKA Alice O'Connor and Cara Ellison)! There will be fantastic tunes; there will be amazing visuals; there might even be some UV paint. We can't wait!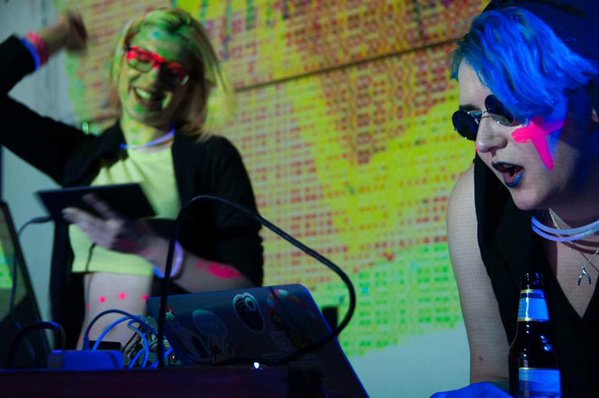 (Photo by @uglymachine / uglymachine.net)

---
Frequently Asked Questions
Is there an age limit for this event?
As The Mash House is a licensed premises, unfortunately you'll need to be 18 years old or older to come along (we're really sorry if that means you won't be able to attend).
Do I need to take my ticket along?
Yes, please, if you can! Everyone who brings their ticket along will help us get people into the venue and enjoying themselves all the faster!
What's with the name?
Part of our hopes for this event is to create a night that's really friendly, welcoming and inclusive of anyone who fancies coming along and seeing / playing some amazing games. When we started thinking about it, the name 'GamesAreForEveryone' seemed like a perfect fit.
It's also worth mentioning that our 'friendly, welcoming and inclusive' values are pretty important to us, too, so if you see/experience anything that concerns you on the night - or you can think of a way we can uphold these values better - please do let us know!
Shoot! I've bought tickets to the event, but now realised I'm not going to make it. Can I transfer them, or get a refund?
Ah, we're sorry to hear that! If you drop us an email at hello@thehitpoint.co.uk, though, we'll see what we can do.
Oh, I won't be able to make it on the 18th, as I've got other plans. Will you be doing these nights again?
Ooh, hopefully! At the moment, GamesAreForEveryone is happening once every couple of months, or so, so - while this will probably be our last one this year - we should be back in 2016 for more of the same!
I'm working on something at the moment that I think would really work well in this sort of setting. Can I get in touch with you to talk about it?
Absolutely! In fact, we have a google form set up for just this type of occurrence, which you can find at http://goo.gl/forms/7jhByxscHO. Unfortunately we probably won't be able to include you this time round, but we'd definitely be up for hearing more about your project for future evenings!
I've got another question which you haven't covered here...
Whoops, our mistake! Feel free to email us at hello@thehitpoint.co.uk, and we'll try and get back to you as quickly as we possibly can!
---

GamesAreForEveryone is being supported by IGDA Scotland, an organisation which works with, and for, game developers across the country. You can find more info on the amazing work they do at igdascotland.org