Description
One of the highlights of the games industry social calendar returns.

========
In partnership with our amazing Headline Partner Hi-Rez Studios, and co-host Amiqus, we are celebrating the UK games development scene during Develop:Brighton! The GamesIndustry.biz Summer Party on Brighton seafront is the perfect place to enjoy a drink and unwind late into the night.

~Photos from last year's party can be enjoyed here~
Free Bar
Featuring a Free Bar and Buckets of Beer spread liberally around the venue, the Summer Party also includes the legendary (and much sought after) midnight bacon sandwiches to keep everyone fueled (vegan option available).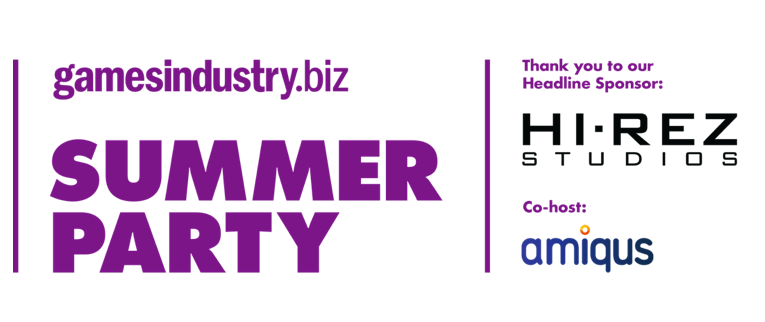 A 8pm start at our seafront venue

The party is '8 till Late' - so you can come early and enjoy the late summer sun, or arrive once the Develop Star Awards have come to an end.

Our venue is 'Patterns', the fully refurbished seafront bar, which our party regulars will remember from previous years, and once again we have both floors of the venue, as well as the outside terrace.
Note that due to licensing laws, drinking on the outside terrace will be restricted after a certain time at the venue's discretion.
Ticket-only Entry
To make sure everyone has space to enjoy this popular evening, entry is by ticket only.
This means you'll be able to get to the free bar faster and have some room to mingle with guests - which is ultimately what it's all about - and even perhaps have little dance in the club downstairs later on.
We have made available a limited allocation of tickets for purchase here through Eventbrite to guarantee your entry. Once we have sold out of tickets here, you may still be able to get a ticket from one of our wonderful sponsors who are co-hosting the event - each has their own allocation.
To avoid confusion on the night, please remember that we are separate from the Develop Conference and Develop Star Awards, so a ticket for either of those lovely events does not allow entry to our party. Thanks for your understanding!
If you have any questions about the party, please contact the event organiser, Charlotte Nangle.

Remember folks, the night is only made possible by the generosity of our fantastic co-host.