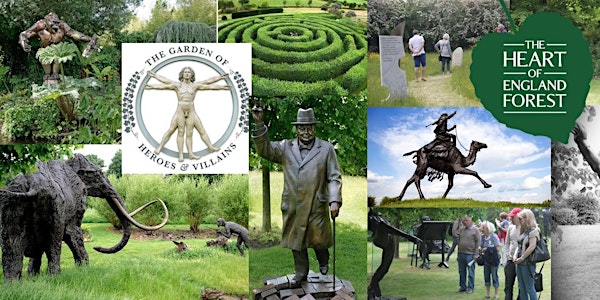 Garden of Heroes and Villains Fundraiser for the Heart of England Forest
Event Information
Location
CV37 8AS
The Garden of Heroes and Villains
The Heart of England Forest
Dorsington, Nr Stratford Upon Avon
CV37 8AS
United Kingdom
Set in landscaped gardens, the Garden of Heroes and Villains is home to more than 50 life-size, bronze statues of iconic figures.
About this event
Join us our first fundraising day in the stunning Garden of Heroes & Villains for 2022, a private sculpture garden commissioned by our late Founder Felix Dennis, and meet some of history's greats, immortalised in bronze. 
Come face-to-face with Muhammed Ali, cross the finish line with Roger Bannister, take front row for The Beatles, join Lawrence of Arabia at full charge on camel-back or take a trip with the Owl & the Pussycat and see the pig with the ring in the end of his nose!
With activities on this open day for the whole family, including a yew hedge maze, poetry garden, woodland walks and a collection of over 50 stunning sculptures, not forgetting the tea and cake refreshments served by our volunteers, it's a unique day out in the Heart of England Forest!
Admission by pre-purchased tickets only. Please consider choosing the charity ticket which includes either a £1 or £5 donation per ticket to help grow the Forest.
Further information on the Garden of Heroes & Villains can be found on the Forest website
Dogs on short leads are welcome.
The Heart of England Forest has the simple vision to plant, protect and preserve a huge broadleaf forest across south Warwickshire and Worcestershire. All funds raised will go to support our work planting trees, creating wildlife habitats and the education of woodland environments.  - Find out more at heartofenglandforest.org
By registering for this event you are agreeing to us contacting you by email or phone to advise you of any further event information, changes to the event or post-event feedback. The Heart of England Forest events terms can be found here and the privacy policy here.
This event is also being held on Saturday 2nd July &  Saturday 20th August with an open evening on Thursday 21st July. tickets available now.
Date and time
Location
CV37 8AS
The Garden of Heroes and Villains
The Heart of England Forest
Dorsington, Nr Stratford Upon Avon
CV37 8AS
United Kingdom
Refund policy