Refund policy
Contact the organiser to request a refund.
Eventbrite's fee is nonrefundable.
Giles Bryant talks with Madeleine and Will Tuttle on their journey to help create a peaceful abundant world for all.
About this event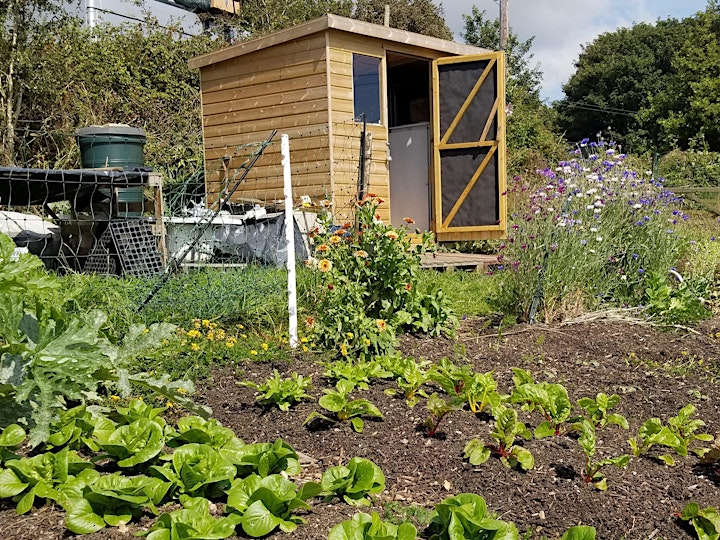 Gardening for Abundance Will and Madeline Tuttle
Join Giles Bryant talking with Madeleine and Will Tuttle on their journey to help create a peaceful abundant world for all.
Please send any questions to: events@veganorganic.net
Show host: Giles Bryant – World Healing Project, Founder
Giles has been a keen gardener for 30 years. He has planted community orchards, forest gardens and medicinal herb areas at a variety of projects. He runs the World Healing Project, promoting wellbeing for people and the planet, and has just released an 8-year project, One World, which features musicians and singers from around the world. http://www.gilesbryant.com
Veganic Food Forest Gardening with Dr. Will & Madeleine Tuttle
Dr. Will and Madeleine Tuttle, vegan advocates now for over forty years, decided to move out of the rolling home that they had been traveling full-time in for 17 years, lecturing and promoting veganism throughout the United States, and bought a home with a half-acre of barren land in northern California. While on the road, the only thing they could grow and harvest were sprouts on the counter, but now, over the past ten years, they have created Karuna Food Forest, a veganic garden with 71 fruit and nut trees, 6 raised beds for vegetables, 80 berry and grape bushes and vines, 90 perennial herbs and 90 ornamental shrubs.
The land was steep and rocky, and required a lot of rock moving, fencing, creating terraces, and creating and building up soil through mulching with wood chips, adding copious amounts of compost as well as effective microorganisms and glacial rock dust minerals and installing an extensive irrigation system, among many other things.
Their food forest supplies them with greens, vegetables, fruits, squashes, and herbs year-round and though most of the trees are still young, they are starting to produce abundantly. They have adopted quite a few unique and helpful innovations that they love to share to help vegans be more successful in their gardening efforts.
Madeleine studied with Dr. Alfred Vogel, the legendary Swiss naturopath and founder of the Bio-Force company, and both Will and Madeleine have been dedicated to the organic, vegan, whole-foods lifestyle for decades, and feel it is important for vegans to support veganic agriculture, and do as much as they can on their own as well, especially during these tumultuous times. Dr. Tuttle's book, The World Peace Diet, is considered by many to be the "bible" of veganism, and has been published in 17 languages and was a #1 Amazon international best-seller in 2010. They have traveled to over 50 countries spreading the vegan message, as well as all 50 states in the U.S.
Dr Will Tuttle
Dr. Will Tuttle, visionary author, educator, and inspirational speaker, is author of the acclaimed Amazon #1 best-seller The World Peace Diet, published in 17 languages. Since 1985, Dr. Tuttle has delivered 4,000+ live audience presentations encouraging compassion and vegan living, in over 50 countries worldwide and in all 50 U.S. states.
Recipient of the Courage of Conscience Award as well as the Empty Cages Prize, he is the creator of several wellness and online advocacy training programs, and co-creator of VeganPalooza, one of the largest online vegan events ever.
Dr. Tuttle is author of Your Inner Islands: The Keys to Intuitive Living. He is editor of Circles of Compassion: Connecting Issues of Justice, focusing on the interconnection of social justice issues, as well as of Buddhism & Veganism: Essays Connecting Spiritual Awakening and Animal Liberation. He is the co-founder of the non-profit Circle of Compassion and the Worldwide Prayer Circle for Animals. A vegan since 1980, he is a frequent radio, television, and online presenter and writer. He is featured in the acclaimed documentary film Cowspiracy as well as other documentaries such as Vegan: Everyday Stories; HOPE: What You Eat Matters, and Animals and the Buddha.
Dr. Tuttle's Ph.D. from the University of California, Berkeley, focused on educating intuition and altruism in adults, and his doctoral dissertation was nominated for the Best Dissertation Award. He has taught college courses in philosophy, humanities, mythology, religion, and creativity. A former Zen Buddhist monk and a Dharma Master in the Korean Zen tradition, he has created ten CD albums of uplifting original piano music as well as several spoken word meditation CDs.
His book, Bursting Light has sheet music of 15 of his piano compositions, with 25 watercolor paintings by his spouse Madeleine, a Swiss visionary artist. He has also created Daily VegInspirations, a book of excerpts from The World Peace Diet with Zen brush paintings by Madeleine. Dr. Tuttle has presented extensively throughout North America and worldwide at college campuses, spiritual centers, conferences, and peace, social justice, animal protection, health, and environmental gatherings.
See www.worldpeacediet.com for more details
Madeleine Tuttle
Madeleine Tuttle is a visionary artist from Switzerland who specializes in painting that celebrates the beauty of animals and nature. She is also a flautist, Waldorf school teacher, long-time vegan cook and coach, gardener, clothing designer, multi-media artisan, and devoted meditator. Her extensive travels on six continents and formal training in Japan in ink brush painting lend a unique Zen style to her work. See WorldPeaceDiet.com for more information.