A 6-part online lecture series, once a week on Thursday mornings at 10 am with Sally Jeffery, Jill Francis & David Marsh, starting May 6th .
About this event
Our Garden History series now moves to the Restoration of Charles II in 1660. The Civil Wars and the Interregnum meant that many royalists, as well as the king and his family, spent time on the Continent, finding it impossible, as John Evelyn said, 'to evade the doing of very unhandsome things' at home. What they saw in Italy, the Netherlands and France had an enormous impact on gardens and gardening.
In Charles's reign French ideas were particularly influential and were adopted in royal gardens and those of courtiers and country gentlemen as well. William of Orange as William III emulated at Hampton Court the gardens of his great enemy Louis XIV but also brought in gardeners from the Netherlands with knowledge of exotic or 'outlandish' plants from all over the known world. Botanic gardens like the ones in Leiden, Amsterdam, Paris, and Oxford made systematic studies of these plants and described their care. Publications on plants and gardens, mostly translated from French and Dutch, ranged from expensive volumes with beautiful engravings to more practical gardening manuals. Evelyn, one of the most prolific of the English writers of the time and a founder of the Royal Society, sought to raise the status of gardening to an art form and we are told that 'to him is owing that gardening can speak proper English'.
Provisional outline programme (each talk will be approximately 1 hour, with additional time allowed for Q & A afterwards):
May 6th : Introduction and Overview - Jill & David
May 13th: Gardens of the Restoration – Sally
Charles II spent over ten years in exile, much of the time in France with his French mother, Henrietta Maria. We'll explore French influence on the royal gardens at St James's, Hampton Court and also at Greenwich, for which Andre le Notre was asked to make some designs. Others followed the royal example, employing English gardeners like Hugh May and Moses Cook. John Evelyn was influential as an adviser on gardens.
May 20th : Gardens in the age of William & Mary - Sally
William of Orange and his wife Mary Stuart, eldest daughter of Charles I, were invited to take the English throne in 1688 after the forced departure of James II and the so-called Glorious Revolution. Having been enthusiastic garden owners in the Netherlands, they, and set about transforming the gardens at Hampton Court, supervised by Hans Willem Bentinck and with the help of French, Dutch and English designers and gardeners. Many similar gardens, large and small were created with the advice of nurserymen George London and Henry Wise.
May 27th : Exotics: their care and display - Sally
From the early 17th century enthusiastic English gardeners were fascinated by the large number of plants arriving from all parts of the known world. They were described, illustrated, exchanged, and sold but their cultivation was not always successful. Some, like jasmine, iris and tulips could be grown out of doors. Others such as orange and lemon trees, bays and oleanders were said to need winter protection and heat in a greenhouse (a place for tender evergreens). There was constant investigation over the years to establish exactly how to provide the conditions which would suit them best.
Jun 3rd : tbc
Jun 10th : John Evelyn – Jill and David
John Evelyn is well known as a diarist but perhaps less well known as a virtuoso who was fascinated and informed about all the arts and the new science of the later seventeenth century. Over a period of more than half a century his voluminous correspondence reflected these interests and showed a particular enthusiasm for horticulture. His own garden at Sayes Court was a practical expression of this, but he also laid down a theoretical framework too, translating continental books and compiling of Elysium Britannicum which had it been published in his lifetime would have been the most significant gardening text of the age.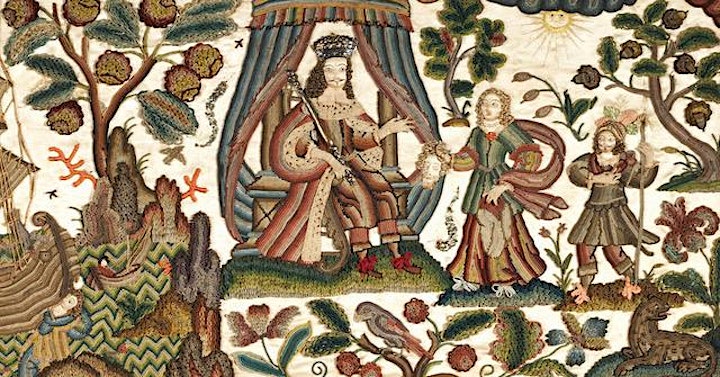 This ticket is for the entire course of 6 sessions.
Attendees will be sent a Zoom link 2 days prior to the start of the first talk, which will be the same link throughout (If you do not receive this link please contact us), and a link to the recorded session will be sent shortly after each session and will be available for 1 week.
Dr Sally Jeffery is an architectural and garden historian. She was historian at the City of London for many years and then helped to set up the Birkbeck (University of London) MA Garden History. She now lectures on the MA Garden and Landscape History at the Institute of Historical Research and is a Trustee of The Gardens Trust. She has published extensively and continues to research and write. Her principal area of research at present is the houses and gardens of the 17th century, but her interests include architecture and gardens from the 15th to the 18th centuries in Italy, France, and England.
Jill Francis is an early modern historian, specialising in gardens and gardening in the late-sixteenth and early-seventeenth centuries. She teaches history at the University of Birmingham and the University of Worcester and contributes to the MA programme on West Midlands History at Birmingham. She is an occasional lecturer on the IHR Garden and Landscape History programme and is becoming increasing involved with the Gardens' Trust online provision. She also works at the Shakespeare Institute Library in Stratford-upon-Avon. Her first book, Gardens and Gardening in Early Modern England and Wales, was published by Yale University Press in June 2018.
After a career as a head teacher in Inner London, David Marsh took very early retirement (the best thing he ever did) and returned to education on his own account and did an MA and then a PhD in garden history. Now he lectures on garden history anywhere that will listen to him and helps organize the Garden History Seminar at London University's Institute of Historical Research. He is co-chair of the Education and Events Committee of The Gardens Trust, for whom he organises courses and writes a weekly garden history blog which you can find at The Gardens Trust Blog.
Organiser of Gardens of the Late 17th Century
The Gardens Trust is the UK national charity dedicated to protecting our heritage of designed gardens and landscapes. We campaign on their behalf, undertake research and conservation work, train volunteers and encourage public appreciation and involvement, working with the national network of County Garden Trusts.

Please join or donate to support us: http://thegardenstrust.org/support-us/
For details of our privacy policy see: http://thegardenstrust.org/privacy-cookies/