Film & Talk: World premiere of 'Ending Abuse' + Evan Stark discusses coercive control w/ screening of the classic 1944 thriller Gaslight
About this event
COUNTDOWN IS ON! We will be going live in a few minutes. Once you have registered you will see link to the live premiere on the right of this page --> Access the Event - any problems shoot me a mail for the direct link! See you there Amy
********************************************************************************************************
As part of this year's Being Human Festival we present the world premiere of the short film 'Ending Abuse', directed by award winning director Shane Nelson.
'Ending Abuse' presents key data and creatively captures the invisible world inhabited by victims of coercive control....which leads us to our main event of the evening, an interview with Prof Evan Stark. Live chat will be available for audience discussion and after event Q&A. We will finish up with a screening the classic filmGaslight after the talk, courtesy of Warner Brothers Archives.
These events are online, with access links available after booking.
Professor Evan Stark—world leading authority on coercive control, forensic social worker and founder of one of the first women's refuges in the US—will discuss domestic abuse and the UK's forthcoming Domestic Abuse Bill through the lens of the film Gaslight. Hosted by Dr Amy Kellam, of the Institute of Advanced Legal Studies, there will be a screening of the film after the discussion
A masterpiece of suspense and paranoia, the1944 film Gaslight remains one of cinema's most compelling portrayals of domestic psychological abuse. Over 75 years later, Ingrid Bergman's Oscar-winning performance as a wife manipulated by her husband into believing herself insane, continues to demonstrate that domestic abuse is not simply a physical act. Grab your popcorn (or cocktails) and watch and share comments along with us online.
The UK's Domestic Abuse Bill 2020 will for the first time stipulate a legal definition of domestic abuse. This will include coercive control.
Gaslighting is now enshrined in the English language as a definition of a type of psychological abuse in which a person seeks to undermine an individual's sense of self, driving them to question their own memory, perception, or judgment.
Film has a profound impact on social perceptions of domestic abuse because what is portrayed is something generally hidden from view. Crimes of extreme physical violence make for clickworthy headlines. But what of the 95% of domestic abuse victims who experience coercive control?
Join us for this exclusive discussion of Gaslight's continuing significance to a modern digital world, and the role of the law in providing access to justice.
***************************************************************************************************************
These events are supported by The Being Human Festival, The National Centre for Domestic Violence, Virtual Global Village and Omni-Fusion Media Production.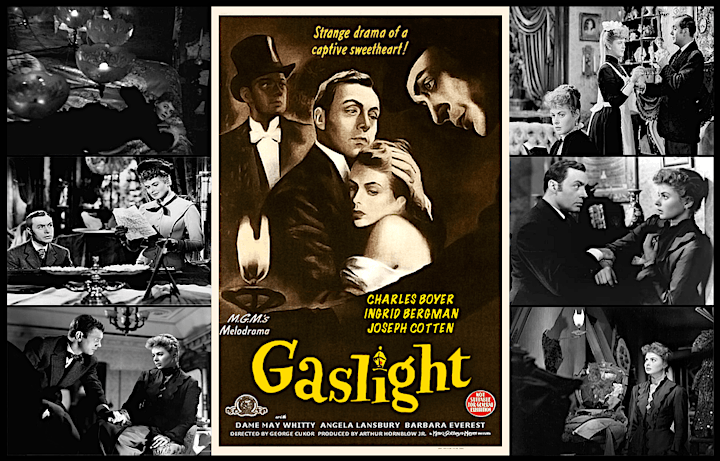 Organiser of Gaslight: Domestic Abuse through the Lens