Description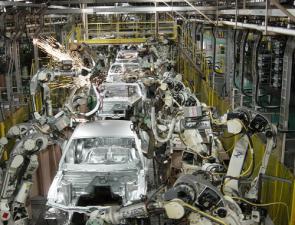 You are invited to attend the CC-Link Partner Association's (CLPA) event to help UK companies to discover and access business opportunities in Asia.
The event, called Gateway to China, will showcase how CC-Link is an enabling technology for companies looking to increase their automation business in Asia. The CLPA's Gateway to China programme is intended to assist these companies with a package of development and marketing benefits.
CC-Link is the leading open automation networking technology in Asia, holding approximately twenty per cent of the region's market share.
Speakers at the Gateway to China event include:
John Browett, General Manager of CLPA Europe – Gateway to China: Overview of CC-Link technology and how it can be a gateway to China for the UK's high growth industries
Chris Evans, Manager - Marketing & Operations Group, Mitsubishi Electric Europe – How partnering with Mitsubishi Electric in the Asian region delivers business value
Lutz Berners, President, Berners Consulting - Achieving one's goals through partnerships in China: How manufacturing and sales partnerships and joint ventures can improve your trade with China
Steve Brambley, Deputy director, GAMBICA - China – still investing heavily in automation: Brambley will use recent market data to illustrate that, despite the recent slight slowing down in economic growth in China; investment in automation in China goes on, undiminished.
Andreas Schwope, Communications, Marketing Manager, Renesas Electronics Europe - RUN the R-IN! Industrial Ethernet Controllers: A review of Renesas' series of Industrial Ethernet controllers and how they are designed to support CC-Link IE Field
Eberhard Klotz, Dipl. Ing. MBA, Head of Marketing Products and Technologies, Festo - From bionic networks to control networks: How Festo is using lessons from nature to break into new markets and how the company developed its brand to become a leading name in Chinese industry.
Jürgen Gutekunst, Business Unit Manager, Balluff - Balluff's CC-Link activities, products and first successes in the market.
CC-Link offers a comprehensive open network architecture that reaches from enterprise IT connectivity to simple digital I/O on the shop floor. It is also becoming well accepted in both Europe and North America due to its ease of use, strong productivity features and high performance. It is also the only open Ethernet based network which offers the productivity benefits of gigabit communication speeds.
Organiser of Gateway to China
Our work focuses on the interaction between people and technologies whether that is designing eLearning tools, data dashboards or engagement tools. We use a range of research based techniques to understand the needs of the client and end user, which leads to high quality product and service design.
We are leading experts in stakeholder engagement and co-production working with a strong focus on collaboration. We have worked with organisations ranging from Telecoms, Universities, Museums, the NHS, Department of Health, Manufacturing and Charities. Consider bITjAM as your next partner for digital design, digital R&D or stakeholder engagement project.
We help companies save money by improving their ability to work effectively as well as improving communication with their clients, staff and stakeholders.