GATHERING OF MINDS in the park! Spiritual Groups United! FREE Picnic with Consciousness talks, Music, Yoga, Meditation & More!

Sunday, 29 May 2016 from 13:30 to 21:30 (BST)
Event Details

While we take a break from our monthly indoor events over the summer, we bring you another Gathering of Minds in the park in Collaboration with RAWFEST, London College of Spirituality and Oneness Jam.
This is going to be a day of conscious talks, meditations, music and more! We are at a brand new location - not at Primrose Hill so please register so we can reveal the location the day before.
We will be raising funds for the Ecuador earthquake crisis.



Bring your picnic - vegan food only please
Schedule will be regularly updated so please check back. We are currently building a structure for the day!

Schedule - If you would like to participate please message us!
1.30 - Opening Meditation -
Andraé Love
(Octopus)
1.45 - Hatha flow Yoga -
Angela Roberts
(Gathering of Minds)
2.00 - New Clear Consciousness for the Nuclear Age -
Ion T. Veddinge
(LOVE AID in London)
2.15 - Flow and Recuperative Yoga -
Emily Gilchrist
(Gathering of Minds)
2.30 - Plant Medicine: The apprentice's story - Matt Cummins (Gathering of Minds)
2.45 - Yoga Mudras for anytime, anywhere - Sagar Samara ( Gathering of Minds)
3.00 - Body Connection meditation -
Lia Sokhi
(RAWFEST)
3.15 - Aligning Your Life With Your Divine Purpose -
Jenna-Lee Anderson
(Gathering of Minds)
3.30 - Trauma and energy healing talk -
Lisa Li
(Gathering of Minds)
3.45 - Hemp Nutrition: Sustainable, local and full of nutrition! - Sagar Samara (Gathering of Minds )
4.00 - Yogic Hridaya heart meditation -
Jay Diamond
(Gathering of Minds)
4.15 - Facing our Fears as a Pathway to Growth -
Bristena Georgiana
(Gathering of Minds)
4.30 - Raising heart consciousness in learning to listen and trust the heart - Jodie Jaimes (Gathering of Minds)
4.45 - Urban Shaman Movement -
Alex Akal
5.00 - Music with Oneness Jam (Bring an instrument)
We've got the Spinning@ guys coming too. They'll be doing circus acts, hoops, poi, etc.by the side of us. Kids will love it!
Contact us for a slot or if you are a healer that would like to get involved :)

On the day:
Yoga 
Consciousness Talks 
Meditation 
Music - huge jamming session at the end again so please bring an instrument!

Please bring:
Vegan food 
Instruments 
Hoola Hoops
Face Paints 
Blankets to sit on
Whatever else you might need!

Its free to come but everyone need to sign up via eventbrite so that we can email out the location! 
Children and dogs allowed!

The location is kept secret as the park can stop us from going! We will announce the park and location the day before at 6pm via eventbrite.

Can't wait to see everyone again!
Jess & Matt x
Gathering of Minds
The Gathering of Minds Community
Jess & Matt x
Gathering of Minds
The Gathering of Minds Community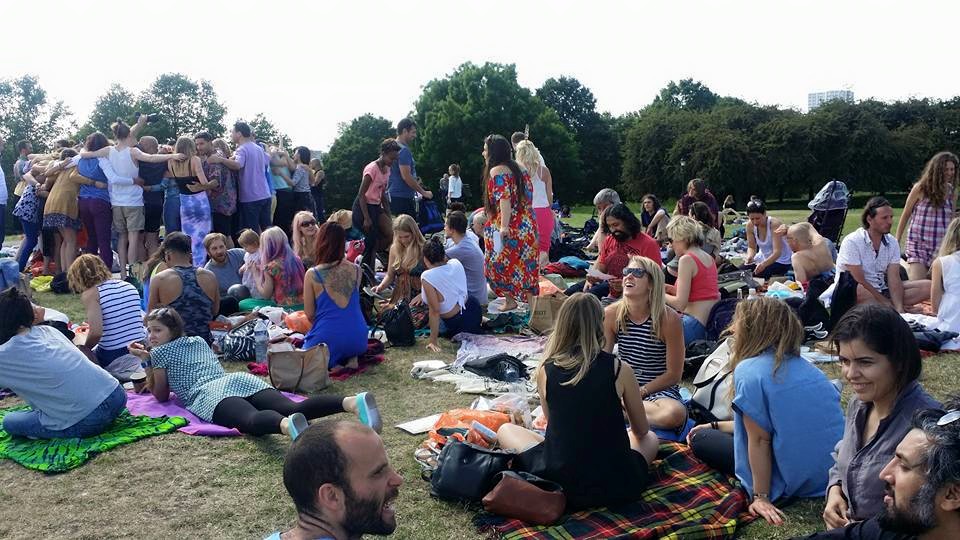 Do you have questions about GATHERING OF MINDS in the park! Spiritual Groups United! FREE Picnic with Consciousness talks, Music, Yoga, Meditation & More!?
Contact Gathering of Minds
When & Where

Central London
TBA 6pm the day before via email



Sunday, 29 May 2016 from 13:30 to 21:30 (BST)
Add to my calendar
Organiser
Hey :)
My names Jess. I created GOM June/July last year after coming up with the idea during Meditiation. I am following my heart with this. I love working on this project and seeing people happy and motivated!