Join our panel of distinguished experts as we discuss the impact of Israel's targeting of Gaza's medical facilities.
About this event
Israel's 11-day bombardment of Gaza in May 2021 has further devastated the besieged Strip's health infrastructure, already struggling amid a tight blockade and the coronavirus pandemic.
Israeli air strikes left Gaza's Palestinian Health Ministry and main Covid-19 lab out of service, 2 senior doctors dead and nearly 30 hospitals and health clinics either destroyed or damaged.
Join our panel of distinguished experts on Thursday 17 June 2021 at 5pm GMT (6pm UK) to discuss the impact of Israel's targeting of Gaza's medical facilities.
The webinar is being organised in association with PalMed Europe.
The Panel: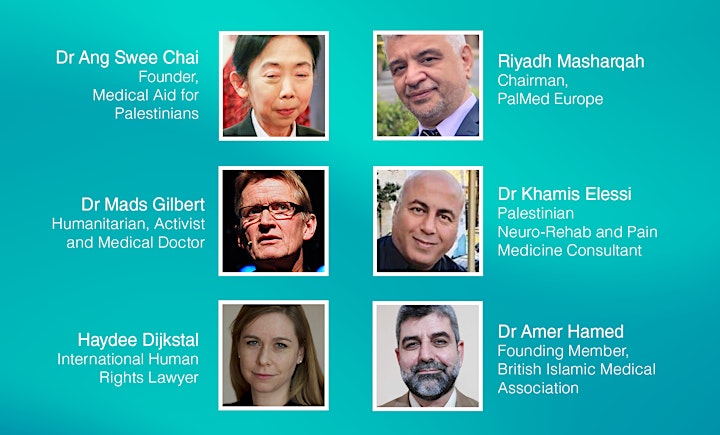 Dr Ang Swee Chai
Founder of Medical Aid for Palestinians
Dr Ang Swee Chai, a Fellow of the Royal College of Surgeons of England and is now working in Britain at the St Bartholomew's and the Royal London hospitals – the first woman to be appointed orthopaedic consultant since the hospitals were founded several centuries ago.
Over the past 20 years, she has worked in the Lebanon and the Occupied Territories of Gaza and the West Bank. She was witness to the 1982 Sabra-Shatilla massacres which her book From Beirut to Jerusalem is based upon. Dr Ang helped to form the British Charity, Medical Aid for Palestinians, following the 1982 massacres. In 1987, President Yasser Arafat awarded Dr Ang the Star of Palestine, the highest award for service to the Palestinian people.
Dr Ang was the orthopaedic consultant to the United Nations and the World Health Organisation during the first Palestinian Intifada.
She also co-authored "Field Manual in War Surgery", a hand book based on experiences in the war front.
Dr Mads Gilbert
Humanitarian, Activist and Medical Doctor
Mads Gilbert is a Norwegian medical doctor and professor em. specialized in anaesthesiology and emergency medicine. He is senior consultant at Clinic of Emergency Medicine at The University Hospital of North Norway, Tromsø.
He has worked as a medical solidarity worker with the Palestinians since 1982, in addition to having a broad range of international experiences from solidarity medicine in Burma, Cambodia, Angola, and Afghanistan. He has authored two books on his experiences working during Israeli attacks on Gaza: "Eyes in Gaza" (2009, with Dr. Erik Fosse) and 'Night in Gaza' (2014). Dr. Gilbert returns regularly to Gaza to participate in teaching and training emergency medicine as well as doing research in close cooperation with Palestinian partners.
In 2013, the Norwegian King Harald made him Commander of the Order of St. Olav for his overall contributions to emergency medicine and international medical solidarity.
Haydee Dijkstal
International Human Rights Lawyer
A barrister practicing international criminal law, international human rights law and general crime at 33 Bedford Row in London, Haydee Dijkstal is also a US attorney with nearly a decade of experience in international law. Her practice has included cases before the International Criminal Court, International Tribunal for the Former Yugoslavia, Special Court for Sierra Leone and the African Commission and African Court on Human and Peoples' Rights.
She is currently a member of the legal team acting before the International Criminal Court on behalf of nearly 350 victims for the case concerning the Gaza Freedom Flotilla.
Riyadh Masharqah
Chairman, PalMed Europe
Dr Khamis Elessi
Palestinian Neuro-Rehabilitation and Pain Medicine Consultant
Dr Amer Hamed
Cardiology Consultant, Stepping Hill Hospital, Manchester
BIMA Founding & Council Member
BIMA Senior Advisor for Ethics Team
Organiser of Gaza's Health Sector: Challenges in War and Peace
The Middle East Monitor is a not-for-profit policy research institute that provides research, information and analyses of primarily the Palestine-Israel conflict. We also provide briefings on other Middle East issues.
MEMO aims to influence policy and the public agenda from the perspective of social justice, human rights and international law. This is essential to obtain equality, security and social justice across the region, especially in Palestine.