Sales Have Ended
Registrations are closed
We understand your circumstances may change between registering your expression of interest here and the time of selection. Any questions, please email: Events@BritishShooting.org.uk
Sales Have Ended
Registrations are closed
We understand your circumstances may change between registering your expression of interest here and the time of selection. Any questions, please email: Events@BritishShooting.org.uk
Description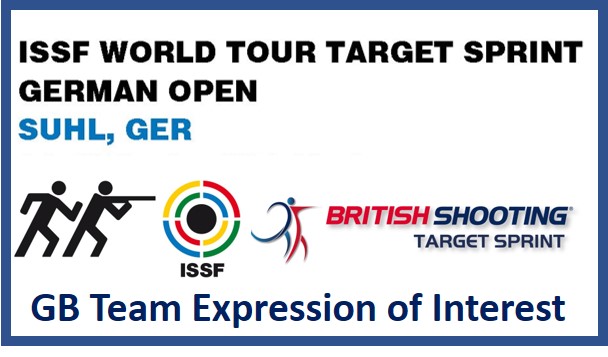 British Shooting's Target Sprint Selection Panel will be selecting a GB Team for the ISSF World Tour Target Sprint; German Open hosted by our fellow national federation, the Deutscher Schutzen Bund (DSB) and held in Suhl from 12-14th July 2019 only.


Selection will be made shortly following the Scout and Open Championships 11-12 May 2019, in Southampton. Following this athletes selected will be notified and asked to accept or decline their GB Team selection.
Public announcement of the GB Team attending will be by the end of May 2019 via the Target Sprint website and social media.
The GB team will consist of Junior, Senior, Male and Female athletes who will have the opportunity to compete individually and as part of a team. The size of the team will dependant on the competition organisers, but likely a maximum of 12 GB Target Sprint athletes in total.
The GB Target Sprint team will be lead by a British Shooting appointed Team Lead and Team Support, and will be part of the wider British Shooting GB Team from rifle, pistol and shotgun attending the event.
Entries, travel, accommodation etc. for those athletes selected for the GB team will be coordinated by British Shooting. It should be noted that GB Target Sprint athletes competing do so on a self funded basis. Upon selection invitation athletes will be made aware of the estimated financial cost of competing.
British Shooting are seeking eligible athlete's EXPRESSION OF INTEREST to be considered for selection.
To be considered for selection, athletes need to have a GB Ranking by the time of selection. If you're currently not on the GB Ranking List, enter one or more of our 2019 GB Ranking/Super League events. Entry to all of our 2019 GB Ranking/Super League events that occur before the time of selection, include the EXPRESSION OF INTEREST question.
Events: www.targetsprint.com/events
GB Ranking - CLICK HERE
GB Team Selection Policies - CLICK HERE
We understand your circumstances might change between registering your EXPRESSION OF INTEREST here and the time of selection invitation. Athletes expression of interest is to help guide British Shooting in the planning and preparation of the competition.
Any Questions: Please contact Gorgs Geikie Events@BritishShooting.org.uk