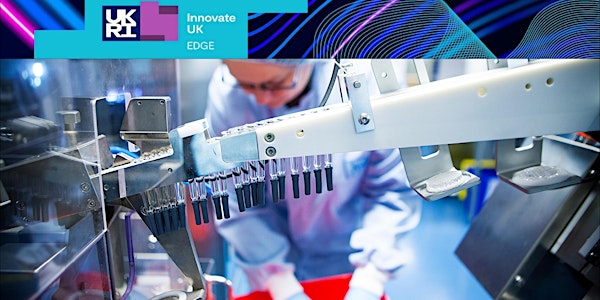 GBIP Canada, Biomanufacturing of Advanced Therapies - Applicant Briefing
Innovate UK invites UK businesses to participate in the Global Business Innovation Programme, Canada-Biomanufacturing of Advanced Therapies
About this event
Join this virtual briefing event to learn about the benefits of the Global Business Innovation Programme (GBIP) and the opportunities for UK - Canada collaboration in biomanufacturing of advanced therapies.
During this session you'll hear from the GBIP team about the three-phases of the programme, key areas of opportunity, and what to expect if you are accepted.
Please note, this session will be recorded.
Image licensed from Shutterstock.com
KEY DATES
Deadline to apply : 31 March 2022
Applicants notified of outcome during the week commencing 11 April 2022
Pre-activity workshop : 19 May 2022 (in-person, venue TBC)
Innovation visit to Canada: 6 - 13 July 2022
Exploitation workshop: October 2022
WHY CANADA
Canada has significant strengths in life sciences research and innovation, especially in RNA production and next generation medicines, such as cell therapy, gene therapy and regenerative medicine. Canada has also recently launched a new biomanufacturing and life sciences strategy, backed by over $2.2 billion investment, with clear ambitions to grow its vaccine, therapeutics and biomanufacturing capacity, ensuring a strong and competitive sector and pandemic readiness for years to come.
Toronto and Vancouver have excellent ecosystems for biomanufacturing of advanced therapies. Toronto hosts 9 teaching and 23 affiliated hospitals and benefits from being in the heart of the MaRS Discovery District. Vancouver is home to leading academic institutions hosting spinouts and incubators.
BENEFITS
Explore and gain further insight into the advanced therapies commercialisation landscape in Canada.
Gain a better understanding of the challenges and opportunities of doing business in Canada.
Find potential innovation collaborators and partners and develop your network in the UK and globally.
Improve your company value proposition to international partners and investors.
FOCUS AREAS
The programme is particularly relevant for biomanufacturing businesses developing the following technologies, but not limited to:
Manufacturing of cell therapies such as stem cell, natural killer (NK) cells, T-cell, and other engineered cell therapies
Manufacturing of gene therapies using viral, and non-viral vectors
Vaccine manufacturing
Manufacturing of regenerative medicine
ELIGIBILITY
To apply for the programme you must:
Be a UK based, innovation-led company with ambitions to grow and internationalise
Be a company employing less than 500 employees
Be able to attend and complete all activities