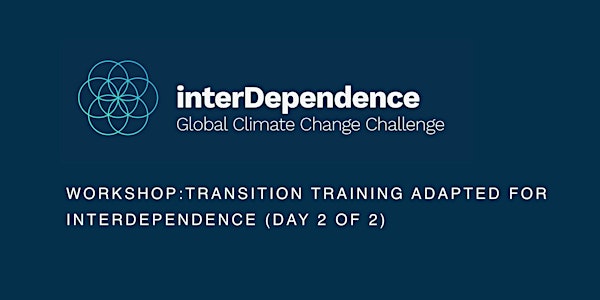 GCCC Workshop: Transition Training adapted for interDependence (Day 2 of 2)
Location
Newspeak House
133 Bethnal Green Road
London
E2 7DG
United Kingdom
Transition Training adapted for interDependence (Day 2 of 2) with Sophy Banks and Naresh Giangrande
About this event
Topics covered:
This 2 day workshops will cover elements of the 'Transition Training' used by the Transition Towns movement to resources its members. This will include covering the following elements:
Exploring the context issues; such as climate change and peak oil, and wider ecological questions, and social justice and equality.
Introduction to the Transition model and the principles behind it. We will examine the issue of the right scale to create a Transition Initiative. Small groups will experiment with a world cafe style discussion around what experience we bring.
We will explore different types of visioning, including an exploration of the 'Deep Adaptation' agenda.
We will look at awareness raising, why we need to do it and how. We will explain how people engage with change and play the awareness raising game. We will also take a look at practical projects.
We will look at groups and group process, in particular the role of the initiating group. We will look more generally at how and why functioning in groups can either be heaven or hell.
We will examine the role of networking and partnerships. A strategic model for building good relationships in your community will be explained.
We will introduce the role and practices of inner transition. What is inner transition, and why is it important. We will offer some psychological models which make it easier for us to incorporate this often neglected and tricky side of Transition.
We will look at what makes a healthy human culture and how to avoid burnout.
We will see us look at the global spread of transition, how to connect with and make best use of the world wide learning network.
Workshop host background:
Naresh Giangrande
Co-founder of Transition Town Totnes, the first Transition Town, and of Transition Training, Naresh has been involved in designing, running and evolving many of the events, groups, and trainings that have been at the heart of the enormously successful Transition project. He has delivered the hundreds of Transition Trainings to thousands of participants in twenty countries worldwide.
As one of the Transition Town founders he has given dozens of lectures and interviews, and spoken at many conferences and other public events. He set up and coordinated the Energy Group of Transition Town Totnes and was a director of Transition Town Totnes Ltd. Before the Transition movement took over his life he lived and worked in an eco community, was Managing Director of a landscape company, and a gaffer in the film industry, as well as teaching meditation.
His work for Transition Network has lead to a passion for working with self-organising systems, and how participatory learning can be fostered and strengthened across the movement. This has lead to coordinating Transition Network's work with academic researchers. He is fascinated by data analysis and the block chain, while being painfully aware of the preciousness of life, his capacity for love, and acceptance of his own mortality.
He is father to two lovely daughters.
Sophy Banks
Sophy jointly set up the first "Heart and Soul", or Inner Transition group in Totnes in 2006. She co-founded Transition Training and, during her time at Transition Network, delivered Launch and other workshops to transition projects around the world.
A trainer for over 20 years she has worked as an engineer, information systems consultant and psychotherapist and has considerable experience of voluntary sector and community projects.
In 2016 Sophy stepped back from the Transition movement to give time to her own work and teaching.