GDDA UK's Annual Health Conference: Stories Buried in Medicine
Sales Have Ended
Ticket sales have ended
Thank you for purchasing a ticket. If you are attending the conference, a conference pass will be e-mailed to you shortly. You will need to print this out in colour and bring it with you in order to get access to the daytime conference.
Sales Have Ended
Ticket sales have ended
Thank you for purchasing a ticket. If you are attending the conference, a conference pass will be e-mailed to you shortly. You will need to print this out in colour and bring it with you in order to get access to the daytime conference.
Description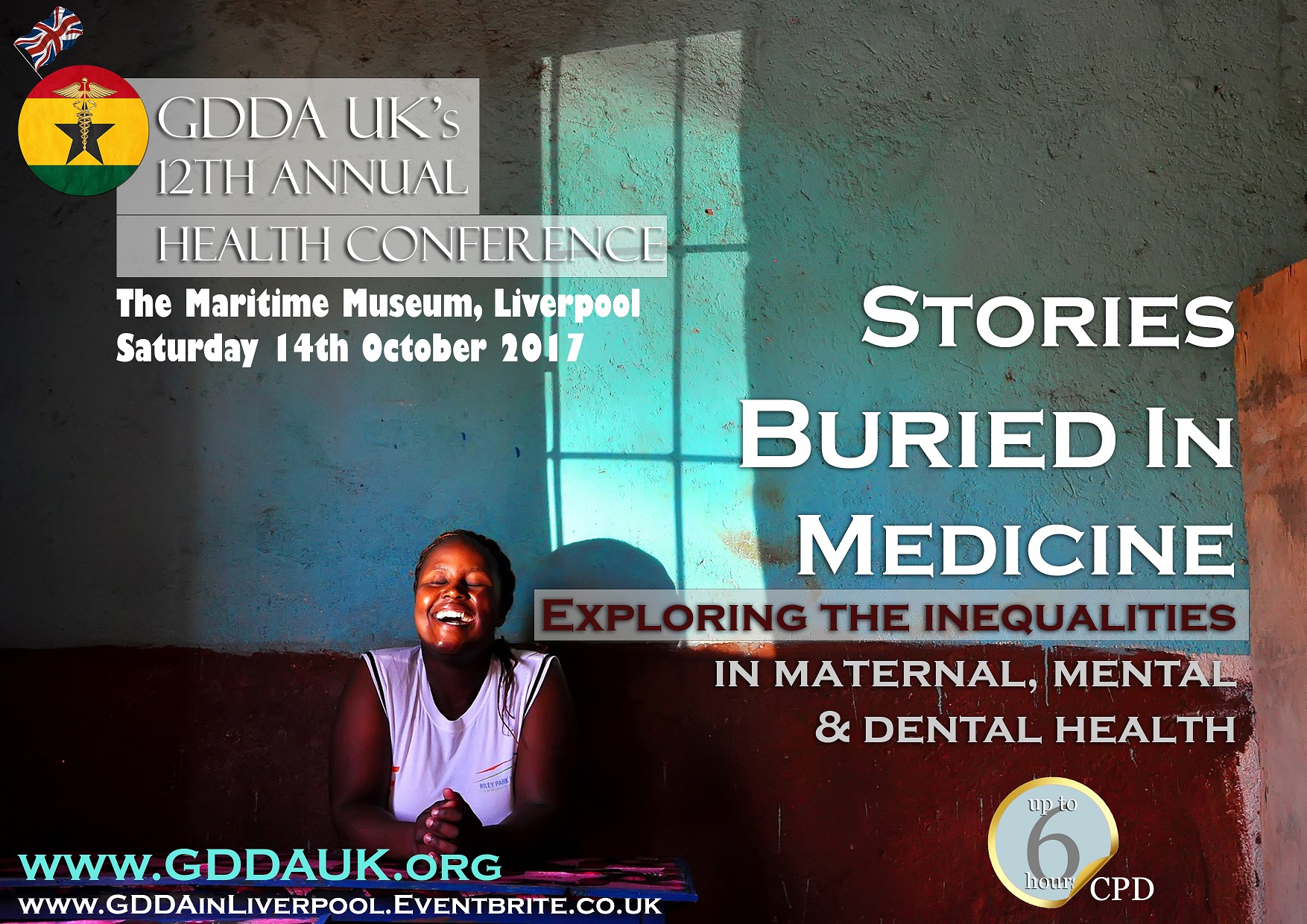 Join us for our 12th Annual Conference and Charity Fundraiser Dinner Dance in Liverpool this October!
Our conference this year is fully packed with 6 hours CPD with more speakers than ever. This year's conference will include time for debate and speakers from leaders in their fields. The venue reflects our cultural heritage and is in the centre of Liverpool.
The theme of our conference "Exploring the inequalities we find in maternal, mental and dental health" cuts across all disciplines. Our speakers are renowned in their respective fields and will share their knowledge with us.
In response to past feedback we will have panel discussions with the speakers to stimulate in depth discussion.
There will also be ample time during the lunch break to explore exhibits of cultural interest at the venue.
Come one, come all and bring a colleague!
Please note: Students can contact us to on
info@GDDAUK.org
to enquire about concession student price tickets.
Itinerary
Friday| 7pm Pre-course Dinner at Chung Ku Restaurant
Saturday| 8:15am Conference Registration
8:45am Opening Address
5pm Conference Close
7pm Charity Gala
Sunday| 9:30am AGM over working Breakfast (for members only)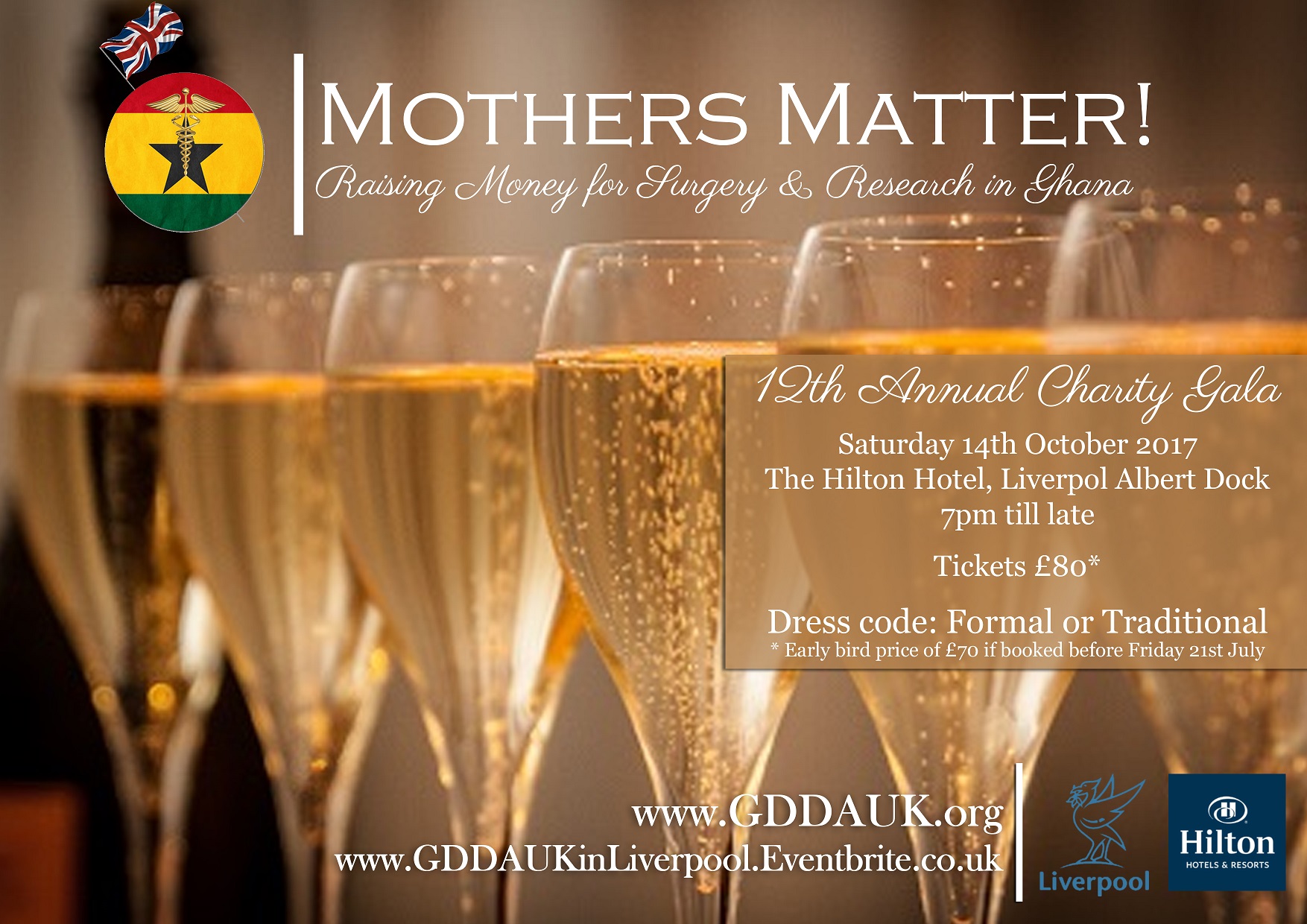 Join us on Saturday night at the exquisite Hilton Hotel on the Albert Docks whilst we raise money to support mothers in Ghana.
Conception & delivery of a baby should be one of the most joyous occasions for women. Sadly, for many women the world, this can also be a time of great suffering and pain, not infrequently with complications, some of which carry stigmata. Will you help us lessen the burden?
This year, we at GDDA, have decided to support two important health professionals who are doing incredible work to improve the health of mothers in Ghana.
This is in line with 'International Day of Rural Women' which this year which falls on 15 October.
We want to raise funds to support the work of these two individuals, Professor Lassey & Miss Abigail Brown and their respective projects
Professor Lassey is a surgeon based in Ghana who has been running a VVF outreach project in Ghana for many years. Due to an ebb in the funding for obstetric fistula repairs, the number of women receiving treatment has dwindled. Over the last five years, the focus of the surgery to restore the dignity of these disadvantaged women has been the 40-bedded Fistula Wing of the "MERCY WOMEN'S CATHOLIC HOSPITAL" at Mankessim, about 2 hrs' drive from Accra. The fistula care outreach team headed by Prof. Anyetei Lassey, the Chaiman of the National Obstetric Fistula Task Team, is based at the Korle Bu Teaching Hospital. The team visits the Mankessim unit when funding is available to pay the hospital for the repair of the patients on their lists as and when the funding is available. He has indicated that the poor funding for fistula repairs is the main restriction to offering care to more patients.
With our support, help and funding, the outreach team will be able to provide care for more women especially from the northern half of our country.
Miss Brown is a masters student studing in the Liverpool School of Tropical Medicine. Because of her Ghanaian heritage, she had the desire to do research the would help women back home in Ghana. As part of her masters, she is going to Ghana to do some research in pre & post-partum depression in mothers who come through Korle Bu Hospital. Exploring and understanding mental health issues is something that we feel is important as an association, not just for our patients, but for us and our colleagues too. We believe this research, which is part of a larger body of work within the Liverpool School of Tropical Medicine, will make the way for people to get better access to the support they need at such a precious time.

We hope you will join with us as we get behind Professor Lassey and Miss Brown as they champion these causes! Be sure to get your tickets for the Charity Gala, it promises to be a spectacular night.
To Book a room at the Hilton at a discounted rate, PLEASE CLICK HERE and use the group code: GDDNC
For those of you attending the Charity Gala, the food options this year are exquisite. They are: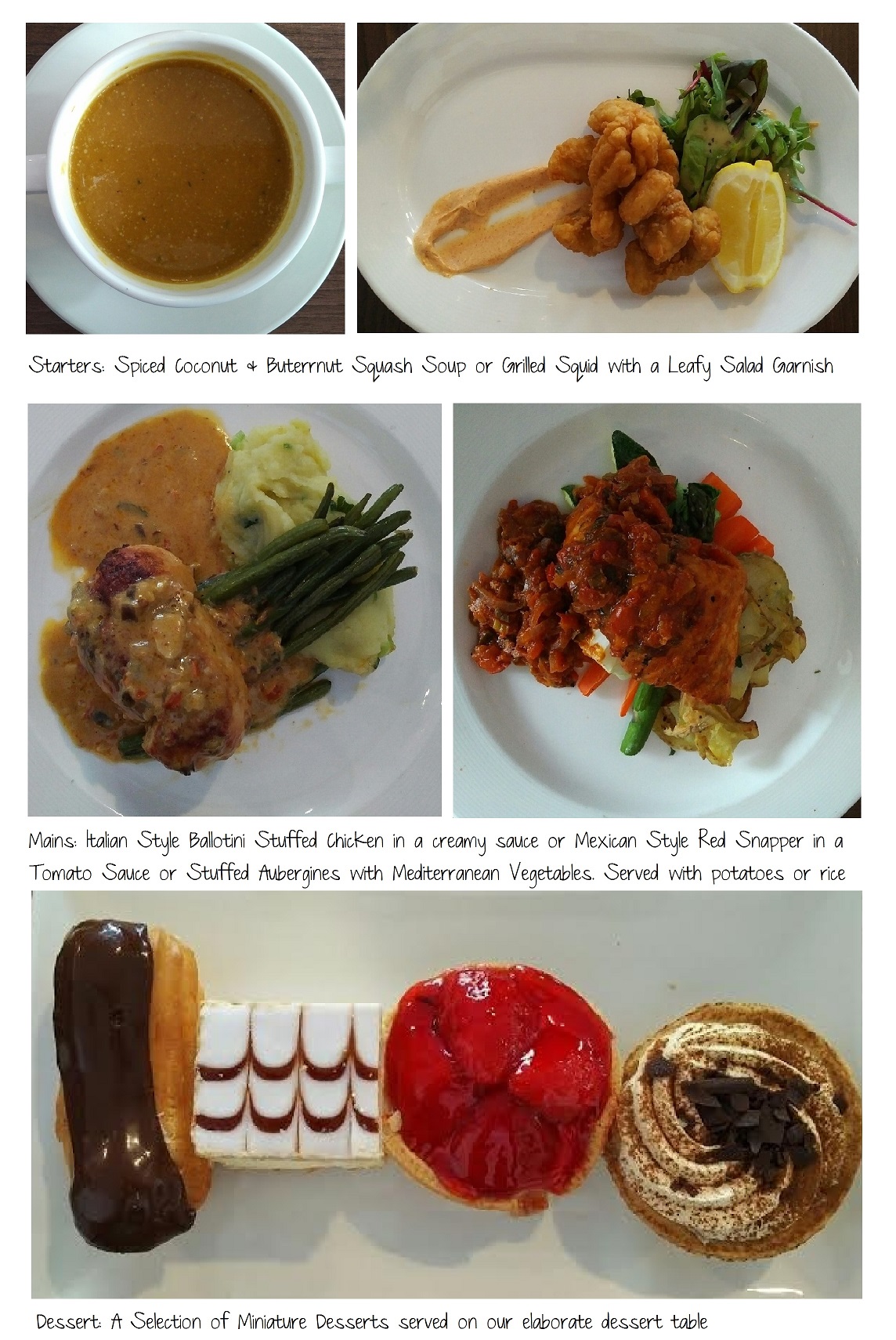 You will have the oppourtunity to specify your preference when you order your ticket (above).