A global gathering connecting networks from around the world on a mission to accelerate the transition to green and fair economies.
About this event
The recovery from COVID-19 has only just begun. It offers a unique opportunity to fast-track economic policy that could protect nature and people. The solutions already exist. But they will only be scaled if we work together and hold decision makers to account.
Join us online during the week of 29th November - 2nd December for the GEC Global Meeting 2021. Together, we will assess the status of the global recovery agenda, share evidence of what is working in different locations, and decide on shared interventions to scale a green and fair recovery.
The moment is here to accelerate the transition – we must take it. Do join us.
What and when?
The event will take place on Zoom over 5 days from 29th November - 3rd December - with core sessions for 2 hours from 12-2pm (GMT), surrounded by side-sessions and fringe events by members and partners suited to different themes and time-zones.
Join us for five different themed days, with events focused around the green economy transition: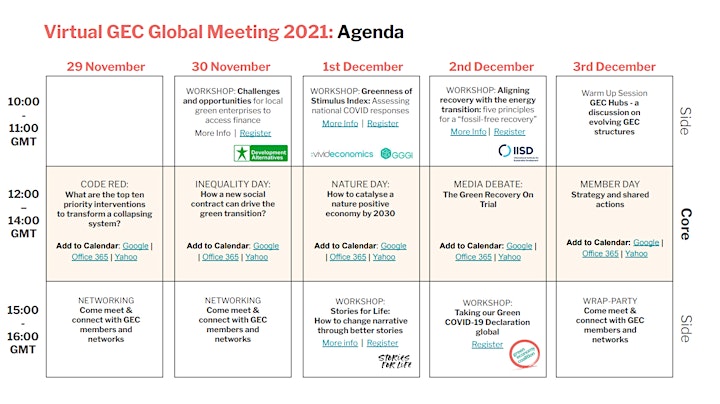 Day 1: Code Red for nature & people (Nov. 29)​
- What are the top ten priority interventions to transform a collapsing system? ​
Day 2: Inequality Day (Nov. 30)​
- How a new social contract can help drive the green transition? [Focus on small enterprise and inclusion]
Day 3: Nature Day (Dec. 1)​
- How can the green transition restore nature in time? ​
Day 4: Media debate: The Recovery On Trial (Dec.2)​
- A high level media dialogue asking if the Green Recovery agenda is up to the challenge facing humanity?​
Day 5: Coalition Day (Dec. 3)​
- An internal day for coalition members, focused on strategy and shared interventions. ​
During the week we will co-create a "Green COVID Recovery Declaration", calling on governments for specific actions that need to happen immediately. A zero draft will be available to participants in advance and it will evolve over the week, extracting content from each session; the final Call to Action will then be open for signatures from organisations and individuals, building towards a global campaign launched at Stockholm+50 in 2022.
How can we get involved?
GEC members are invited to host side sessions. Please contact Ben.Martin@greeneconomycoalition.org for more information.
For regular event updates, do keep an eye out on our event page: https://www.greeneconomycoalition.org/news-and-resources/gec-global-meeting-2021-code-red-for-nature-people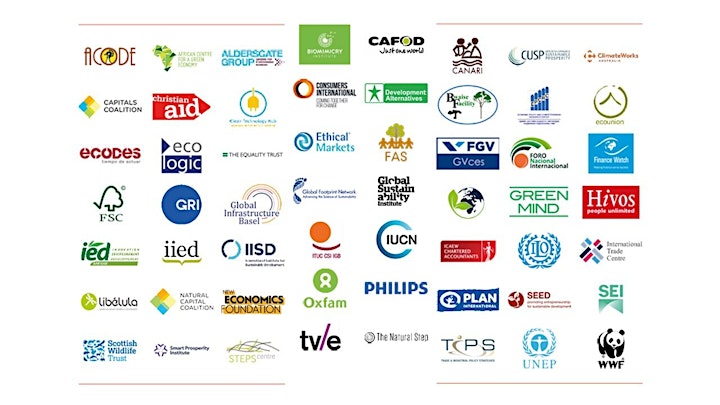 Logistics
This webinar will use the Zoom video conferencing platform. For those who have not attended a Zoom webinar before, please read this guide to participation as an attendee.
The event will be recorded to be distributed publicly afterwards. By registering for this event, you agree to give your consent for this.
The information you provide will be held on our database to process your booking. We do not share data with any third parties. We may contact you in the future about other GEC events. Please let us know if you do not want to receive any further information from us.
Organiser of GEC Global Meeting 2021