Description
Are you sick and tired of Dj's playing the same music, from the same genres and eras?  
Well we are, so we bring to you a brand new experience in silent clubbing.
GenEra!
Playing hit music videos that you will remember, that have been the soundtrack to many of our lives. Well you can come dab, Cha Cha slide, Bogel or even Macarena to it.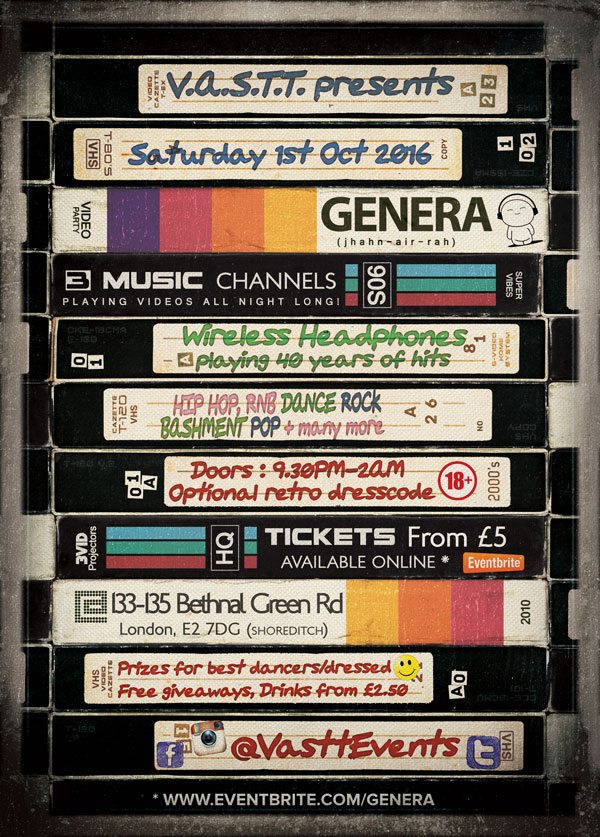 What you can expect on the night?
You will be given a pair of wireless headphones that play 3 channels that you can change at the flick of a switch with music videos projected on 3 different screens. Adjust your headphones and Sing like nobody is listening! Dance & Party like no one is watching! 
Below are just some of the genres that are on choice on your headphones.
RED CHANNEL
♫ Hip hop    ♫ R&B
 ♫Neo Soul   ♫ Trap
GREEN CHANNEL
♫Dance                  ♫Garage 
♫House                  ♫UK Rap & Grime
♫Bashment            ♫Jungle
 BLUE CHANNEL
♫ Pop         ♫  Indie
♫  Rock      ♫ Classics
Drinks from £2.50 All Night Long
Suggested Dress Code  (Not Compulsory) : Dress for your favourite decade
---
 18+ VALID ID REQUIRED
---
More info:
Facebook: vasttevents      Instagram.com/vasttevents