Description
There's no denying we're facing turbulent and challenging times ahead. With the General Election just around the corner, it's a crucial time to ensure all parties pledge to support women's rights.
How do candidates plan to defend women's rights post-Brexit? How will they tackle the pay gap, misogyny and gender-based violence? What will they do about equal representation and ensuring women aren't hit hardest by spending cuts?
Join us at Women's Hustings 2017 on Monday 22nd May, 6-8pm, to hear MPs across the political parties address these questions and many more. The event will be chaired by Darshna Soni, Home Affairs Correspondent, Channel 4 News. Our line-up of speakers:
Conservatives - Baroness Charlotte Vere of Norbiton
Labour – Baroness Shami Chakrabarti, Shadow Attorney General
Liberal Democrats – Baroness Lorely Burt, Spokesperson on Equalities in the Lords
Green Party – Amelia Womack, Deputy Leader
Women's Equality Party -Harini Iyengar, WEP candidate in Vauxhall
UKIP: (invited)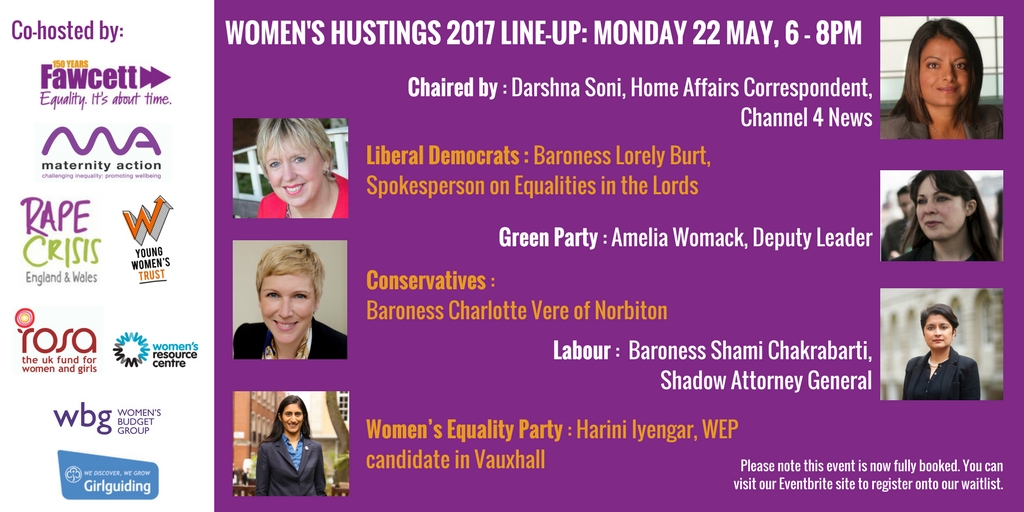 This event is hosted by leading women's rights charity The Fawcett Society, alongside The Women's Budget Group, Maternity Action, Girlguiding UK, The Young Women's Trust, Rape Crisis, Women's Resource Centre and Rosa.
This event is now SOLD OUT. Please add your name to the waiting list and we will contact you should a ticket become available.
We regret to say that the venue offered to us does not allow guests to bring children. We recognise this may be an inconvenience, or could exclude some people from attending the event and apologise if so. We will endeavour to hold events later in the year better able to accomodate guests with children.