We are back! Join Generation CFO and Leadership financial professionals for the CFO Debate on 29th September at The Union Club, Soho.
About this event
We are back!
Join Generation CFO for the CFO Debate on 29th September at The Union Club, Soho.
Our CFO Debate is a great mix of people from large enterprises to start-ups, from CFOs to early-career digital natives, and we all benefit from an open exchange of ideas and points of view.
The evening is an opportunity for you to ask questions to a panel and the assembled community; share your own thoughts and find your place in the wider community.
Evening themes include digital skills, growth mindset, innovation process, agility, change strategy, culture, tools, solutions and much more.
Past panellists of the CFO Debates have included senior finance leaders from Starbucks, Deliveroo, Vodafone and growth-stage technology companies, plus thought leaders and research professionals.
Why should you attend the CFO Debate?
It is time to add the Digital Age to the Finance Function! The CFO and their management team are at a digital crossroads.
Maintaining the status quo is no longer an option yet most finance teams do not know where to start or which data journey to go on.
More clarity, greater agility and deeper enablement through new learning and new partnerships are needed, so Generation CFO has created a place for you to meet, grow and thrive in a changing world.
Our engaged community of like-minded accounting and finance leaders are shaping their futures with new purpose, new capability and new direction which is only made possible by the boom in data and the digital world.
Join our community and find your route to a bolder, better digital finance function!
Who is Generation CFO?
Generation CFO is developing community-led educational media to help industry CFOs, FDs and their teams learn, build and execute digital transformation within their teams and businesses with our accounting and finance specific content produced by finance for finance.
Founder Christopher Argent walks the transformation talk, starting out as an entrepreneurial UK FD before leading finance transformation at Vodafone, Amazon, BAT and John Lewis Partnership. Predicting the digital opportunity for the CFO, Chris set up a LinkedIn group for like-minded digital CFOs which grow quickly to 70,000 members.
Today, Generation CFO runs a highly engaged CFO community producing regular educational events, training and its annual summit Generation CFO Live and the Digital Finance Function awards. We also partner with finance teams in Industry to advise on automation, visualisation and analytics capability and the reskilling, upskilling and change management of the CFO organisation.
Recognised by all major accounting institutions as the market leader in accounting and finance digital education, Generation CFO has produced training content for the Association of Accounting Technicians (AAT), Institute of Chartered Accountants of England and Wales (ICAEW), Chartered Global Management Accountant (CGMA) and the Association of Certified Chartered Accountants (ACCA).
What can you expect from the CFO Debate?
Generation CFO founder Christopher Argent will welcome you to the community and chair an informal but informative panel debate on "real world" challenges and solutions facing finance in the digital age.
Each panel includes three subject experts in a highly relevant theme, inspiring people who have worked with CFOs and Finance to deliver the change and transformation needed in our community.
This is a non-technical forum for you to learn, network, partner. There is no sales pitch, just like-minded peers and agnostic leads who know how to get stuff done in the real world and enjoy themselves while doing it.
Timings for the evening
18:30 - 19:00: Welcome drinks!
19:00 - 19:15: Welcome from Christopher Argent, Founder of GenerationCFO, followed by the latest on CFO Tech.
19:15 - 19:20: Introduction to our expert panel chaired by Mark Cracknell, Head of Research with and Bernie Smith, Finance KPIs expert.
19:20 - 20:00: Followed by panel and audience discussion cover hot topics from our Q3 research report on return to office, P2P, spend management trends plus big announcements on our Academy and training partners.
20:00 - 21:30: Drinks, canapes and networking.
Save the date for the next CFO Debate!
Most of our community attends the CFO Debate on a quarterly basis and plan their diaries to be in London on that day.
See dates and headline themes below for you to do the same.
February 2022 - Agility
May 2022 - Analytics
Book your spot at this unique learning network night out now!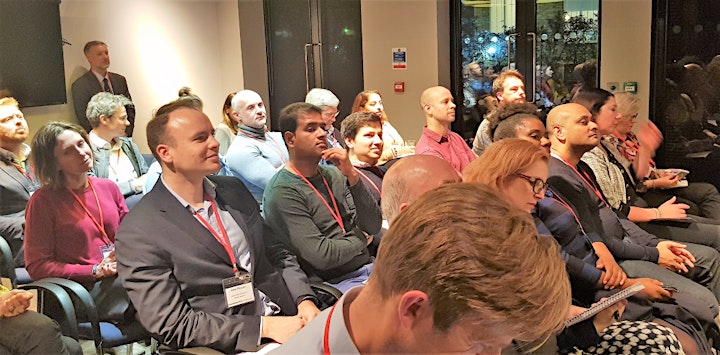 Organiser of Generation CFO Debate with Christopher Argent