Event Information
Location
Design Museum
Bakala Auditorium
Kensington High Street
London, W8 6AG
Description
Discover how Keeping Up with the Joneses became Keeping Up With the Kardashians with Lauren Greenfield, the award-winning director of The Queen of Versailles
Phaidon is delighted to welcome critically acclaimed photographer and filmmaker Lauren Greenfield to London for an exclusive event at the Design Museum. Lauren will be joined by columnist and broadcaster, Anne McElvoy (The Economist, Evening Standard) to discuss her new book Generation Wealth - the culmination of Greenfield's twenty-five year exploration of our cultural obsession with money, consumption and status.
Lauren Greenfield is celebrated for her feature-length documentary, 'The Queen of Versailles' (Best Documentary, Sundance, 2012) and her multi-award winning 'Like a Girl' TV commercial (Always, Leo Burnett, 2015). Her new project, Generation Wealth is a masterful, "gold encrusted" portrait of our time, from the unprecedented consumer spending spree of the 21st century to the way the very idea of wealth has infected the human psyche globally.
Come along to hear stories of students, single parents, and families overwhelmed by crushing debt yet determined to purchase luxury goods and experiences far beyond their reach. Glimpse the homes of oligarchs in Russia and the new moneyed class in China as they strive to replicate the aristocratic airs of the cultural elite. Discover how what Greenfield calls "the influence of affluence" led to the election of President Trump, the world's first reality-TV head of state.
With plenty of time for audience questions and a post-talk book signing, this is a very special opportunity to meet one of the most important image-makers of our time.
The ticket price of £9.99 is redeemable against the cost of the book on the night.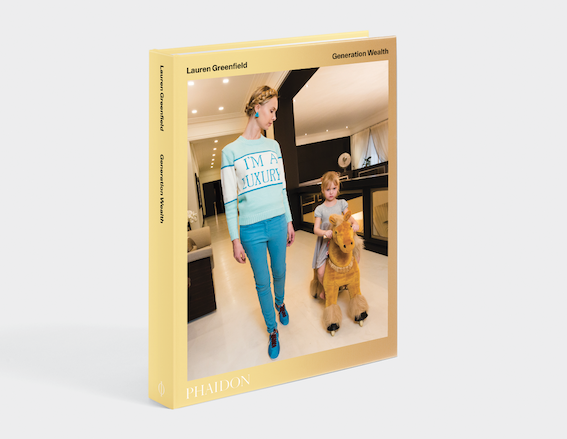 Praise for Generation Wealth
"Greenfield is a prodigious talent, and this book is a masterpiece. If I had the privilege of putting together the time capsule left underground for future generations, I am certain that Generation Wealth would be in the box." - Juliet Schor, Sociologist and Economist
"From Bel Air to Beijing, Lauren Greenfield has an unparalleled gift for capturing modern wealth in all its baroque permutations. Her images are viscerally intimate—sometimes comic, sometimes tragic, and always unforgettable. Generation Wealth is that rare masterpiece that will keep you engrossed from cover to cover and lingering on the memory of its images long after you've put it down." - Kevin Kwan, bestselling author of Crazy Rich Asians
"Generation Wealth takes us down the yellow brick road where we are able to see who we, as a collective, are becoming…Greenfield's lens allows us to watch the transmogrification of the American Dream of success through hard work, modesty and discipline turn into a nightmare of conspicuous wealth, excess and addictions." - Jennifer Beals
Speakers
Lauren Greenfield is an Emmy Award–winning filmmaker and photographer, and considered a preeminent chronicler of consumerism, youth culture, and gender identity. Her documentary The Queen of Versailles won the Best Director Award at Sundance in 2012. Greenfield's photographs have been widely published, exhibited, and collected by museums around the world. Her #LikeAGirl video was seen by 214 million global viewers and garnered more than 100 awards.
Anne McElvoy is a former foreign correspondent, and the author of The Saddled Cow, East Germany's Life and Legacy. She is currently a broadcaster and senior editor at the Economist, as well as a columnist for the Evening Standard, The Guardian, and a regular presenter of Free Thinking, BBc Radio 3's arts and ideas programme.
Image: Limo Bob in his office, Chicago, 2008 (detail). © 2017 Lauren Greenfield /The INSTITUTE
Date and Time
Location
Design Museum
Bakala Auditorium
Kensington High Street
London, W8 6AG