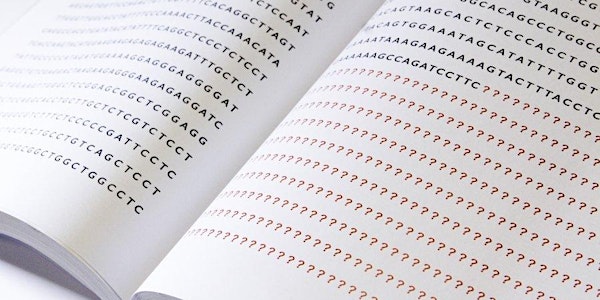 Genome Lates: A special Human Genome Project Anniversary season
Join us for Genome Lates: a special Human Genome Project anniversary season
About this event
To celebrate 20 years since the landmark first draft of the complete Human Genome, we'll be exploring some of the groundbreaking work happening at the Wellcome Genome Campus in Cambridgeshire and meeting the people behind the science.
Our free online talks will present personal stories and reflect on breathtaking advances in genomic science, while inviting audiences to discuss and share views of the impact of new discoveries on their lives and wider society, today and into the future.
We'll hear from our current Campus Institute Directors, people who worked during the earliest days of the Human Genome Project, some of today's early career researchers, and scientists working to defeat the spread of COVID-19.
The Genome Lates special anniversary season will run from July to November 2020. Sign up to our mailing list for regular updates and booking details.
Coming Up...
Slowing the Spread: How genomics can help us understand COVID-19
26 November, 6-7.30pm
In these unprecedented times we look to science for answers. Since lockdown, staff at the Wellcome Genome Campus have joined the fight against the global COVID-19 pandemic in a national genomics sequencing effort to understand and track the spread of the virus.
Join Dr Cordelia Langford and Prof Dominic Kwiatkowski in conversation with Dallas Campbell for the last in our Genome Lates event, a special Human Genome Project anniversary season. They will be discussing the impact of this vital collaborative effort and the challenges of doing groundbreaking science in times of social distancing.
Cordelia and Dominic are from the Wellcome Sanger Institute, where Cordelia is Director of Science Operations, and Dominic is Head of the Parasites and Microbes Programme. Dallas Campbell is a presenter and author, well known for presenting some of British television's most popular factual programmes including: Bang Goes the Theory and The Sky at Night.
You can also explore our YouTube channel for some great films and resources on the Human Genome Project.
Previous talks in the series can be viewed on our website
Reading the book of life: What has genome sequencing ever done for us?
Twenty years after the first draft of the human genome project, Professor Sir Mike Stratton, director of the Wellcome Sanger Institute, reflects on how far we have come since those early days, in conversation with science writer and broadcaster Dr Kat Arney. From gaining deep understanding of human health, ageing and diversity through to bold plans to sequence the genomes of the entire tree of life and a future where it is possible to write and edit DNA as easily as we can read it, Stratton will share his insights and vision for the future - with a few surprises along the way.
Genomic Futures
Ever wondered about a career in genomics and biodata? Join us for a discussion with early career researchers, and scientists from the Wellcome Genome Campus. Tapoka Mkandawire, PhD student studying parasites and microbiome, Sanger Institute, Dr Piv Gopalasingam, Scientific Training Officer, EMBL's European Bioinformatics Institute (EMBL-EBI) , Dr Virginie Uhlmann, Research Group Leader, EMBL-EBI, Menna Ghouraba, Advanced Research Assistant, Sanger Institute, in conversation with scientist, presenter and comedian Dr Alex Lathbridge about their career paths, their work and the contribution it will make to the future landscape of genomics and biodata.
Big Data in Biology: The good, the bad, the ugly
28 September, 6-7.30pm
They say you can bet on anything… Meet the man who organised a bet known as the GeneSweep for scientists working on the Human Genome Project, he had over 460 bets by the time the draft of the human genome was published in 2003. Join Prof Ewan Birney, Deputy Director General of the European Molecular Biology Laboratory (EMBL) and Joint Director of EMBL-EBI in conversation with mathematician, author and presenter Dr Hannah Fry. They will touch on his experience working on the Human Genome Project, highlight some of the cutting-edge work taking place at EMBL-EBI, and offer his forecasts for the future of biodata.
The Human Genome: The gift that keeps on giving
29 October, 6-7.30pm
Do you recognize history is being made when you are part of making it? Join Dr Jane Loveland, Annotation Project Leader, EMBL-EBI, Dr Kerstin Howe, Senior Scientific Manager, Sanger Institute, and Dr Simon G. Gregory, Professor of Neurology, Duke University School of Medicine in conversation with scientist and science communicator Dr Chris Gunter reflecting on their contributions to the landmark Human Genome Project, the incredible impact it has had on science, medicine and society and how we apply this knowledge today.