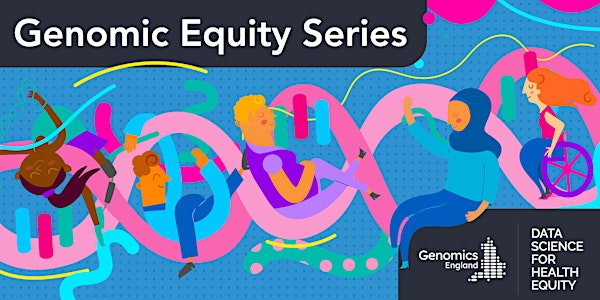 Genomic Equity Series: Getting Genetic Ancestry Right for Science & Society
The Genomic Equity Series aims to share the latest experiences, projects and research of those working to improve equity in genomic medicine
About this event
The Genomic Equity Series is a monthly online series hosted by the Diverse Data initiative at Genomics England, in collaboration with the Data Science for Health Equity community, which aims to share the latest experiences, projects and research of those working to improve equity in genomic medicine across the world.
To kick-off this series we are delighted to have Dr. Anna Lewis present her work on the challenges and pitfalls in how we conceptualise, describe and use ancestry in genomics, as outlined in her paper published in Science earlier this year, Getting genetic ancestry right for science and society, where she advocates for a "multidimensional, continuous view of ancestry and a move away from continental ancestry categories".
Anna is a bioethicist focusing on the Ethical, Legal and Social Implications (ELSI) of genetics and genomics. She is interested in the past, present and future impact of genomics on individuals and on society. She is currently a Research Associate at the Edmond J. Safra Center for Ethics at Harvard, where she is directing a project on the concepts of ancestry and population. Previously to this she worked as a computational biologist and product manager in industry and prior to that, she completed a doctoral degree in Systems Biology from the University of Oxford. You can learn more about Anna and her work here.
Agenda
17:30 Welcome to the Genomic Equity Series (Maxine Mackintosh @Maxi_Macki , Genomics England & Data Science for Health Equity)
17:35 Presentation (Anna Lewis @acflewis, Harvard)
18:05 Discussion & Audience Q&A (chaired by Karoline Kuckenbaecker @KKuckenbaecker, Genomics England)
18:30 Close
#GEseries
PS Can't make it? Never fear, all our events will be recorded and uploaded onto MindTheGap.Health
Any questions, please email diversedata@genomicsengland.co.uk.
About the series organisers
Diverse Data
Diverse Data is a new initiative set up by Genomics England to reduce inequalities in genomic medicine, by ensuring that all patients, regardless of their background, receive the same quality of genomics-enabled personalized medicine, supported by the latest research on people like them. The initiative will be setting up new research projects, working closely with community groups, conducting large-scale sequencing efforts, and will be building practical tools to support everyone in the genomics community to put equity at the centre of their work. Find out more about the initiative here.
Data Science for Health Equity
Data Science for Health Equity is global community that brings together experts, enthusiasts and hobbyists working at the intersection of data science and health inequalities to ensure that the latest research and innovations improve health equity. Find out more about the community here.