Description
Leeds and the UK are leading the way in Genomics and data-driven personalised medicine.
Hosted by Richard Corbridge, Chief Digital and Information Officer at Leeds Teaching Hospitals Trust, this event will share inspiring stories which illustrate how this important field is revolutionising the way in which we diagnose and treat diseases and disorders, tailored to an individual's unique genetic code.
Joining Richard we have Bethany Morrissey from the Medical Research Council-funded Industry Engagement Academy, who will give you practical pointers about how your company can benefit from investment in our region. Julie Atkey, Co-Operational Lead and Genomics Education and Training Manager at Yorkshire and Humber Genomic Medicine Centre, will share stories from the regions participation in the 100,000 Genomes Project. Michael Messenger, will introduce us to the new Leeds Centre for Personalised Medicine and Health and Nigel Sansom from Pinpoint Cancer, who focus on artificial intelligence and biomarkers, will share an SME perspective on growing their business in our city.
Speakers:
Dr Nigel Samson: Originally trained in molecular pathology, Nigel has over twenty years of relevant experience, having held senior level roles in the pharmaceutical and biotechnology industries, academia as a Director of translational medical research, and within the NHS.
As a member of the core team that originally set up the NHS National Innovation Centre and through subsequent consulting roles, Nigel has developed an international reputation for his involvement in innovation and the commercial development of medical technology and diagnostics.
Dr Michael Paul Messenger: Michael is Head of the new Leeds Centre for Personalised Medicine and Health, matching population health and care needs with excellent science and innovation. He is also the Deputy Director of the National Institute for Health Research Diagnostic Evidence Co-Operative Leeds (NIHR DEC), an industry facing collaboration aimed at catalysing evaluations of commercial tests and providing evidence for NHS adoption. He is a co-Investigator on over £17m of commercial and non-commercial research activity with over 15 diagnostic companies. As a standing member of the Diagnostics Advisory Committee, Michael provides advice to NICE on the formulation of guidance on diagnostic technologies and any other matter related to the evaluation of diagnostic technologies.
Richard Corbridge: Richard Corbridge is a globally recognised expert in healthcare strategy and technology, with over 20 years experience in the Health and Clinical Research Information sectors.
In late November 2017 Richard joined Leeds Teaching Hospitals Trust as their first Chief Digital and Information Officer with a remit of bringing the 'Leeds Way' culture to the digital capability of the trust and ensuring that Leeds Teaching Hospitals Trust, one of the largest in the NHS, adopts a digital fabric to how it delivers health care.
Prior to this Richard was the Chief Information Officer for the Health Service Executive in Ireland and Chief Executive Officer for eHealth Ireland.
In 2017 Richard was named the number one CIO form the UK in the EDG CIO Magazine CIO100, listed in Hot Topics global CIO100 and Ireland's first CIO100. He was named the eGovernment Visionary of the year in Ireland and was named as the most disruptive talent in digital by Sir Richard Branson and Steve Wozniak.
Richard was named by the Huffington Post as one of the most 'Social CIOs' in the world. You can see the daily ins and outs of his work and life by following him on twitter at: @R1chardatron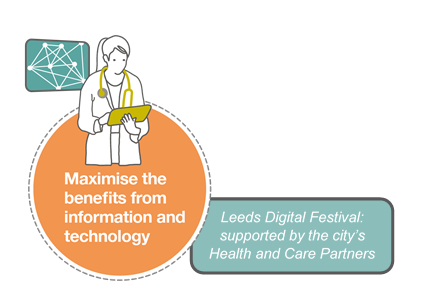 Our city's Health and Wellbeing Strategy 2016-2021 sets out a clear vision that 'Leeds will be a healthy and caring city for all ages, where people who are the poorest improve their health the fastest'. This includes maximising the benefits from information and technology as a key priority. The health and wellbeing strand of the Digital Festival is a celebration of the diverse and innovative work taking place to help us achieve our shared, bold ambition for Leeds to be the best city for health and wellbeing.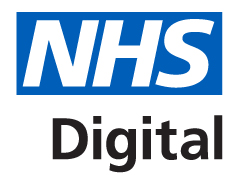 Based here in Leeds, NHS Digital is harnessing the power of technology and data to improve the use of health and care resources and make lives better.
As the national IT partner to the health and social care system, we provide a range of services and expertise including infrastructure that keeps services working 24/7, data security services, more than 200 official statistical publications and vital information that helps patients, doctors and nurses every single day.
We are one of the largest employers in not only this city, but nationally as a leading organisation for technologists, analysts and specialists from a spectrum of fields, from communications to finance, who want to make a difference.
We will be taking part and hosting events throughout the festival so come along and find out about what we do, why it matters and how you can get involved.