Sales Have Ended
Registrations are closed
Ticket sales have now ended. For more information, or to amend your booking please email education@wellcomeconnectingscience.org
Sales Have Ended
Registrations are closed
Ticket sales have now ended. For more information, or to amend your booking please email education@wellcomeconnectingscience.org
providing year 10 - year 12 students with an insight into the world of genomics research
About this event
In Year 10 or higher? Considering further study in biology or data science? Join us for our first virtual symposium to gain insight into the world of genomics and bioscience.
Over the course of the day, you'll hear from scientists, technicians and data scientists from the Wellcome Genome Campus, take part in activities, get tips on applying to college, university or work, and hear about the cutting edge science that's been happening on the Campus.
Draft Programme Outline
Please note that these details are provisional and subject to change. Further information about the sessions and speakers to follow.
10:00-10:25 Session 1: Welcome session and keynote: the future of genomics.
10:30-11:15 Session 2: Your next steps - applying to 6th form, university or work
Option A) Post-16 - Application and transition to A Level
Option B) Post-18 - Application and transition to University
Option C) Post-16 and Post-18 - Alternate routes and applying for work
11:20-12:05 Session 3: Activity break-out sessions
Option A) Genome Sequencing Ethics - students will hear about a case study in genomic ethics, and will be encouraged to consider the ethics around genome sequencing and data protection. Suitable for whole-class engagement.
Option B) Microbit coding club activity - students will have a go at coding and see how its used in bioscience, through the use of microbit. *requires individual student access to a PC (not tablet/phone)*
12:05-13:00 Lunch break, no sessions. Links to external resources, activities and events will be available for students and teachers to access.
13:00-13:45 Session 4: Meet the Scientist Sessions. Students will have the opportunity to hear from early career researchers, apprentices and technical staff from the Wellcome Genome Campus about different jobs and routes into genomics, and will be able to ask the scientists questions about their work and career path.
13:50-2:25 Session 5: Lightning talks - cutting edge research on the Wellcome Genome Campus. Students will hear about three areas of cutting-edge research happening on Campus: from our work on sequencing coronavirus, understanding biodiversity in the UK, and understanding public opinions of data usage in health and medicine.
2:30-3:00 Session 6: Closing session
Who is it for?
This event is for students in Year 10 - Year 12 (or equivalents, students aged 15+). Teachers can book on for their whole class - to either broadcast the symposium for a whole class or for individual students to access via a computer classroom or personal laptops/devices, or sixth form students can book for themselves to attend during study periods.
Which schools are eligible?
We welcome secondary schools from across the UK to join us for this event. In the event that this event becomes over-subscribed, priority will be given to schools in our target areas and criteria (state schools in the East Midlands and East of England in an area of high deprivation, low social mobility or with a high percentage of pupil premium).
Will it be recorded/accessable after the date?
Yes - if you sign up for any session, you will have access to the recordings of all sessions to watch back up to two weeks after the event. Some sessions, such as the activity break-out sessions and AMA sessions, will be best attended live to fully take part.
Any other questions? Get in touch: education@wellcomeconnectingscience.org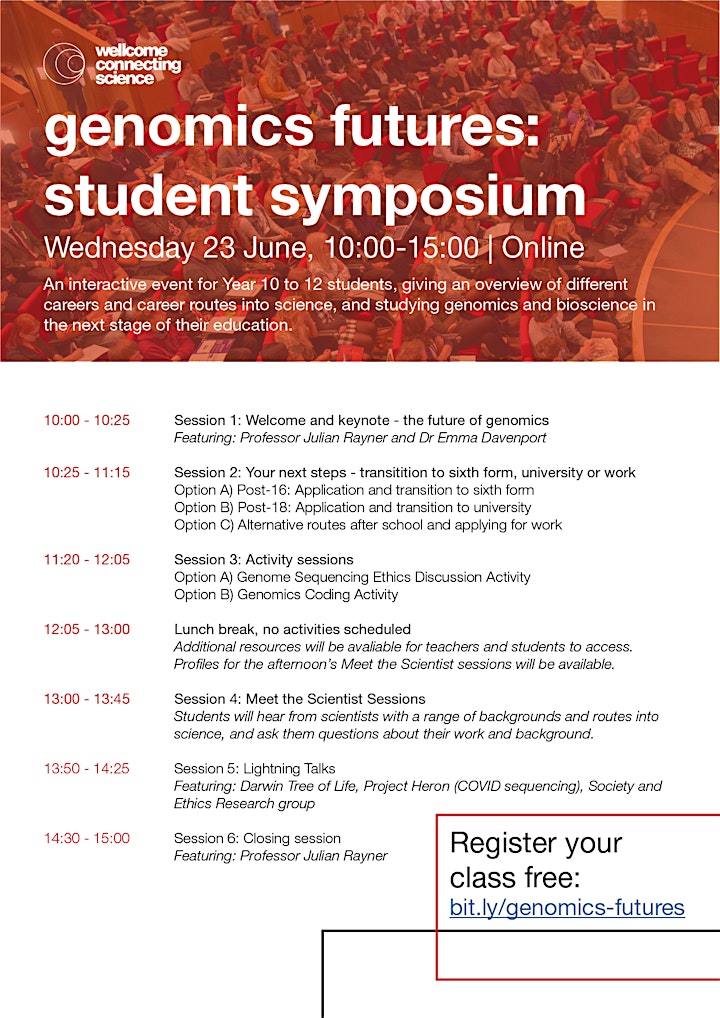 Organiser of genomics futures: student symposium
The Wellcome Genome Campus is home to some of the world's foremost institutes and organisations in genomics and computational biology. We bring together a diverse and exceptional scientific community in a culture and environment that fosters creativity and rewards bold, ambitious thinking. We are committed to delivering life-changing science with the reach, scale and imagination to solve some of humanity's greatest challenges.