| | |
| --- | --- |
| Gentle Protest Talk: Sarah Corbett and Frida Arnqvist Engström | |
Event Details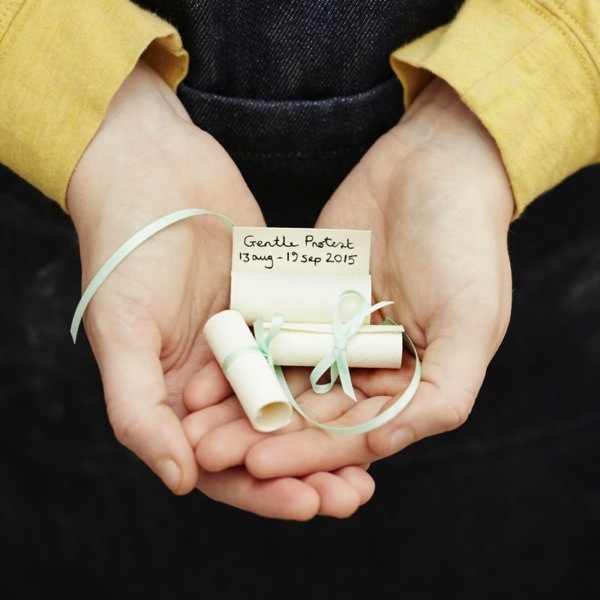 "Om vi vill att vår värld ska bli mer vacker, vänlig och rättvis, då borde vår aktivism också vara vacker, vänlig och rättvis". /Sarah Corbett
Förändra världen med händerna, är det möjligt det? Sverigeaktuella craftivisten Sarah Corbett arbetar med förändring genom broderi, hon driver med hjälp av sitt Craftivist Collective en global community som med broderi som metod förmår företag, organisationer och privatpersoner att tänka om. Hur går det till? Och vilka reaktioner väcker det?
Möt världsförbättraren Sarah Corbett i ett samtal med författaren och journalisten Frida Arnqvist Engström, som skrivit boken Gerillaslöjd - DIY, garngraffiti och den handgjorda revolutionen. Torsdag 27 augusti 18.00 samtalar de kring Sarah Corbetts arbete och om hennes pågående utställning Gentle Protest på Handarbetets Vänner i Stockholm.
De pratar också om den allt större globala rörelsen craftivism, dess förutsättningar och hur hantverket kan vara ett kraftfullt verktyg för att uppmärksamma och påtala orättvisor i världen. Sarah Corbett har tidigare erfarenhet som aktivist och lobbyist, hon grundade Craftivist Collective för sex år sedan och bytte i och med det arbetsmetod. Hör henne berätta om den långsamma, noggranna och empatiska aktivism hon bedriver idag, där stygnen fungerar som en katalysator för att skapa långsiktig och positiv förändring i världen. Och att protester inte alltid behöver vara agressiva, de kan vara handgjorda och kraftfulla i all sin vänlighet.
Välkommen till en kväll i broderiets, politikens och förändringens tecken! Sarah Corbett intervjuas i Handarbetets Vänners galleri i utställningen Gentle Protest, samtalet inleds med en presentation av utställningen.
Mer information om Sarah Corbett och Craftivist Collective
Mer information om Frida Arnqvist Engström och Gerillaslöjd 
Samtalet hålls på engelska och arrangeras av Craftivist Collective och Kurbits Media.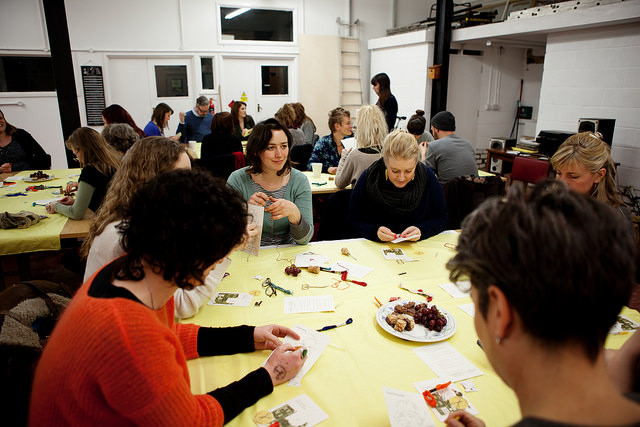 "If we want our world to be more beautiful, kind & just, then our activism should be beautiful, kind &just" /Sarah Corbett
Changing the world one stitch at the time, is that possible? The craftivist Sarah Corbett, currently in Sweden with her first solo exhibition, is working with change through needlework. She is the founder of Craftivist Collective, a global community and social enterprise that helps individuals and organisations conduct effective craftivism. How does that work? And what kind of reactions does it create?
Meet the changemaker Sarah Corbett in an interview with the journalist Frida Arnqvist Engström, writer of the book Gerilla Crafts - DIY, yarnbombing and the handmade revolution. Join them at Handarbetets Vänner Thursday 27th of August 18.00 where they will be talking about Sarah Corbett's work in general and about the current exhibition Gentle Protest.
They will also discuss the power and possibilities of craftivism, the global community that engages more and more crafters, and how handicraft can be a tool to address injustices in the world. Sarah Corbett founded Craftivist Collective  six years ago and before then had a long history as an activist working with charities. Hear her talking about the slow, careful and thoughtful activism she is doing today, where her stitches becomes a catalyst for long-term positive change in the world. She is also reminding us that protests does not always have to be aggressive, if handmade, strategic and with good intentions they might be powerful in all its kindness.
Welcome to an evening of handicraft, politics and change! The talk is taking place in the middle of the exhibition Gentle Protest, and starts with Sarah Corbett's presenting the exhibition.
Read more about Sarah Corbett and Craftivist Collective
Read more about Frida Arnqvist Engström and Guerilla Crafts  
When & Where

Föreningen Handarbetets Vänner / Friends Of Handicraft
Djurgårdsslätten 82–84
SE-115 21 Stockholm
Sweden


Organiser
We are a social enterprise that believe craft can be a tool for gentle activism
aimed at influencing long-term change
.
By using the quiet, reflective time it gives us to explore global issues and how they affect the world around us, we can create something beautiful, considered, positive and poignant.
We provide kits, tools and services for individuals and organisations around the world to do effect craftivism. 
Join us, together we can change our world, one stitch at a time…