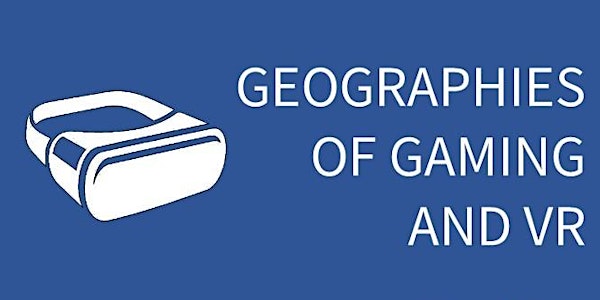 Geographies of Gaming and VR: 3rd Annual Digital Geographies Symposium
Location
Michael Tippet Room
Staff House (3rd floor)
University of Birmingham
Birmingham
B15 2TT
United Kingdom
Refund policy
Refunds up to 30 days before event
Description
Since Atari released Pong in 1972 the video game industry has evolved rapidly, with an estimated global value of $137.9 billion in 2018 (Newzoo, 2018). Considering the size of the sector and notwithstanding important exceptions (e.g. Ash & Gallacher 2011, Shaw & Sharp 2013), gaming has received surprisingly little attention from geographers. VR, meanwhile, has been periodically hyped as the next big thing in technology for over thirty years. The immersive qualities of VR drive a particularly compelling experience of virtual space, yet VR has been relatively neglected by geographers (although see Hillis, 1996, Fisher and Unwin, 2002). In recent years VR has been boosted by significant investments from tech giants such as Facebook, Sony and Microsoft and is gaining traction in both consumer and professional contexts as a platform for games, socialisation and immersive media.
Schedule

1000 Registration and Coffee
1015 Opening remarks
1030 Keynote 1: Sarah Jones (Head of the Birmingham School of Media, Birmingham City University) Storyliving: how presence manifests itself within immersive media

1100 Paper sessions
1215 Keynote 2: John Sear (Software developer and CEO of Museum Games) Engaging publics through gaming technologies

1245 Lunch
1330 Digital shorts
1345 Keynote 3: Melissa Kagen (Lecturer in Digital Media, Bangor University) Misplaying the map in 80 Days

1415 Workshop sessions 1 & 2
1500 Tea
1515 Workshop sessions 3 & 4
1600 Closing discussion panel
1630 Close
Paper sessions 1100-1215
Track 1 (Michael Tippet Room)
Track 2 (Osbert Lancaster Room)
Emma Fraser: Virtual cities, real possibilities: considering place and space in digital media
Sally Bushell & James Butler: LITCRAFT: re-engaging reluctant readers through Minecraft
Leighton Evans & Michał Rzeszewski: Embodiment creating space & place in VR
Vincent Miller & Gonzalo Garcia: Autoethnographic research in digital ruins
Victoria Williams: Contradictory depictions of embodiment, space and the broadening of experiential horizons in discourses of VR
Gareth W. Young & Oliver Dawkins: Immersive geographies: mixed reality technologies applied in urban data visualization projects.
Clancy Wilmott: Indeterminancy, situated analysis and radical feminist politics in digital geographies
Adam Brown: Generative Photography: negotiating between representation, location and behaviour
Workshop Sessions 1415-1500
Workshop 1 (JB Priestley Room)
Workshop 2 (Osbert Lancaster Room)
Gary's mod: led by Peter Nelson
Walking sims: led by Jack Lowe
Workshop Sessions 1515-1600
Workshop 1 (JB Priestley Room)
Workshop 2 (Osbert Lancaster Room)
Experiencing VR: led by Phil Jones
LITCRAFT demonstration: led by Sally Bushell
Organising Committee: Hannah Awcock, Jack Lowe, Peter Nelson, Phil Jones, Natasha Keen, Clancy Wilmott, Emma Fraser.