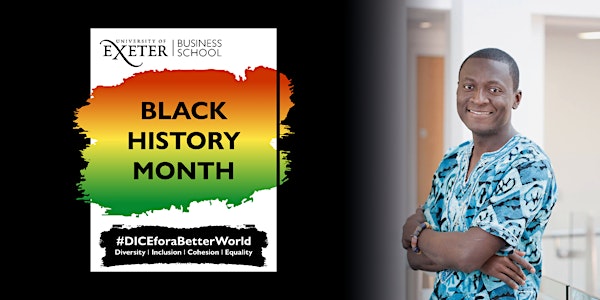 Geographies of slavery heritage tourism: places of remembrance and dialogue
A University of Exeter Business School Black History Month event
About this event
We are delighted to invite you to attend 'Geographies of slavery heritage tourism: places of remembrance and dialogue' by Dr. Emmanuel Akwasi Adu-Ampong, Assistant Professor in Cultural Geography Wageningen University & Research, The Netherlands focused on How do the practices and performances of slavery heritage tourism across places provide new narratives about slavery's past and present?
Following the talk will be an opportunity for Q&A with the audience.
Online event details
Date: Wednesday 14 October 2020
Time: 16:00-17:00 BST
Location: This webinar series is hosted online, a link with joining instructions will be sent within the confirmation of registration email.
In an increasing multicultural society, the stories we tell of the past can bring us together or push us further apart. Through travel and tourism we encounter new cultures and perspectives on such stories of the past in certain places. The stories of slavery as told through slavery heritage tourism, is not merely ready-made but actively produced being open to misunderstanding and contestations. However, little is known about the cultural work of tourism in producing slavery heritage spaces and how it contributes to the ensuing transformations of contested narratives about the past.
This lecture focuses on the diverse forms of tourism practices and performances at slavery heritage sites across different geographical locations: Elmina Castle in Ghana, Gorée Island in Senegal, Liverpool Slavery Trail, Bristol Transatlantic Slavery Walk, Slavery & the City Walk in London, Black Heritage Tours in Amsterdam, Black Pioneers Tour in the Hague, Plantation Tours in the US and Plantation Tours in the Caribbean among other places.
The lecture starts from developing the conceptual notion of the embodied absence of the past to refer to the physical presence but narrative absence of the shared history and role of people of African descent in European societies. The aim is to illustrate the cultural work of slavery heritage tourism in making visible and challenging this embodied absence of the past. A key aim of this lecture is therefore to highlight the transformative potential of tourism in stimulating remembrance and dialogue about the effects of slavery in contemporary societies.
The speaker, Dr. Emmanuel Akwasi Adu-Ampong is an Assistant Professor in Cultural Geography at Wageningen University and Research, The Netherlands. His research interest span across slavery heritage tourism, sustainable tourism development policy and planning, cultural heritage management and innovations in qualitative research methodology & methods.
Keep up to date with events and join the conversation using #DICEforaBetterWorld
For full information about the Business School's Black History Month events and activities please click here
Registration
Please register using the 'register' link on this page. If you wish to register without using Eventbrite, or if you have any questions regarding the event please contact business-school-events@exeter.ac.uk
*There will be a limited number of spaces available to this event. Please ensure you correctly select which ticket category is applicable to you upon registration to ensure priority is given to students.
We may take photographs and/or record this event which may later be shared publicly.
Accessing the event
The Zoom link to access the event will be included on the ticket confirmation page and follow up email sent directly after registering.
Data Protection and Privacy
To aid organisation of this event, attendee information may be shared with relevant staff in the University e.g. a list of attendees could be provided to the University host, guest speaker.
We will store your information securely, so that we can communicate to you about the event (e.g. cancellation of event, changes to the itinerary, a satisfaction survey).
We delete our access to personal information on Eventbrite after 6 months.
More information on the University's privacy policies can be found here.
For more information on Eventbrite's own privacy policy, please visit this page.