Geopoetics, Land and Tackling the Climate Crisis Conversation: live event
Sales Have Ended
Registrations are closed
Thank you for attending this event. We hope it will inspire you to join the Scottish Centre for Geopoetics: see www.geopoetics.org.uk/membership.
Sales Have Ended
Registrations are closed
Thank you for attending this event. We hope it will inspire you to join the Scottish Centre for Geopoetics: see www.geopoetics.org.uk/membership.
A Conversation: Geopoetics, Land and Tackling the Climate Crisis - Alastair McIntosh & Rewilding: this earth, ourselves - James Murray-White
About this event
Geopoetics, Land and Tackling the Climate Crisis - Alastair McIntosh
Climate change is big, and that calls for a big worldview to tackle it. But from where? The science, politics and economics are all vital. But to focus and to deepen these, we need to think about the roots of our humanity. About our relationships with each other and to the Earth. What might that look like? One shaft of insight comes from Scotland's 500 community land trusts. Land reform is about a reconnection between people and place. That task is, in part, poetic. It requires a living poetry that helps to inspire and grow communities of place. Communities where people can harness local natural resources and find fulfilment in living more gently. Since the 1990s, that process has involved geopoetics. Alastair McIntosh, as a pioneer of modern Scottish land reform, will share why. He will draw out what can be learned from land reform and democratic community empowerment in tackling the climate emergency.
Rewilding: this earth, ourselves - James Murray-White
"The earth does not expect you to save her, she expects you to respect her"
Nemonte Nenquimo
Leader of the Waorani (Ecuador), UN Champion of the Earth Laureate
'A Code Red for Humanity' IPCC Report August 2021
Is rewilding a tool in the kitbag or the panacea to save the climate and our species?
Using examples from all corners of these Isles, from the potential "curated decay" of Kinloch Castle on Rum, to the taxpayers' folly of the Knepp Estate in Sussex, via Racy Ghyll sheep farm in the Lake District, and Monks Wood in Cambridgeshire, IJames Murray-White will take a broad sweep through current efforts to rewild land, by restoring ecosystems, creating space for biodiversity habitats and wildlife corridors, to capture carbon, to re-establish various species, with all the public & political management that involves, and most presciently, using the pandemic as the urgent wake up call from nature herself to rewild ourselves, to fully know the wild garden and wild mess we're in.
Part science, part psychology, maybe a call to arms for change, this is a personal journey of radical fermentation!
Alastair McIntosh
image by Sara Bain of SEALL
Alastair McIntosh has been described by BBC TV as "one of the world's leading environmental campaigners." A pioneer of modern land reform in Scotland, he helped bring the Isle of Eigg into community ownership. On the Isle of Harris he negotiated withdrawal of the world's biggest cement company (Lafarge) from a devastating "superquarry" plan. He then served, unpaid to avoid conflicts of interest, on the company's Sustainability Stakeholders Panel for 10 years to help further corporate social and environmental responsibility.  
Alastair guest lectures on nonviolence at military staff colleges including,for over two decades, on some of the UK Defence Academy's most senior courses. His books include Soil and Soul: People versus Corporate Power (Aurum), Spiritual Activism: Leadership as Service (Green Books), Poacher's Pilgrimage: an Island Journey (Birlinn 2016, Cascade USA 2018) and Riders on the Storm (Birlinn 2020) which was long-listed for the Wainwright Prize in Global Conservation 2021. A Quaker with an interfaith outlook, focusing much of his work around spirituality, he lives in Glasgow with his wife, Véréne Nicolas. There he is a founding trustee of the GalGael Trust which works with with poverty, community and human potential, and an honorary professor in the College of Social Sciences at the University of Glasgow. He has often made use of geopoetic thinking in his writing. His website is www.AlastairMcIntosh.com and Twitter @alastairmci.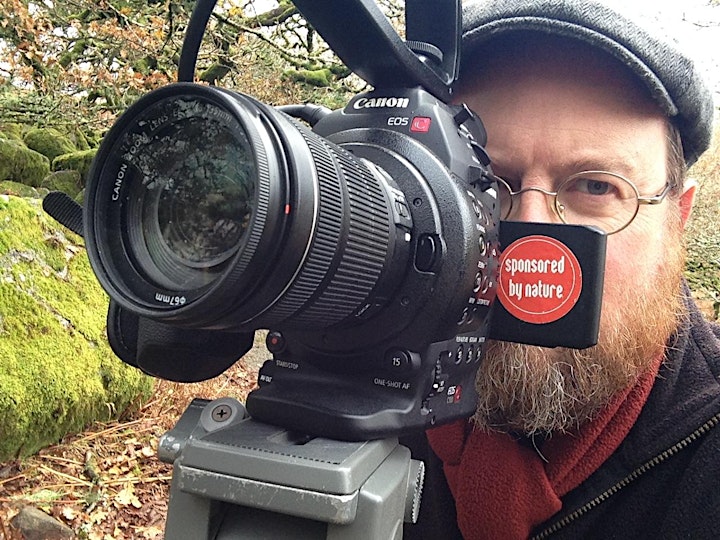 James Murray-White has been a filmmaker for 20 years, filming Bedouin tribes in the Negev Desert, filmmaker in residence within the Cambridge University/NHS Alzheimers Research Team exploring dementia and consciousness in neural networks, was senior Culture Editor at Cambridge TV, screened work at the Venice Biannale, made work on the chalk streams of South Cambridgeshire: 'Waterlight' (2019) and just before lockdown, completed a feature doc on artist-poet-mystic William Blake: 'Finding Blake' (2021): www.findingblake.org.uk
Current projects include a collaboration with eco-poet Helen Moore on the river systems and salmon paths of Poole Harbour, Dorset (to be exhibited October-November: capefarewell.com/riverrun), and a feature documentary on agro-ecology across the UK: sixinchesofsoil.org.
As an activist, he is a co-founder of XR Rewilding, that seeks to promote a wilder connection to our earth, seeding wild wisdom through human networks within this time of great change.
Over the past year he has led the campaign savetheoaks.org that rescued, distributed, and got planted 80,000 oak saplings (and many other broad leaf varieties) that were due to be destroyed.
Organiser of Geopoetics, Land and Tackling the Climate Crisis Conversation: live event
Opening a world, expressing the Earth.
The Scottish Centre for Geopoetics was established in 1995 by Tony McManus and others as a network of individuals who share a common interest in developing an understanding of geopoetics and applying it creatively in their lives.
We organise talks, discussions, day and weekend events, conferences and courses, including field work in interesting places, which are designed to extend our knowledge and experience of geopoetics.
For more information and how to join: www.geopoetics.org.uk.