A 6-part online lecture series (the second of three) once a week on Thursday mornings at 10 am starting 11 November. Tickets £30.
About this event
Our journey through Garden History has taken us into the 18th century. There is so much of interest that we have divided it into 3 six-week sections. We looked firstly at the very late 17th century and early decades of the 18th, now at events and ideas of the mid-century and the final part will look at the Landscape Garden itself, although there will be, of course, considerable overlap between the three sections.
Part Two
In the second of our courses on the C18 garden we turn our attention to what inspired garden makers. There's no doubt that one of the principal motivations for change was the Grand Tour which encouraged classical ideas, architecture and allusions to Arcadia but there was much more to it than that. Economics played its part too. The maintenance of formal geometric gardens was increasingly expensive, the elite were often spending more time and money in London and remodelling their estates in a more informal way allowed sheep and cattle to do the work previously done by human labour. The Georgian garden was, however, much more eclectic in style. As Britain's trading network, and then colonies, spread around the globe they brought back ideas as well as goods. There was a fascination with the exotic, whether new plants from the Americas and the Cape, or luxury goods from China and Japan. It was matched by a reinvention of our national history and identity which led to an interest in primitive architecture, which also found its place in the garden. As a result the garden became a stage on which elite garden and estate owners could share their politics and their good taste and set an example for others to follow.
This ticket is for the entire course of 6 sessions.
Attendees will be sent a Zoom link 2 days prior to the start of the first talk, which will be the same link throughout (If you do not receive this link please contact us), and a link to the recorded session will be sent shortly after each session and will be available for 1 week.
Provisional outline programme (each talk will be approximately 1 hour, with additional time allowed for Q & A afterwards):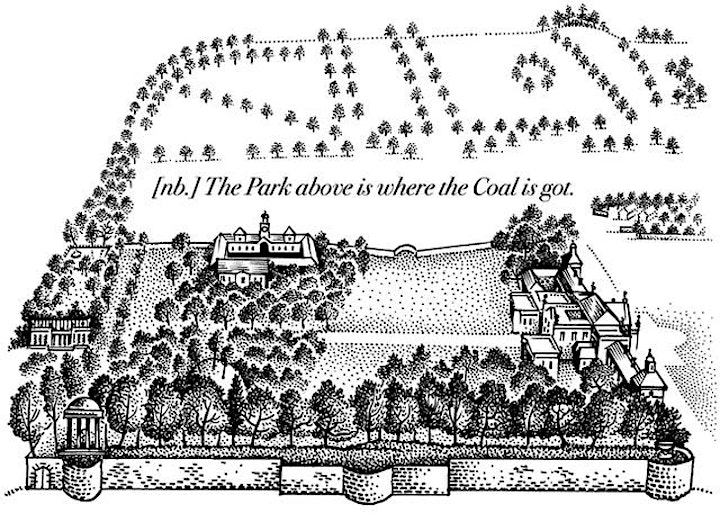 Week 1, 11th November: 'The Warrant of Antiquity': Classical culture in the English C18 landscape garden with Judy Tarling
A classical education propagated a world view which relied heavily on the values and culture of the ancients. This view was reinforced by the Grand Tour, undertaken by privileged male youths, which emphasised Italian history and culture which was then re-created in the English landscaped estates. Classical culture dominated the C18 landscape garden and was manifested in the hard forms of architecture and sculpture but also reimagined through ideas drawn from literature, painting, poetry and rhetoric.
Week 2, 18th November: William Kent: 'Il Signor' in Italy and England with Sally Jeffery
William Kent trained as a painter in Italy where he spent 10 years absorbing all sorts of impressions both from the ancient world and the art of the day. On his return he became one of the most influential designers of the early C18, with a distinctive style in drawing, garden design, architecture and many other things. He is best known for his work at Stowe and Chiswick.
Week 3, 25th November: Inspired by History with David Marsh
The 18thc saw a rewriting of British history, or rather the invention of a new understanding of Britain's past . Union with Scotland, the growing empire, and a revival of interest in antiquarianism were all reflected in our gardens. Searching for our roots as a nation gave us garden buildings in the "primitive style" while " rustic" became fashionable, as did an association with the Druids, hermits and the medieval. Gothic was hailed as native and contrasted with "traditional" classicism. The results were mixed: some realistic, others wildly imaginative, some serious and others whimsical. They all offer new insights into the way that gardening was perceived and appreciated in the mid and late 18thc.
Week 4, 2nd December: The Economics of the C18 Garden with Patrick Eyres
This lecture will provide some answers to the question that confronts every volunteer guide 'Where did the money come from?' Through the example of selected landscape gardens created at different points in the Long C18, a range of economic sources will be discussed – from agriculture and commerce to industry, warfare and slavery. The additional attraction of this talk is that most of the examples are in Yorkshire and, among other notable landscapes, Armley Park, Harewood, Wentworth Castle and Wentworth Woodhouse will be featured.
Week 5, 9th December: The Politics of the C18 Garden with Oliver Cox
Many C18 landscape gardens were rich in political significance and political symbolism. At times enduring, and at other times fleeting, these landscapes provide a valuable insight into the politics of the time. Local priorities, national politics and politics on the imperial stage intersected and collided in some of the most characteristic landscapes of the age, from Stowe to Stourhead.
Week 6, 16th December: The Global Garden with David Marsh
For the last of this series This lecture will look at global influences on our gardens. As our empire and trading networks expanded, so exotic goods and plants poured into Britain. Alongside the tea, coffee and sugar, the china, furniture and wallpapers came travellers tales, images and books. The Orient was fabled, fascinating and still largely unknown, Chinese, and to a lesser extent Indian and Japanese styles reached a new audience and began to influence architecture, fashion and culture. Inevitably the Georgian garden became eclectic in ways not seen before.
Dr Oliver Cox is a historian by training and teaches architectural and cultural history with a focus on the C18. He is a Faculty Member for both the Oxford Strategic Leadership Programme and Oxford Cultural Leaders at the Said Business School. As Heritage Engagement Fellow Oliver leads the University of Oxford's engagement with the UK and international heritage community by co-ordinating, supporting and brokering projects. Find out more here and here.
Dr Patrick Eyres is editor of the unique, artist-illustrated New Arcadian Journal, which engages with the cultural politics of designed landscapes (53 editions since 1981). He has also published in numerous other books and journals, most recently in Thinking The Sculpture Garden, edited by Penny Florence (2020). For many years he served on the boards of the Little Sparta Trust, Garden History Society, Leeds Art Fund, and Wentworth Castle Heritage Trust. On behalf of The Gardens Trust, he set up and chaired for the first ten years the annual New Research Symposium in Garden History.
Dr Sally Jeffery is an architectural and garden historian. She was historian at the City of London for many years and then helped to set up the Birkbeck (University of London) MA Garden History. She now lectures on the MA Garden and Landscape History at the Institute of Historical Research and is a Trustee of The Gardens Trust. She has published extensively and continues to research and write. Her principal area of research at present is the houses and gardens of the 17th century, but her interests include architecture and gardens from the 15th to the 18th centuries in Italy, France, and England.
After a career as a head teacher in Inner London, David Marsh took very early retirement (the best thing he ever did) and returned to education on his own account and did an MA and then a PhD in garden history. Now he lectures on garden history anywhere that will listen to him and helps organize the Garden History Seminar at London University's Institute of Historical Research. He is co-chair of the Education and Events Committee of The Gardens Trust, for whom he organises courses and writes a weekly garden history blog which you can find at The Gardens Trust Blog.
Judy Tarling is well-known as a performer and writer in the field of early music. She has applied her knowledge of rhetoric used in musical performance (that is, the use of emotional manipulation for persuasion) to the interpretation of the landscape garden. The MA in Garden History she acquired at Birkbeck in 2009 gave her the confidence to write her recently published book Landscapes of Eloquence? This book received an extremely enthusiastic review in Garden History journal which called it 'an impressive contribution to an aspect of garden history that unaccountably is still either denied or played down'.
Organiser of Georgian Gardens
The Gardens Trust is the UK national charity dedicated to protecting our heritage of designed gardens and landscapes. We campaign on their behalf, undertake research and conservation work, train volunteers and encourage public appreciation and involvement, working with the national network of County Garden Trusts.

Please join or donate to support us: http://thegardenstrust.org/support-us/
For details of our privacy policy see: http://thegardenstrust.org/privacy-cookies/