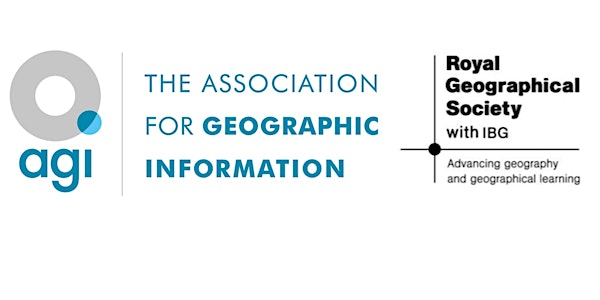 Geospatial skills and continuing professional development
Geospatial skills and continuing professional development: driving a prosperous and sustainable future
About this event
Unlocking the value of location data needs more people with the right skills: people who can meet demand, who take opportunities to put location analytics into the mainstream, and who have the ability to keep pace with technological advances. Join our panel as they explore how the continuing professional development of geospatial professionals is necessary for a prosperous and sustainable future.
Chair:
James Cutler FRGS. James is Founder of Locatum, offering strategic geospatial advisory services, and Vice-Chair of the AGI. With 30 years' experience in building and leading geospatial and business teams, including 20 years as Founder and CEO of emapsite, James now delivers geospatial thinking and strategic advice to a range of organisations across the public, private and third sectors.
Panellists:
Andy Murdock FRGS CGeog (GIS) Andy is Director of APM Geo, a specialist geospatial consultancy, and Co-Founder of Maploom Limited, who through their platform deliver a range of online data visualisation, location analytics and reporting services. He Chairs the Royal Geographical Society (with IBG) Chartered Geographer Final Assessors' Panel and has supported the AGI and its Early Career Network for many years.
Angela Baker FRGS, CGeog Angela is Programme Manager, Data Access and Integration at Eurogeographics, responsible for the production, development and end users of the Pan European datasets. Angela previously held roles with Esri UK and AGI, and is a former Final Assessor for Chartered Geographer.
Nina MacVinish FRGS CGeog (GIS) Nina is Senior GIS and BIM Specialist with Stantec for the Middle East, where she leads in the use of GIS in the Utilities and Transportation sector to develop clients' capabilities in preparation for the FIFA 2022 World Cup. Her previous roles have seen her work in the UK, New Zealand and the USA across a range of public and private sector projects.
This session has been convened by the Royal Geographical Society (with IBG) and the Association for Geographic Information (AGI), whose strategic partnership supports and recognises the continuing professional development and career pathways of geospatial professionals, including through the AGI Early Career Network and Chartered Geographer accreditation.
This session is a side event for the AGI's Annual Conference, #GeoCom20 which is running from the 17-19 November 2020.