We-Flow Kick-Start Weekend in Berlin with a curated group of participants: Experience two days of play & results-driven collective flow
About this event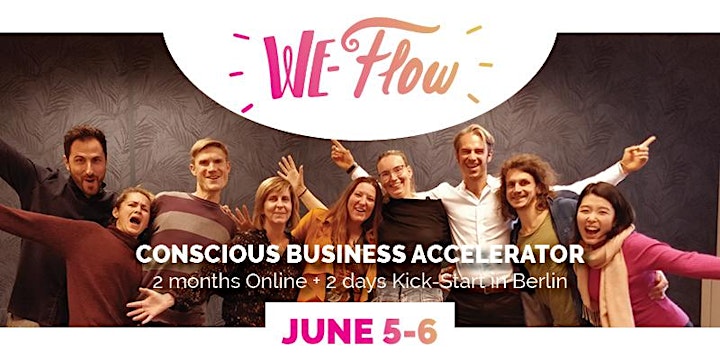 🌈🌈🌈 UNLEASH THE NEXT LEVEL IN YOUR BUSINESS 🌈🌈🌈
What if you can make massive progress with your business in just two days?
What about 2 additional months of weekly support to implement & integrate your new discoveries?
WE-FLOW Conscious Business Accelerator (CBA) is the right format for you, if you want to:
scale your impact & income
get clarity on what's next
make massive progress on your most important creation
show up fully with your gifts & liberate your aliveness
make your work super-fluid
connect with a community of conscious pioneers that has your back
The We-Flow Collective invites you to join our Kick-Start Weekend in Berlin with a curated group of participants: Experience two days of engaging, playful, and results driven collective flow, where you'll receive:
Hands-on training in proven processes to tap into inspiration & access deep flow
Dedicated time to work on your most important creation
Potent group space to supercharge your flow
Support in bringing the next level of your potential to fruition
1:1 access to trained stewards to get you unstuck or give you even more flow
Mindblowing breakthroughs in what is most important in your business and life
Access to 2x weekly Zoom calls for continued support for 2 months after the workshop to ensure the flow you experience during the weekend takes root and your creations really take shape.
WHAT PARTICIPANTS SAY
Jason Digges, Co-founder & Teacher at Authentic Relating Training:
"We-flow is my map to have a massive amount of fun while having a huge amount of things done! I am so installing this in my life."
Adam el Jaouhari, Entrepreneur:
"We-Flow gives me an amazing new way of getting things done. It brings a lot of ease, beauty and fun. I am discovering new capacities in myself. I feel free-er, more impactful and useful to the world, and more in control of where I am going. We-flow is a space that creates a fertile ground for amazing ideas and projects to emerge. A network of inspiring and warm relationships, that feels just so sacred."
Sylvie van den Meerendonk, CEO ALIGHTcareers:
"Through We-flow I now have a tool that is shaping my future by feeling where my energy and interests want to go. Every week I am discovering more depth in this practice and in myself. It has totally changed how much I see is possible - both for myself and the world."
Martijn Bos, Board Member & Policy Advisor
"I'm surprised to find a We-Space that actually helps me ground more than expand".
Maria K
"I'm now ready to eat the fear like an energy bar."
THE WE-FLOW STORY:
We-Flow as a culture & practice emerged among Stéphane Segatori and a group of conscious professionals 3 years ago at the We-Space Lab in Amsterdam. It was influenced by awareness-based social technologies like Mondo Zen, Circling, Authentic Relating, The Finder's Course, The Integral Community and many more. We-Flow Collective is currently present in Europe, USA, Japan, Brazil, and has impacted more than 400 professionals, teams and companies.
Together, we have distilled the most effective practices that allow practitioners to experience wholeness, engagement and clarity on a daily basis.
This event is a personal invitation and start of the We-Flow Collective Germany.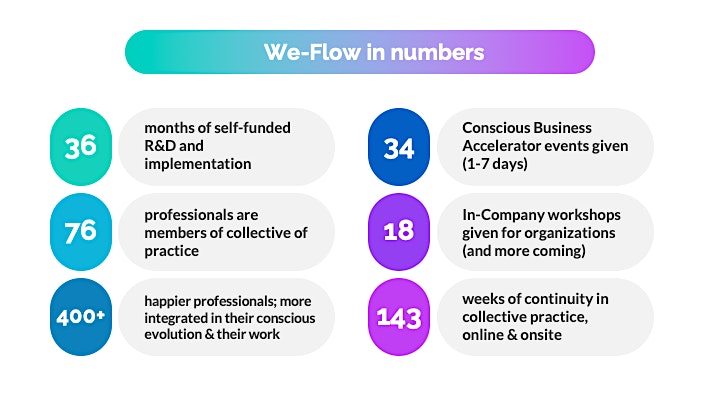 WHAT IS WE-FLOW
Pioneering new ways of working & growing for conscious businesses:
We-Flow is about creating the world you want to live in.
We-Flow Collective has emerged as an intentional culture and proven awareness-based practices to steward yourself, others and groups into deep high-performance flow and into effortless action.
We-Flow provides a potent group space to uncork your aliveness and full potential, breakthrough, and growth for your life and business in a heart-connected conscious and entrepreneurial community.
We-Flow is a new way of being, growing, working with each other, for the new world.
You can learn more about We-Flow here: https://www.we-flow.net/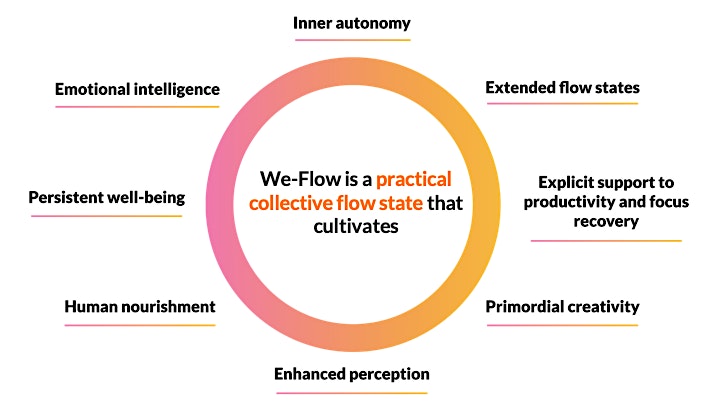 THE OFFER: WE-FLOW CBA 2 MONTHS + 2 DAYS LIVE EVENT IN BERLIN
Book your ticket for the limited early bird price of 690€ (soon 1.200€) to join the 2 days live Kick-Start weekend in Berlin on June 5-6, followed by a 2 months Online Program with a community of conscious pioneers.
THE VALUE: What is included?
You get...
✔ 2 days of hands-on, practical teaching in the We-Flow Fundamentals, applied to your Purpose
✔ Access to our Collective of Support & Practice Room
✔ 8 weeks of Online Continuity in our several weekly Zoom calls
You will..
experience 2 full days in this space dedicated to the enactment of your deepest gifts & purpose, receiving 1:1 support & backup.
receive an opportunity to steward the We-Flow space yourself; in a way that's directly actionable in your existing profession.
receive actionable keys to enhance your other group/we-space facilitation skills.
get access to the We-Flow blueprint document.
get invited to contribute to the evolution of the practice itself.
receive the possibility to request a commercial license partnership. We-Flow can be purchased as a framework to develop your own company culture or your own products.
get access to 2 months of weekly flow calls to further integrate and practice.
We care that you receive your desired impact. That's why we provide you a Happiness Guarantee - You get a 2-months economic satisfaction guarantee or refund.
YOUR HOSTS
JAN BRUCH, Main Event Steward
Entrepreneur, Human Technologist, Socratic Designer, and We-Flow Steward. He connects leaders with exciting possibilities and helps them to actualize their highest potential and to achieve extraordinary business results. He founded Neumorgen – a Culture Design & Branding agency – and is investing in human realization and aliveness.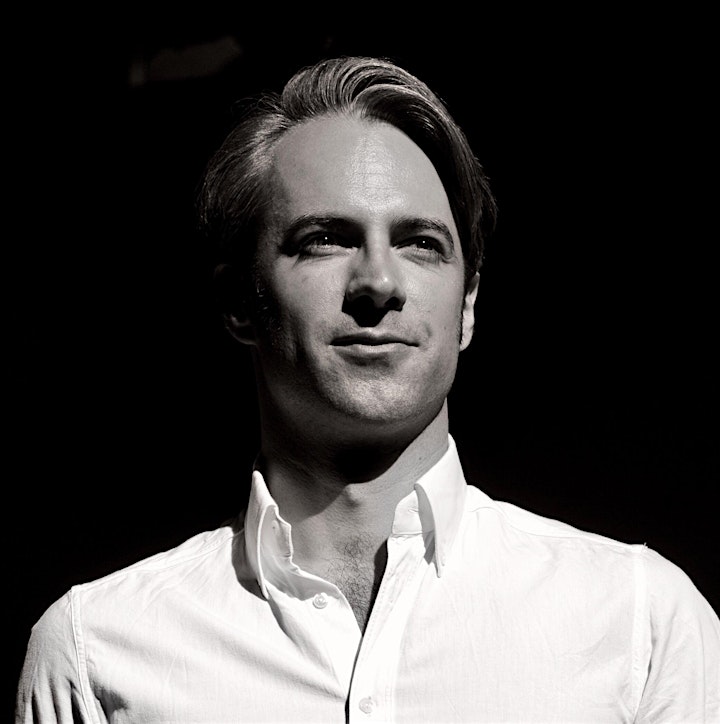 STÉPHANE SEGATORI, Steward and Codifier
Business Intelligence Consultant; Certified MBTI counsellor; We-Space Lab Director. Integral Zen practitioner.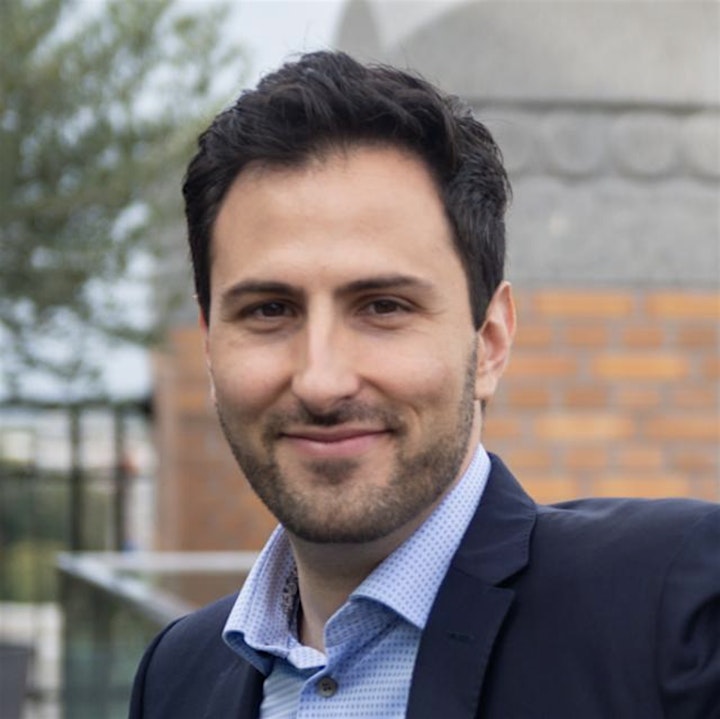 DAILY SCHEDULE - June 5-6 BERLIN KICK-START WEEKEND
09:00 Room opens, Pre-Program starts
09:30 Morning Program starts
12:30 Lunch break
14:00 Afternoon Program starts
16:30 Appreciations
17:00 End & Afterparty flow
Why should you act now?
We offer this event only once at a special introductory price at cost to start the German community. The price will go up significantly after this event to reflect the value you will actually receive.
This is an invite-only offer to join a curated community of pioneers.
To offer you an exclusive event, tickets are limited.
For this event both Stéphane, the Codifier of We-Flow, and Eiko, the leader of We-Flow Japan, will join. You'll have access to amazing 1:1 support, as a bonus.
Let's do this.
If this feels aligned, trust your inner wisdom.
Be realistic. Plan for a miracle. Two months from now when you look back, you'll have received and integrated your desired impact in your business and life. We are looking forward to supporting you on this journey.
We're thrilled to start playing We-Flow with you soon!
🌈🌈🌈 Experience We-Flow in action & unleash the next level in your business.
Book your ticket now. 🌈🌈🌈
Contact jan@janbruch.com if you have questions about the event or if you want to join a We-Flow taster on Clubhouse.
Organizer for We-Flow Germany:
Neumorgen GmbH: Jan Bruch, jan@janbruch.com
Organizer of [Germany] We-Flow Conscious Business Accelerator in Berlin