It's an uncertain time for all of us so we invite you to stop, look, breathe and do some drawing!
About this event
Join in with this mindful art session where you will have the freedom and support to unwind and to get creative in a series of guided drawing activities with artist Pui Lee.
As a warm-up exercise, you will have fun with mark-making. For the main activity, Pui Lee will show you step-by step how to draw a lotus flower. These beautiful flowers are symbolic of purity, enlightenment and regeneration in Chinese culture.
She will then show you how to complete your picture by either adding tone and/or colour using the drawing tools.
Art is always great for relaxation, reduction of stress and above all, is good fun! This workshop is well suited for those not so confident with drawing, aiming to help get you started with some creative ideas and techniques to try out. You will end up with some drawings that you can continue with at your own leisure if you don't finish within the session itself.
You'll need:
A clear workspace which has a firm and steady surface
A4 white paper
Pencils
Rubber
Sharpener
Colouring pens/pencils (optional)
Soft pastels (optional)
Recommended for:
Young adults & adults - no experience necessary.
Language: English
Workshop Leader: Pui Lee
Artist Profile:
Pui Lee is a British-born Hakka Chinese artist and arts educator, working throughout the UK. Her artistic practice uses an interdisciplinary approach across both traditional and contemporary 2D and 3D artforms. She regularly leads creative workshops for the community and is a visiting artist for many museums and galleries. www.puilee.co.uk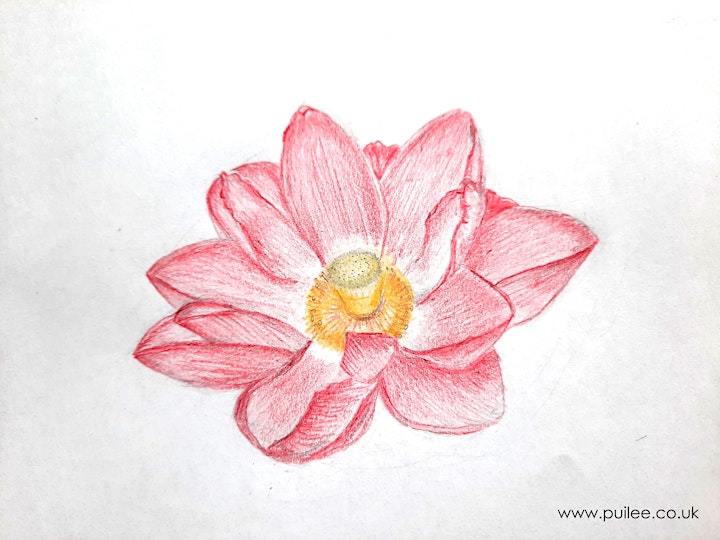 Joining the workshop:
The workshop will be delivered via Zoom. You will receive a Zoom workshop link and password to join the workshop after registration. Please join the workshop on time.
Important:
Participants are expected to adhere to our online event Code of Conduct. We will be kind, respectful and patient towards each other in a positive and supportive environment. Abusive actions or language will not be tolerated. You can read the full Code of Conduct on our website.
As this is an online workshop, Ricefield Arts is not able to assess any safety hazards for participants remotely. We are not able to take any responsibility associated to your safety. By registering, you agree to take full responsibility for your own health and safety when taking part in our online workshop in your own home.
Photos used for this listing are for illustrative purposes only and may not reflect the workshop content. All drawings are by artist Pui Lee.
Organiser of Get Drawing: Lotus Flowers Workshop
 Ricefield Arts & Cultural Centre is a registered charity and social enterprise based in Scotland that has gained an excellent reputation for delivering original and inspiring Chinese arts and cultural experiences for schools, community groups, public institutions, arts audiences and the diverse communities in Scotland.