Description
presents
GET GUT HEALTHY
Thursday, 6 June
Immerse yourself in 24 hours of total inner exploration.
Hunston Manor House in beautiful West Sussex welcomes you to spend the day practicing age old methods of fermenting, baking and yoga in its stunning and secluded oasis of natural beauty and calm.
In this intimate and relaxed setting shared with our favourite gut health professionals, you will have plenty of time for one on one discussions and discovery, around how you can take care of the incredible organ that is your gut, and the complex ecosystem housed within it.
From your Gut Health Workshops you can expect summer fizzing ferments, freshly baked fermented breads, plus all the knowledge you need on digestive wellbeing.
You will come away feeling nourished and knowledged, with delicious foods; prebiotic breads, probiotic ferments, first hand scientific insights, plus a Gutsy goody bag!
Hunston Manor House cannot wait to host you at this unique and in depth gut health retreat. We will be the home you need to feel truly looked after and loved.
See you soon! x


VISIT FULL EVENTS PAGE - HERE




10AM GUEST ARRIVAL + WELCOME DRINKS
WAKE UP YOUR GUT : DIGESTIVE YOGA
with Andrew Collinson
Andrew Collinson will guide us through a gentle 45 minute yoga flow. The class is slow & deep, concentrating on a mixture of poses, and movements to promote digestive health.
WHAT TO EAT FOR A HAPPY + HEALTHY GUT
with Laura Tilt
www.tiltnutrition.com
Instagram : @nutritilty
Registered Dietitian, Health Writer and author of Happy Gut Guide, Laura will take you on a journey through the gut, explaining why gut health matters and how to take care of yours. You'll learn about the signs of a happy healthy gut, the lowdown on the microbiome (aka the ecosystem in your gut), what to eat to foster digestive wellbeing, and where fermented foods and probiotics fit in to the gut health picture.
12AM HUNSTON PICNIC LUNCH
(WEATHER PERMITTING)
BAKING WORKSHOP
with Karen O'Donoghue
www.happytummyco.com
Instagram : @happytummyco
Karen, founder of The Happy Tummy Co, will be hosting a Teff Bread Baking class where you can learn all about the ancient Prebiotic-rich grain Teff. She'll be on hand to answer all your Baking questions, and share her story on coping with Irritable Bowel Syndrome.
FERMENTATION WORKSHOP
with Gutsy Flora
www.gutsyflora.com
Instagram : @gutsy_flora
Flora, chef and founder of Gutsy, shares her journey mastering the art of different fermentation methods. In this hands-on practical, Flora will show you how to make a range of seasonal gut-loving ferments. You will also have a chance to take away her favourite starter SCOBYs - including Water Kefir, Jun and Filmjolk - so that you can continue creating ferments at home.
4PM Q&A
5PM GUESTS DEPART
(IF NOT STAYING THE NIGHT)


WHAT IS INCLUDED
Welcome soft + fermented drinks

Beautiful surroundings to explore

Gutsy library - a place to break away and read gut health resources

Hunston Picnic Lunch

Talks + Demonstration by Flora, Laura + Karen

All day discussion on all things gut health

Handouts, recipes and lots more information

Gutsy Goody Bag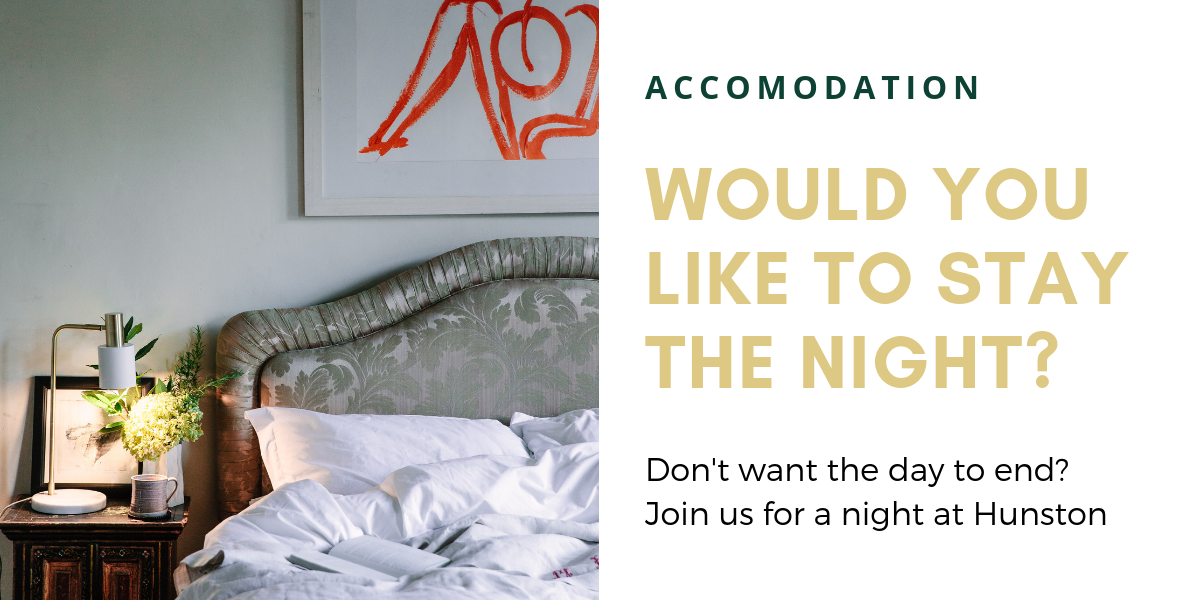 HUNSTON MANOR HOUSE
A soulful 17th century English Manor set in three acres of mature gardens perched on the Manhood Peninsula, one mile south of Chichester in West Sussex.
"Guests often remark on the stillness and tranquillity, the warmth and the welcome feel. For us, this is the highest of praise. "— ROSIE + BEN - HUNSTON
Built in the 17th century, the house bristles with history and life, original features, wonky walls, uneven floors, art, colour and character. And the odd bit of crumbling plaster. Textures abound.
YOUR EVENING AT HUNSTON WILL INCLUDE
A walk on the beach (and a swim for the Gutsy lot)
Fire-side natural wine tasting + talk with Karen O'Donoghue
A candlelit Gutsy feast by chef + fermenter Flora
A final refreshing breakfast
GET IN TOUCH WITH HUNSTON FOR FULL DETAILS
Hunston has very limited space, so please email hello@hunstonmanorhouse.com to find out what accommodation is available.