Get HIPP about Your Health - Women's Conference

Saturday, 8 April 2017 from 10:00 to 18:00 (BST)
Event Details
Get HIPP About Your Health – Women's Conference 2017
Hopeful, Informed, Prayerful and Proactive
To empower women to be HIPP – 
Hopeful, Informed Prayerful and Proactive
 about their health and well-being, to live life on purpose with fullness, for themselves and their family.
Come learn how to #ProtectYourWomb from #
Fibroids, #Endrometriosis, #Infertility, #Miscarriages, #SymptomaticMenopause, #BadPainfulPeriods, #PCOS, and #Cancer.
BOOK TODAY!

 and get access to tons for FREE GIFTS (for a limited time only)
Full Schedule of Inspirational Speakers and Coaches

Free 30-minute Consultation with a Health Coach

Two Course Healthy & Hearty Lunch

Refreshments throughout the Day

Free eBook - How to Detox Easily, Safely & Get the Results You Want

Free eBook - The Victory Over Cancer is at Hand

Free eBook - Questions for Your Oncologist before any Treatment

Styling Tote Bag filled with Healthy Goodies

20% Discount Voucher for Nutrition to Go

One-year Subscription to the HIPP about Health Club

Access to HIPP about Health Private Facebook Group

Free entry in the HIPP about Health Raffle Draw, and much much more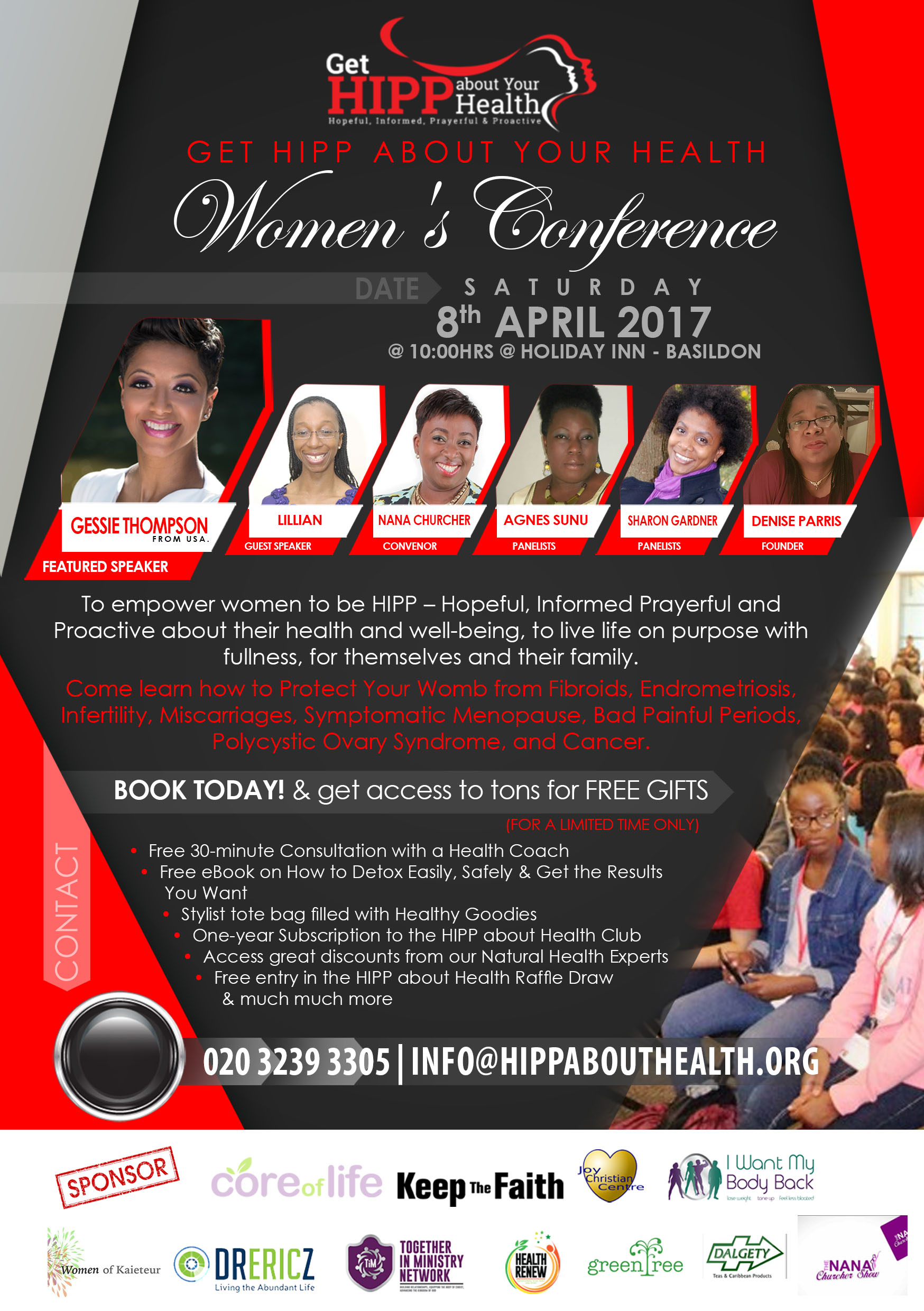 When & Where

Holiday Inn Basildon
Waterfront Walk
SS14 3DG Basildon
United Kingdom


Saturday, 8 April 2017 from 10:00 to 18:00 (BST)
Add to my calendar
Organiser
Studies have shown that 70% of all diseases are preventable and more than 70% of them are curable naturally, with a change of lifestyle.
HIPP about Health movement aims to educate, inspire and motivate you to be healthy in mind, body and spirit by making healthy lifestyle choices.
Why we do HIPP About Health
 All the members of our HIPP Team have either been sufferers themselves, or have had to watch their loved-ones suffer, or perish at the hands of curable or preventable diseases or conditions. Diseases not only harshly affect the sufferers, but have significant impact their family and costing the nations around the world, trillions a year, trying to cater for them.
 Studies have proven that diseases can be eliminated, reduced, better managed or prevented with effective healthy lifestyles. The HIPP Team is passionate about bringing awareness to these diseases and offering people around the world, support and encouragement.
 Almost 90% of women are the decision makers in their homes with regards to food, so empowering them to make better choices inevitably impacts their families, their communities then transforming the nation, so HIPP about Health started with there.
 The HIPP about Health movement was launched on Saturday 8th April 2017 in the United Kingdom with a conference focused on Fibroids, another popular disease that is preventable and curable. Special presentation were made by Gessie Thompson, author of Hope Beyond Fibroids, a Fibroids and Fertility Coach and Speaker from New York, USA. Other guest speakers were Sharon Gardner of Core of Life and Lillian Lartey of I Want My Body Back.
 HIPP about Health so far Since the launched, we have branched out to the United Stated, Bahamas, Trinidad, Guyana, Nigeria, Belize and Antigua. Our HIPP team has grown to over 35 members, with over 300 club members. HIPP about Health Limited was registered as a non-profit organisation in August 2017, with board directors in Bahamas, United Kingdom and the United States.
 Our mission continues to move towards transforming lives with the message of health through the Gospel of Jesus Christ.